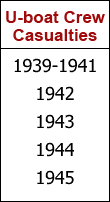 U-53, 17 Sep 1939
Several Swordfish aircraft from the British fleet carrier HMS Courageous attacked the boat with gunfire forcing the boat to crash dive. Some gunners had to be left topside when the boat dived, they perished. HMS Courageous was sunk later the same day by U-29.
U-25, 5 Nov 1939
The boat lost a man overboard in the Bay of Biscay. [Bootsmaat Wilhelm Lützeler]
Total numer of losses:
1 men in 2 incidents (1 dead and 0 wounded)
1940
U-43, 31 Mar 1940
U-43 lost a man overboard in the Atlantic. [I WO Oberleutnant zur See Hans-Wilhelm Behrens]
U-57, 3 Sep 1940
The boat sank after an accidental collision with the Norwegian steamer SS Rona, taking 6 of its crew with her. She was raised shortly afterwards and put into commission as a training boat. [Obermaschinenmaat Bernhard Henz, Maschinengefreiter Kurt Kopf, Matrosengefreiter Hermann Schneider, Funkobergefreiter Kurt Sparschuh,Matrosenobergefreiter Franz Tatzreiter]
U-47, 5 Sep 1940
The boat lost a man overboard during use of the deck gun. [MtrOGfr Heinrich Mantyk]
U-46, 27 Sep 1940
The boat lost two men during an unintentional dive.[Oberbootsmaat Heinrich Schenk, Matrosenobergefreiter Wilhelm Reh]
U-46, 25 Oct 1940
3 Hudson bombers from RAF Squadron 228 attacked U-46. One man was fatally wounded and died the following day. [Matrosengefreiter Plaep]
U-28, 10 Nov 1940
On U-28, Maschinengefreiter Sachse was severely injured by boiling water.
Total numer of losses:
12 men in 6 incidents (11 dead and 1 wounded)
1941
U-97, 3 Mar 1941
The boat lost a man overboard in the Bay of Biscay. [Bootsmaat Artur Mei]
U-110, 23 Mar 1941
U-110´s 105mm deck gun exploded, wounding 3 men.
U-105, 5 May 1941
The 105mm gun exploded during firing wounding 6 men.
U-93, 7 May 1941
3 men were wounded on the U-93 in an accident with the machine-gun.
U-101, 4 Jun 1941
Mid Atlantic: one of the gun crew was lost overboard. [Matrosenobergefreiter Horst Jackl]
U-205, 30 Sep 1941
Fähnrich zur See Fritz Säger took his own life.
U-331, 10 Oct 1941
The boat fought a gun duel with 3 British landing craft off Sidi Barrani and damaged HMS TLC-18 (A 18), but was itself slightly damaged. Two men of the gun crew were wounded, one of them mortally. [Bootsmann Hans Gerstenich]
U-106, 23 Oct 1941
An incredibly sad event befell U-106 on this date. When the replacement watch opened the tower hatch in rough seas they found out that the entire previous tower watch of 4 men had been washed overboard. [Oberleutnant zur See Werner Grüneberg, Fähnrich zur See Herbert von Bruchhausen, Oberbootsmannmaat Karl Heemann, Matrose Ewald Brühl]
U-97, 24 Oct 1941
The IIWO of U-97 was badly injured in an accident on board, forcing the boat to return to base.
U-372, 23 Nov 1941
During stormy weather, a lookout was badly injured on U-372.
U-562, 6 Dec 1941
4 men from the boat were injured in an accident while reloading torpedoes.
U-201, 13 Dec 1941
An explosion in Brest (France) harbor killed 1 man, Maschinenobergefreiter Josef Zander.
U-160, 14 Dec 1941
U-160 lost 7 men dead and one wounded in a fire at Danzig during the boat´s working up exercises. [Maschinenmaat Melchior Schwipp, Matrosengefreiter August Männel, Matrosengefreiter Heinrich Meckenstock]
U-657, 14 Dec 1941
Oblt. Hans-Jürgen Radke of U-657 was killed in a fire on the submarine depot ship Black Prince on 14 Dec, 1941. 28 men died. The boat was undergoing trials at the time.
U-375, 16 Dec 1941
At 18.19 hours the boat was attacked by a flying boat in the Mediterranean. The aircraft dropped 7 depth charges on U-375 after the boat crash-dived. No damage.
U-701, 31 Dec 1941
An officer was washed overboard from the U-701, being the last casualty of the year. [Leutnant zur See Bernhard Weinitschke]
U-584, 31 Dec 1941
During heavy weather in the Arctic Sea a lookout on U-584 broke his arm.
Total numer of losses:
41 men in 17 incidents (18 dead and 23 wounded)

Return to U-boat Crew Casualties