The Announcement Board
U-505 being moved
Posted on: 12 Apr 2004 at 19:56.
On a happy note the famous U-505 is being moved this week to a new permanent home inside the Museum of Science and Industry in Chicago. All those 50 years outside have had lasting effects on the boat and this was deemed necessary to help preserve its history.
Photos of U-505 being moved - © 2004 Tim Broeker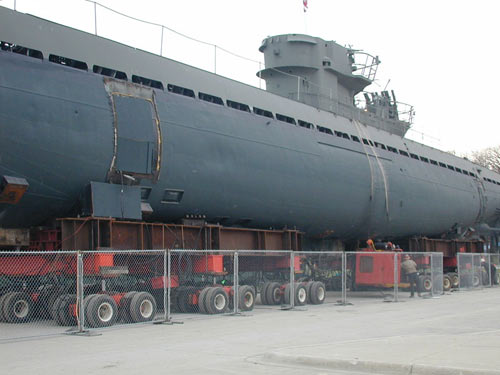 Within the week is should arrive at its massive underground location where it will be lowered 4 stories down and put into its future display area.
The new $35 million exhibit is set to open in early 2005.
Link: For more information see this link.
Our most recent stories:
(4 Jul 2013)
U-580 discovered in Baltic of Memel (Klaipeda)
(28 Jul 2012)
Wreck of U-550 discovered off Nantucket, USA
(6 Mar 2010)
U-864 to undergo further research before possible raising
(24 Oct 2009)
HMS E18 found
(6 Apr 2009)
U 40 from WWI has been located
(31 Jan 2009)
U-864 to be raised after all
(7 Feb 2008)
U-19 U-20 and U-23 found off Turkey
(6 Feb 2008)
U-534 being broken up into 4 pieces