Hans-Joachim Förster
Oberleutnant zur See (Crew 38)
Successes
2 ships sunk, total tonnage 12,846 GRT
2 warships sunk, total tonnage 1,775 tons
| | | | |
| --- | --- | --- | --- |
| Born | 20 Feb 1920 | | Gross-Köris, Teltrow |
| Died | 29 Jan 1945 | (24) | Channel south-west of Land's End |
| | | |
| --- | --- | --- |
| 1 Oct 1938 | | Offiziersanwärter |
| 1 Jul 1939 | | Seekadett |
| 1 Dec 1939 | | Fähnrich zur See |
| 1 Aug 1940 | | Oberfähnrich zur See |
| 1 Apr 1941 | | Leutnant zur See |
| 1 Jan 1943 | | Oberleutnant zur See |
U-boat Commands
| U-boat | From | To | |
| --- | --- | --- | --- |
| U-348 | Jul, 1943 | Aug, 1943 | No war patrols |
| U-479 | Aug, 1943 | Aug, 1943 | No war patrols |
| U-480 | 6 Oct 1943 | 29 Jan 1945 (+) | 3 patrols (118 days) |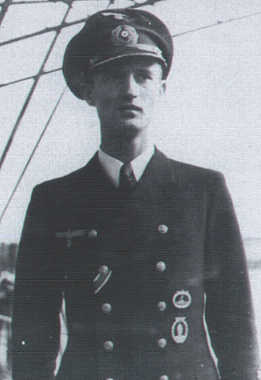 Oblt. z. See Hans-Joachim Förster
Hans-Joachim Förster joined the Kriegsmarine in October 1938. He rode on the destroyer Z-29 in 1941 and 1942 for 7 patrols, before he was attached in July 1942 to the U-boat force.
After the usual training he was for three patrols first watch officer on board of U-380 operating in the Mediterranean. He left U-380 in May 1943 and commissioned 5 months later the type VIIC U-boat U-480.
Very successful became his second patrol in where he sunk 4 ships sunk with a total of 14,646 tons including the Canadian corvette HMCS Alberni and the British minesweeper HMS Loyalty.
U-480 was lost with all hands, 48 men, when she was sunk between 29 January and about 20 February 1945 in minefield Brazier D2 in position 50°22'04"N/001°44'10"W (Niestlé, 2001).
Sources
Busch, R. and Röll, H-J. (1998). German U-boat commanders of World War II.
Niestlé, A. (2001). Re-assessment of fate of U-480.
Rohwer, J. (1998). Axis Submarine Successes of World War Two.
Patrol info for Hans-Joachim Förster
U-boat
Departure
Arrival
1.
U-480
18 May 1944
Kiel
19 May 1944
Arendal
2 days
2.
U-480
7 Jun 1944
Arendal
7 Jul 1944
Brest
Patrol 1,
31 days
3.
U-480
3 Aug 1944
Brest
4 Oct 1944
Trondheim
Patrol 2,
63 days
4.
U-480
6 Jan 1945
Trondheim
29 Jan 1945
Sunk
Patrol 3,
24 days
3 patrols, 118 days at sea
Ships hit by Hans-Joachim Förster
Date
U-boat
Name of ship
Tons
Nat.
Convoy
21 Aug 1944
U-480
HMCS Alberni (K 103)
925
ca
22 Aug 1944
U-480
HMS Loyalty (J 217)
850
br
23 Aug 1944
U-480

Fort Yale
7,134
br
ETC-72
25 Aug 1944
U-480
Orminster
5,712
br
FTM-74
14,621

4 ships sunk (14,621 tons).

Legend
We have a picture of this vessel.

About ranks and decorations
Ranks shown in italics are our database inserts based on the rank dates of his crew comrades. The officers of each crew would normally have progressed through the lower ranks at the same rate.

As an Amazon Associate uboat.net earns a commission from qualifying purchases.