Stephen Ames - The Interviewer
Prepared by Stephen Ames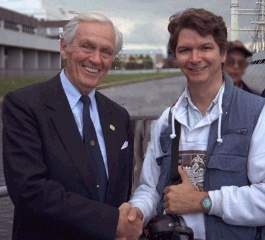 Stephen Ames (right) seen here with Reinhard Hardegen
Washington, D.C. film-maker Stephen Ames has a life-long interest in submarines and the WWII submarine wars. "From the first episode of the 'Silent Service' tv series of the 1950's I was hooked on subs" he says.
After a decade and a half as a film and video editor working on programs for ABC, Ted Koppel, Public Television, the Discovery and Learning Channels, he began development of an 8 hour documentary series about the submarine wars of WWII. "I wanted to create a program that would be different from the typical modern 'doc' " he says. "I want to let the participants speak for themselves, for the viewer to get to know them, experience the war through _them_ rather than through a droning narrator talking over lines drawn on maps and flashing graphics ".
He has agreed to share with us some of the preliminary interviews he conducted as research for the series, saying, "unlike my later interviews, these first recordings were conducted in uncontrolled environments. But they give a very good first-person sense of the men - of what it is like to sit and talk with them ".