U-boat Crew Casualties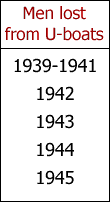 These pages contain a compilation of all known losses of life and injuries on U-boats that either survived the incident or were taken out of commission shortly afterwards.
There were 618 casualties on active service in the 257 incidents we have listed here. Of these, 262 were men killed in action or otherwise, while 356 were men wounded, most probably seriously.
One of the more common causes of loss was man overboard which proved fatal in 53 incidents listed here.
The gravest single incidents were on U-441 on 12 July 1943, with 10 dead and 13 wounded and on U-2503 on 3 May 1945, with 13 dead.
This listing is practically complete, but we have not included all cases of injury, particularly minor ones or those where perhaps only 1-2 men suffered light wounds.
You can also view the data categorized by the U-boats involved.

This set of pages is generated from our new Attacks on U-boats database.