Karl-Heinz Marbach
Kapitänleutnant (Crew 37a)
Successes
1 ship sunk, total tonnage 1,927 GRT
| | | | |
| --- | --- | --- | --- |
| Born | 5 Jul 1917 | | Kolberg |
| Died | 27 Sep 1995 | (78) | |
| | | |
| --- | --- | --- |
| 3 Apr 1937 | | Offiziersanwärter |
| 21 Sep 1937 | | Seekadett |
| 1 May 1938 | | Fähnrich zur See |
| 1 Jul 1939 | | Oberfähnrich zur See |
| 1 Aug 1939 | | Leutnant zur See |
| 1 Sep 1941 | | Oberleutnant zur See |
| 1 Sep 1944 | | Kapitänleutnant |
U-boat Commands
| U-boat | From | To | |
| --- | --- | --- | --- |
| U-101 | 1 Jan 1942 | 3 Feb 1942 | No war patrols |
| U-29 | 6 May 1942 | 30 Jun 1942 | No war patrols |
| U-28 | 1 Jul 1942 | 30 Nov 1942 | No war patrols |
| U-953 | 17 Dec 1942 | Aug, 1944 | 7 patrols (227 days) |
| U-3014 | 17 Dec 1944 | 3 May 1945 | No war patrols |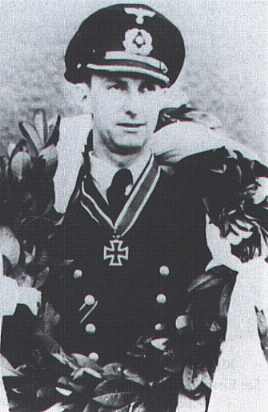 Kapitänleutnant Karl-Heinz Marbach
after his decoration
Karl-Heinz Marbach began his naval career in April 1937. He served for some months in 1939 on the light cruisers Leipzig and Nürnberg. Before he transferred to the U-boat force in autumn 1940, he spent a year in a staff position.
After his U-boat training he was assigned to U-101, commanded by Kptlt. Ernst Mengersen. From March to November 1941 Marbach made three patrols on U-101, during which Mengersen sank three ships. He left U-101 in February 1942.
After a short commander training course, Marbach was promoted to commanding the school boats U-28 and U-29 for over six months. In December 1942 he commissioned the Type VIIC U-boat U-953. After seven patrols he received the Knights Cross for acts of bravery.
He was in Berlin to receive his decoration from the BdU, when US troops encircled the U-boat base at Brest in France. Oblt. Herbert A. Werner then took over U-953 and Marbach went to the AG Weser shipyard in Bremen to commission a new Type XXI U-boat.
In December 1944 he took command of U-3014, but he never saw combat with this boat. After the surrender he became a POW and remained imprisoned until February 1948, being among the last U-boat men to be set free.
Karl-Heinz Marbach wrote about his time in the U-boat force in the book Von Kolberg über La Rochelle nach Berlin (From Kolberg via La Rochelle to Berlin).
Sources
Busch, R. and Röll, H-J. (1999). German U-boat commanders of World War II.
Busch, R. and Röll, H-J. (1997). Der U-Bootkrieg 1939-1945 (Band 2).

Patrol info for Karl-Heinz Marbach
U-boat
Departure
Arrival
1.
U-953
13 May 1943
Kiel
22 Jul 1943
La Pallice
Patrol 1,
71 days
2.
U-953
2 Oct 1943
La Pallice
17 Nov 1943
La Pallice
Patrol 2,
47 days
3.
U-953
26 Dec 1943
La Pallice
20 Feb 1944
La Pallice
Patrol 3,
57 days
4.
U-953
30 Mar 1944
La Pallice
1 Apr 1944
La Pallice
Patrol 4,
3 days
5.
U-953
23 Apr 1944
La Pallice
26 Apr 1944
Brest
4 days
6.
U-953
22 May 1944
Brest
28 May 1944
Brest
Patrol 5,
7 days
7.
U-953
6 Jun 1944
Brest
18 Jun 1944
Brest
Patrol 6,
13 days
8.
U-953
24 Jun 1944
Brest
22 Jul 1944
Brest
Patrol 7,
29 days
7 patrols, 227 days at sea
Ships hit by Karl-Heinz Marbach
Date
U-boat
Name of ship
Tons
Nat.
Convoy
5 Jul 1944
U-953

Glendinning
1,927
br
ETC-27
1,927

1 ship sunk (1,927 tons).

About ranks and decorations
Ranks shown in italics are our database inserts based on the rank dates of his crew comrades. The officers of each crew would normally have progressed through the lower ranks at the same rate.