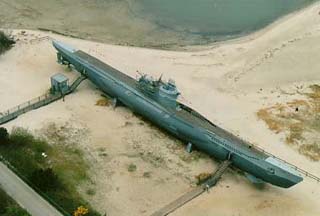 Visit the U-995
U-995 was stricken from Norwegian service in 1965 and the Norwegians offered the German government the boat in 1965 for a token price of 1DM (about 60 US cents) but they refused. Thankfully the German Navy League (DMB) stepped in and paid the price and took the boat over, provided the space, turned her into a memorial in October 1971 and now maintain her in the Marine Memorial at Laboe just outside Kiel in northern Germany. She is the only Type VII U-boat left in the world.
Opening Hours at Laboe
From 16 April to 15 October 9.30 to 18.00
From 16 October to 15 April 9.30 to 16.00
Open daily, the cost is EUR 3,50 for a visit.
address:
Laboe,
Strandstrasse 92
From what I've learned you can take all the photographs you want so be sure to bring a camera if you should decide to pay this boat a visit in the near future.