Italian submarines in World War Two
Foca (FO)
Foca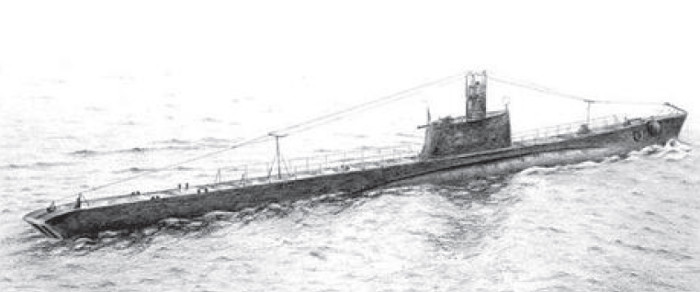 Source: La Ciminiera di Lino Natali, courtesy Franco Vallone
Type
Minelaying
Class
Foca (32)
Laid down
15 Jan 1936
Cantieri Navale Tosi di Taranto, Taranto
Launched
27 Jun 1937


Commissioned
6 Nov 1937
End service
Stricken
Loss date
13 Oct 1940
Loss position
History
Went missing before laying mines off Haifa on 13th October 1940. Cause of loss unknown. She was possibly victim of an accidental explosion of one of her mines.
Fate
Commands
| Commander | Date from | Date to | Command notes |
| --- | --- | --- | --- |
| C.C. Mario Ciliberto | 16 Feb 1939 | Oct 1940 | |
Ships hit
No ships hit by this submarine.
Patrols and events
Commander
Date
Time
Port
Arr. date
Arr. time
Arr. port
Miles
Description
Ciliberto, Mario
10 Jun 1940
La Spezia
10 Jun 1940
La Spezia
Was in the arsenal being adapted as a transport. British Intelligence believed she had been sunk by the destroyer HMAS Voyager off Alexandria on 13 June 1940. This was an error.


Ciliberto, Mario
4 Jul 1940
0620
La Spezia
4 Jul 1940
1500
La Spezia
49,8
Exercises.


Ciliberto, Mario
7 Jul 1940
0710
La Spezia
7 Jul 1940
1230
La Spezia
43,7
Exercises.


Ciliberto, Mario
17 Jul 1940
2100
La Spezia
20 Jul 1940
0725
Messina
Passage La Spezia-Messina.


Ciliberto, Mario
20 Jul 1940
1300
Messina
21 Jul 1940
1100
Taranto
843
Passage Messina-Taranto [mileage is from 2100 hours on the 17th].


Ciliberto, Mario
16 Aug 1940
0605
Taranto
16 Aug 1940
1800
Taranto
96,2
Exercises?


Ciliberto, Mario
23 Aug 1940
0605
Taranto
23 Aug 1940
1800
Taranto
1
Changed anchorage?


1
Ciliberto, Mario
27 Aug 1940
1915
Taranto
1 Sep 1940
0700
Leros
658,4
Supply mission to Leros including 3,000 rations for submariners. Uneventful. On 1st October, British Naval Intelligence had learnt that Atropo and Foca were to be sent to the Dodecanese on 9th September.


1b
Ciliberto, Mario
10 Sep 1940
2350
Leros
15 Sep 1940
1336
Taranto
Return trip from supply mission to Leros. Then work to adapt her to carry mines.


2
Ciliberto, Mario
8 Oct 1940
1850
Taranto
15 Oct 1940
Date probably between 12 and 15 October.
Sunk with all hands
Foca to have mined the approaches of Haifa (20 mines in a position 32°49.5'N, 34°51'E to 32°50.5'N, 34°50.6'E or 6 miles - 267 degrees from Cape Carmel). She sailed via (1) 34°00'N, 23°30'E and (2) 33°30'N, 30°00'E. She was probably lost accidentally off Haifa or before reaching her objective. She was to have returned from her minelaying operation from Haifa through (1) 32°50'N, 34°00'E (2) 45° - Ras El Tin - 15 miles (3) Cape Colonne. There were no survivors, eight officers and sixty-one ratings were missing.
10 Oct 1940

1100 (e)
36° 31'N, 20° 20'E
At 1100 hours, a submarine had been sighted on the surface, two Swordfish from the Mediterranean Fleet were sent to the attack.

It could well have been Foca as this was approximately on her route and she would have had to maintain a speed of advance of about 7 knots, which was quite plausible.
10 Oct 1940

1240 GMT (e)
At 1240 hours GMT, Swordfish LP.E4B (Lieutenant M.R. Maund, RM) of 813 Squadron (HMS Eagle) sighted a submarine at periscope depth and dropped four 100 lb A/S bombs.

A quantity of oil was observed, but result was uncertain.

Could this have been Foca? If this was true, she would have been 50 miles farther west from her route. This is unlikely, unless the aircraft made a navigational error.
10 Oct 1940

1432C (e)
At 1432C hours, a submarine was sighted 20 miles ahead of the Mediterranean Fleet and attacked with four bombs (probably by a Swordfish from HMS Eagle). This perhaps refers to the same attack as that of 1240 GMT although the positions are over 20 miles apart.
10 Oct 1940

1600 (e)
35° 33'N, 20° 01'E
At 1600C hours, the destroyer HMAS Vampire obtained a contact and attacked it with four patterns of depth charges (twenty-six in all). The submarine was believed to have been at least damaged, if not sunk. It was stationary after the first two attacks. Vampire rejoined the fleet at 1745 hours.

It is unlikely that this was Foca as she would have passed about 80 miles to the east of this position, however a doubt will subside.
10 Oct 1940

1825C (e)
At 1825C hours, the destroyer HMS Defender obtained a contact and attacked it with a pattern of depth-charges and was then assisted by HMAS Vampire.

Could this have been Foca? It is unlikely as she would have been considerably off track.

Following the attacks of this day, Admiral Cunningham concluded that there appears to be a concentration of submarines in the area between 35° and 36° N and 19° and 21° E. In fact, no Italian submarines operated in the area at the time. There is no evidence that Foca succeeded in laying the minefield off Haifa, as no mines were located in the area. We must assume that she was lost on the way to her mission. It is possible that an accidental explosion by one of her mines caused her demise. Less than three weeks later, Atropo had her minelaying mission interrupted by the premature explosions of two of her mines. This would effectively end Italian submarine minelaying operations for the rest of the war.

Foca's loss remains a mystery. C.C. Mario Ciliberto, seven officers and sixty-one ratings perished.
14 entries. 10 total patrol entries (2 marked as war patrols) and 5 events.