HMS York (90)
Heavy cruiser of the York class
Navy
The Royal Navy
Type
Heavy cruiser
Class
York
Pennant
90
Built by
Palmers Shipbuilding & Iron Co. Ltd. (Jarrow-on-Tyne, U.K.)
Ordered
21 Oct 1926
Laid down
16 May 1927
Launched
17 Jul 1928
Commissioned
1 May 1930
Lost
26 Mar 1941
History

HMS York (Capt. Reginald Henry Portal, DSC, RN) was badly damaged on 26 March 1941 by 2 Italian explosive motor boats in a dawn attack at Suda Bay, north Crete. The motorboats, each packed with 300-kg (667 lb) charges in the bows, were piloted by MMI Lt. Cabrini and Tedeschi, impacted her amidship, flooding both boiler rooms and one engine room, causing her to settle on the bottom in shallow water.

The British submarine HMS Rover was dispatched from Alexandria to supply electrical power, but on 24 April the submarine was severely damaged by an air attack and the decision was taken to abandon any attempt at salvage. Wrecked by demolition charges on 22 May 1941, scrapped in loco 1952.
Commands listed for HMS York (90)
Please note that we're still working on this section.
You can help improve our commands section
Click here to Submit events/comments/updates for this vessel.
Please use this if you spot mistakes or want to improve this ships page.


Notable events involving York include:
1937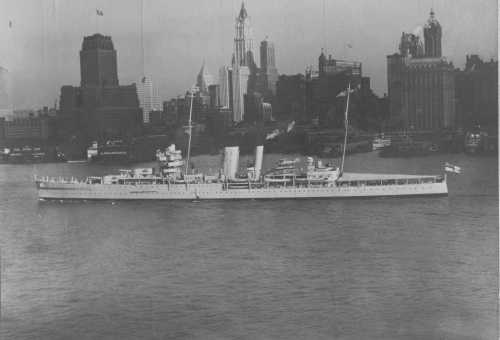 HMS York entering New York harbour around 1937 / 1938.
Photograph with thanks to William Bell whose father Chief Petty Officer Thomas Bell served aboard HMS York at that time. (1)
3 Mar 1940
HMS York (Capt. R.H. Portal, DSC, RN) intercepts the German passenger ship Arucas (3359 GRT, built 1927) of the south-east coast of Iceland in position 63°08'N, 14°42'W. However before the German ship can be captured she is scuttled by her own crew.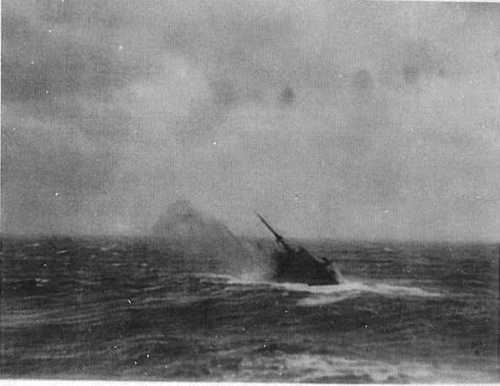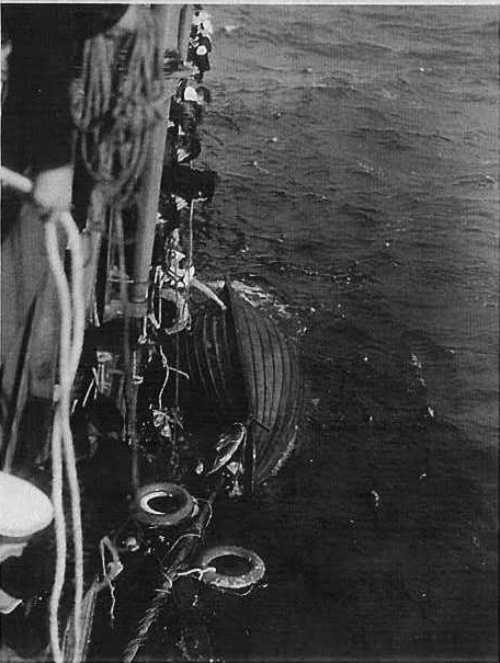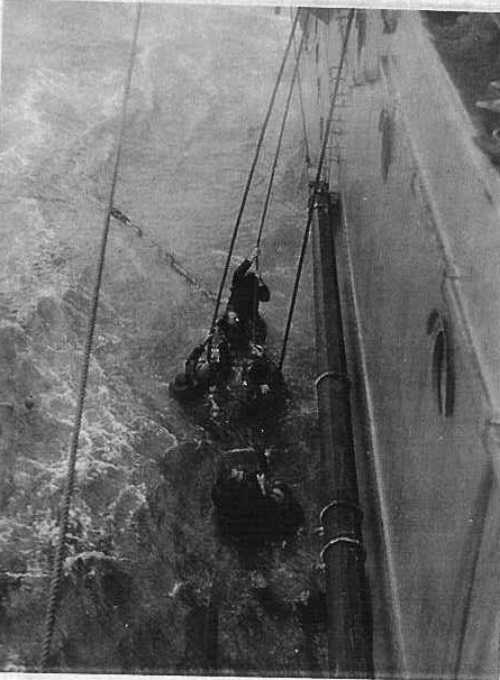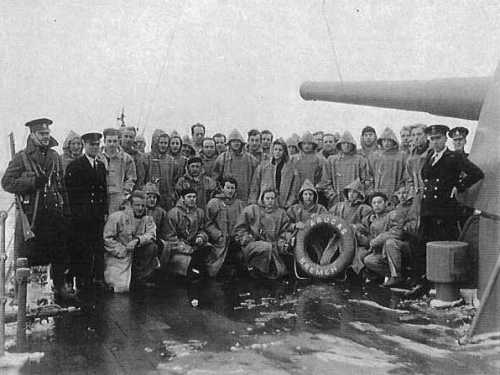 Photos with thanks to Bill Murray.
24 Apr 1940
HMS Manchester (Capt. H.A. Packer, RN) departed Rosyth loaded with troops for Molde. Passage north was made with HMS York (Capt. R.H. Portal, DSC, RN) and HMS Birmingham (Capt. A.C.G. Madden, RN) that were also loaded with troops but these were to be landed at Aandalsnes. Escort was provided by the destroyers HMS Acheron (Lt.Cdr. R.W.F. Northcott, RN), HMS Arrow (Cdr. H.W. Williams, RN) and HMS Griffin (Lt.Cdr J. Lee-Barber, DSO, RN). (2)
30 Apr 1940
Evacuated Franco-British troops from Namsos, Norway, with HMS Devonshire, French cruiser Montcalm and 3 French transports. On conclusion of the Norwegian Campaign went to the Mediterranean and joined the 3rd Cruiser Sqn.
21 Jun 1940
HMS Manchester (Capt. H.A. Packer, RN), HMS York (Capt. R.H. Portal, DSC, RN), HMS Sheffield (Capt. C.A.A. Larcom, RN) and HMS Birmingham (Capt. A.C.G. Madden, RN) departed Rosyth escorted by the destroyer HMS Gallant (Lt.Cdr. C.P.F. Brown, RN) to rendez-vous with HMS Sussex (Capt A.R. Hammick, RN) and HMS Newcastle (Capt. J. Figgins, RN) at sea and then to join HMS Renown (Capt. C.E.B. Simeon, RN), HMS Repulse (Capt. Sir W.G. Tennant, CB, MVO, RN) and the destroyers HMS Inglefield (Capt. P. Todd, RN), HMS Zulu (Cdr. J.S. Crawford, RN), HMS Maori (Cdr. H.T. Armstrong, RN), HMS Mashona (Cdr. W.H. Selby, RN), HMS Forester (Lt.Cdr. E.B. Tancock, RN), HMS Escort (Lt.Cdr. J. Bostock, RN) and HMS Diana (Lt.Cdr. E.G. Le Geyt, RN).
The German battlecruiser Scharnhorst had been sighted leaving Trondheim southwards escorted by four destroyers and four torpedo-boats. The Germans however retreated inside the fjords and the British ships were recalled. (3)
8 Oct 1940
Operation MB-6;
A British convoy with the merchants Memnon (7506 GRT), Lanarkshire (11275 GRT), Clan Macauley (10492 GRT) and Clan Ferguson (7347 GRT) left Alexandria for Malta on 8 October 1940. This convoy was escorted by the British Anti-Aircraft cruisers HMS Calcutta (Capt. D.M. Lees, DSO, RN), HMS Coventry (Capt. D. Gilmour, RN) and the Australian destroyers HMS Stuart (Capt. H.M.L. Waller, DSO, RAN), HMS Voyager (Cdr. J.C. Morrow, DSO, RAN), HMS Waterhen (Lt.Cdr. J.H. Swain, RAN) and the British destroyer HMS Wryneck (Cdr. R.H.D. Lane, RN).
Cover was provided by the Mediterranean Fleet (Admiral Cunningham) with the British battleships HMS Warspite (Capt. D.B. Fisher, CBE, RN), HMS Valiant (Capt. H.B. Rawlings, OBE, RN), HMS Malaya (Capt. A.F.E. Palliser, DSC, RN), HMS Ramillies (Capt. H.T. Baillie-Grohman, OBE, DSO, RN), the British aircraft carriers HMS Illustrious (Capt. D.W. Boyd, DSC, RN), HMS Eagle (Capt. A.R.M. Bridge, RN), the British heavy cruiser HMS York (Capt. R.H. Portal, DSC, RN), the British light cruisers HMS Gloucester (Capt. H.A. Rowley, RN), HMS Liverpool (Capt. P.A. Read, RN), HMS Ajax (Capt. E.D. McCarthy, RN), HMS Orion (Capt. G.R.B. Back, RN), the Australian light cruiser HMAS Sydney (Capt. J.A. Collins, CB, RAN)escorted by the British destroyers HMS Hyperion (Cdr. H.St.L. Nicolson, DSO and Bar, RN), HMS Havock (Cdr. R.E. Courage, DSO, DSC, RN), HMS Hero (Cdr. H.W. Biggs, DSO, RN), HMS Hereward (Lt.Cdr. C.W. Greening, RN), HMS Hasty, (Lt.Cdr. L.R.K. Tyrwhitt, RN), HMS Ilex (Lt.Cdr. P.L. Saumarez, DSC, RN), HMS Imperial (Lt.Cdr. C.A.deW. Kitcat, RN), HMS Jervis (Capt. P.J. Mack, DSO, RN), HMS Janus (Cdr. J.A.W. Tothill, RN), HMS Juno (Cdr. W.E. Wilson, RN), HMS Nubian (Cdr. R.W. Ravenhill, RN), HMS Dainty (Cdr. M.S. Thomas, DSO, RN), HMS Decoy (Cdr. E.G. McGregor, DSO, RN), HMS Defender (Lt.Cdr. St.J.R.J. Tyrwhitt, RN) and the Australian destroyers HMAS Vampire (Cdr. J.A. Walsh, RAN) and HMAS Vendetta (Cdr. R. Rhoades RAN).
The convoy was not spotted and arrived safe at Malta on 11 October. The only damage sustained was to the destroyer HMS Imperial that was mined off Malta and was out of action for over 6 months.
While on the return trip the Mediterranean Fleet was sighted by an Italian aircraft. The Italian Navy tried to intercept them in the Ionian Sea. In the night of 11/12 October the first Italian torpedo boat flotilla with Airone, Alcione and Ariel attacked HMS Ajax. The attack failed and Ajax sank Airone and Ariel, Alcione escaped. A little while later the Italian 11th destroyer flotilla, with Artigliere, Aviere, Camicia Nera and Geniere arrived at the scene. They were surprised by the radar-directed gunfire from HMS Ajax. Artigliere was heavily damaged and Aviere was slightly damaged. Camicia Nere tried to tow Artigliere away but she was sighted by a British Sunderland aircraft that homed in 3 Swordfish aircraft from HMS Illustrious. However, the torpedoed they fired didn't hit the Italian ships. Later the British heavy cruiser HMS York arrived at the scene. Camicia Nera quickly slipped the towing line and sped off. After her crew had left the ship Artiglire was sunk by York.
While the Mediterranean Fleet was still on the return trip aircraft from HMS Illustrious and HMS Eagle attacked Leros and in the evening of the 14th the British light cruiser HMS Liverpool while south-east of Crete was hit in the bow by a torpedo from an Italian aircraft. The cruiser was heavily damaged and was repaired at the Mare Island Navy Yard in the USA. HMS Liverpool was not operational again until January 1942.
Sources
Personal communication
ADM 53/112663 + ADM 186/798
ADM 53/112665 + ADM 199/361
ADM numbers indicate documents at the British National Archives at Kew, London.