HMS Repulse (34)
Battlecruiser of the Renown class
| | |
| --- | --- |
| Navy | The Royal Navy |
| Type | Battlecruiser |
| Class | Renown |
| Pennant | 34 |
| Built by | John Brown Shipbuilding & Engineering Company Ltd. (Clydebank, Scotland) |
| Ordered | 29 Dec 1914 |
| Laid down | 25 Jan 1915 |
| Launched | 8 Jan 1916 |
| Commissioned | 18 Aug 1916 |
| Lost | 10 Dec 1941 |
| Loss position | 3° 34'N, 104° 26'E |
| | |
| History | HMS Repulse joined the Grand Fleet following post-trials modifications and operated in the North Sea for the remainder of World War I. The light protection of this class of two battlecruisers was a considerable cause for concern and, soon after the Armistice, Repulse received an extensive refit. This significantly increased her armor, and her displacement, which rose some six-thousand tons. The work was completed in 1922, after which the ship began a peacetime career of fleet operations and long-distance cruises. In 1933-36, Repulse was again modernized, emerging with improved deck armor, a hangar and catapult for aircraft, and a greatly increased anti-aircraft gun battery. She operated with the Home Fleet in the North Sea and Atlantic during the first two years of the Second World War, taking part in the pursuit of the German battleship Bismarck in May 1941. Later in the year she was sent to the Far East, accompanying the new battleship HMS Prince of Wales. The two ships arrived at Singapore just before Japan began the Pacific War. As soon as hostilities commenced, both steamed northwards to intercept a reported invasion force. While returning to Singapore on 10 December 1941, Repulse and Prince of Wales were attacked by Japanese high-level bombers and torpedo planes. Repulse (Capt. Sir William George Tennant, CB, RN) was moderately damaged by bombs early in the action and was later hit by several torpedoes. After receiving this heavy underwater damage, she sank rapidly in position 03º34'N, 104º26'E, followed less than an hour later by the Prince of Wales. |
Commands listed for HMS Repulse (34)
Please note that we're still working on this section.
You can help improve our commands section
Click here to Submit events/comments/updates for this vessel.
Please use this if you spot mistakes or want to improve this ships page.


Notable events involving Repulse include: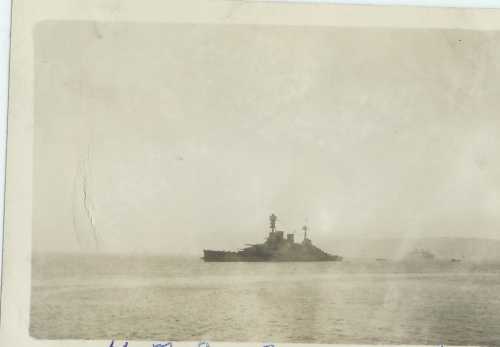 Photograph taken by Charles James Sadler, RCNVR, first class stoker, official number V-4963
18 May 1941

Chase and sinking of the German battleship Bismarck, 18 to 27 May 1941.
Part I.
Departure of the Bismarck from the Baltic.
At 2130B/18 the German battleship Bismarck and the German heavy cruiser Prinz Eugen departed Gotenhafen for an anti-shipping raid in the North Atlantic. The following morning they were joined off Cape Arkona by the German destroyers Z 16 / Friedrich Eckhold and Z 23. They then proceeded through the Great Belt. The four ships were joined by a third destroyer, Z 10 / Hans Lody shortly before midnight on 19 May.
First reports of Bismarck and British dispositions 20-21 May 1941.
On 20 May 1941 two large warships with a strong escort were seen at 1500 hours northward out of the Kattegat. This information originated from the Swedish cruiser Gotland which had passed the Germans off the Swedish coast in the morning. The Naval Attaché at Stockholm received the news at 2100/20 and forwarded it to the Admiralty. At 0900/21 the Bismarck and her consorts entered Kors Fjord, near Bergen, Norway and anchored in nearby fiords. A reconnaissance aircraft flying over Bergen at 1330/21 reported having seen two Hipper class heavy cruisers there. One of these ships was later identified on a photograph as being the Bismarck. This intelligence went out at once to the Home Fleet.
The ships of the Home Fleet were at this time widely dispersed on convoy duties, patrols, etc. Some of the units were ranging as far as Gibraltar and Freetown. The Commander-in-Chief, Admiral Sir John Tovey, was at Scapa Flow in his flagship, HMS King George V (Capt. W.R. Patterson, CVO, RN). With him were her newly commissioned sister ship HMS Prince of Wales (Capt. J.C. Leach, MVO, RN), the battlecruiser HMS Hood (Capt. R. Kerr, CBE, RN, with Vice-Admiral L.E. Holland, CB, RN, onboard), the aircraft carrier HMS Victorious (Capt. H.C. Bovell, RN), the light cruisers HMS Galatea (Capt. E.W.B. Sim, RN), HMS Aurora (Capt. Sir W.G. Agnew, RN), HMS Kenya (Capt. M.M. Denny, CB, RN), HMS Neptune (Capt. R.C. O'Conor, RN) and the destroyers HMS Achates (Lt.Cdr. Viscount Jocelyn, RN), HMS Active (Lt.Cdr. M.W. Tomkinson, RN), HMS Antelope (Lt.Cdr. R.B.N. Hicks, DSO, RN), HMS Anthony (Lt.Cdr. J.M. Hodges, RN), HMS Echo (Lt.Cdr. C.H.deB. Newby, RN), HMS Electra (Cdr. C.W. May, RN), HMS Icarus (Lt.Cdr. C.D. Maud, DSO, RN), HMS Punjabi (Cdr. S.A. Buss, MVO, RN) and HMAS Nestor (Cdr. A.S. Rosenthal, RAN). HMS Victorious was under orders to escort troop convoy WS 8B from the Clyde to the Middle East.
Rear-Admiral W.F. Wake-Walker (commanding the first Cruiser Squadron), with the heavy cruisers HMS Norfolk (Capt. A.J.L. Phillips, RN) (flag) and HMS Suffolk (Capt. R.M. Ellis, RN) was on patrol in the Denmark Straight. The light cruisers HMS Manchester (Capt. H.A. Packer, RN) and HMS Birmingham (Capt. A.C.G. Madden, RN) were patrolling between Iceland and the Faeroes. The battlecruiser HMS Repulse (Capt. Sir W.G. Tennant, CB, MVO, RN) was at the Clyde to escort troop convoy WS 8B.
Action taken by the Commander-in-Chief, Home Fleet
Admiral Tovey took the following action when he received the news the Bismarck had been spotted at Bergen. Vice-Admiral Holland with the Hood, Prince of Wales, Achates, Antelope, Anthony, Echo, Electra and Icarus was ordered to cover Rear Admiral Wake-Walker's cruisers in the Denmark Straight. His force departed Scapa Flow around 0100/22.
HMS Arethusa (Capt. A.C. Chapman, RN), which was taking the Vice-Admiral, Orkneys and Shetlands, to Reykjavik on a visit of inspection, was ordered to remain at Hvalfiord and placed at Rear-Admiral Wake-Walkers disposal. HMS Manchester and HMS Birmingham were ordered to top off with fuel at Skaalefiord and them to resume their patrol. The other ships that remained at Scapa Flow were brought to short notice for steam.
The Free French submarine FFS Minerve (Lt. P.M. Sonneville), which was on patrol off south-west Norway was ordered to proceed to position 61°53'N, 03°15'E and HMS P 31 (Lt. J.B.de B. Kershaw, RN) was ordered to proceed to position 62°08'N, 05°08'E which is to the west of Stadtlandet.
The sailing of HMS Repulse and HMS Victorious with troop convoy WS 8B was cancelled and the ships were placed at the disposal of Admiral Tovey.
A reconnaissance aircraft flying over Bergen reported that the German ships were gone. This information reached Admiral Tovey at 2000/22. HMS Suffolk which had been fuelling at Hvalfiord was ordered to rejoin HMS Norfolk in the Denmark Strait. HMS Arethusa was ordered to join HMS Manchester and HMS Birmingham to form a patrol line between Iceland and the Faeroes. Vice-Admiral Holland, on his way to Iceland was told to cover the patrols in Denmark Strait north of 62°N. Admiral Tovey would cover the patrols south of 62°N.
Commander-in-Chief leaves Scapa Flow on 22 May 1941
The King George V, with Admiral Tovey on board, departed Scapa Flow at 2245/22. With the King George V sailed, HMS Victorious, HMS Galatea, HMS Aurora, HMS Kenya, HMS Hermione (Capt. G.N. Oliver, RN), HMS Windsor (Lt.Cdr. J.M.G. Waldegrave, DSC, RN), HMS Active, HMS Inglefield (Capt. P. Todd, DSO, RN), HMS Intrepid (Cdr. R.C. Gordon, DSO, RN), HMS Punjabi, HMS Lance (Lt.Cdr. R.W.F. Northcott, RN) and HMAS Nestor. HMS Lance however had to return to Scapa Flow due to defects.
At A.M. 23 May they were joined off the Butt of Lewis by HMS Repulse escorted by HMS Legion (Cdr. R.F. Jessel, RN), HMCS Assiniboine (A/Lt.Cdr. J.H. Stubbs, RCN) and HMCS Saguenay (Lt. P.E. Haddon, RCN) coming from the Clyde area.
The Commander-in-Chief was 230 miles north-west of the Butt of Lewis in approximate position 60°20'N, 12°30'W when at 2032/23 a signal came in from HMS Norfolk that she had sighted the Bismarck in the Denmark Strait.
HMS Suffolk and HMS Norfolk made contact with the Bismarck in the Denmark Strait on 23 May 1941.
At 1922/23 HMS Suffolk sighted the Bismarck and Prinz Eugen in position 67°06'N, 24°50'W. They were proceeding to the south-west skirting the edge of the ice in Denmark Strait. HMS Suffolk immediately sent out an enemy report and made for the mist to the south-east. HMS Norfolk then commenced closing and sighted the enemy at 2030 hours. They were only some six nautical miles off and the Bismarck opened fire. HMS Norfolk immediately turned away, was not hit and also sent out an enemy report.
Although HMS Suffolk had sighted the enemy first and also sent the first contact report this was not received by the Commander-in-Chief. The enemy was 600 miles away to the north-westward.
Vice-Admiral Holland had picked up the signal from the Suffolk. He was at that moment about 300 nautical miles away. Course was changed to intercept and speed was increased by his force to 27 knots.
Dispositions, 23 May 1941.
At the Admiralty, when the Norfolk's signal came in, one of the first considerations was to safeguard the convoys at sea. At this time there were eleven crossing the North-Atlantic, six homeward and five outward bound. The most important convoy was troop convoy WS 8B of five ships which had left the Clyde the previous day for the Middle East. She was at this moment escorted by the heavy cruiser HMS Exeter (Capt. O.L. Gordon, MVO, RN), light cruiser (AA cruiser) HMS Cairo (A/Capt. I.R.H. Black, RN) and the destroyers HMS Cossack (Capt. P.L. Vian, DSO, RN), HMS Maori (Cdr. G.H. Stokes, DSC, RN), HMS Zulu (Cdr. H.R. Graham, DSO, RN), ORP Piorun (Cdr. E.J.S. Plawski), HMCS Ottawa (Cdr. E.R. Mainguy, RCN), HMCS Restigouche (Lt.Cdr. H.N. Lay, RCN) and the escort destroyer HMS Eridge (Lt.Cdr. W.F.N. Gregory-Smith, RN). HMS Repulse was also intended to have sailed with this convoy but she had joined the Commander-in-Chief instead.
Force H was sailed around 0200/24 from Gibraltar to protect this important convoy on the passage southwards. Force H was made up of the battlecruiser HMS Renown (Capt Sir R.R. McGrigor, RN), aircraft carrier HMS Ark Royal (Capt. L.E.H. Maund, RN), light cruiser HMS Sheffield (Capt. C.A.A. Larcom, RN) and the destroyers HMS Faulknor (Capt. A.F. de Salis, RN), HMS Foresight (Cdr. J.S.C. Salter, RN), HMS Forester (Lt.Cdr. E.B. Tancock, RN), HMS Foxhound (Cdr. G.H. Peters, DSC, RN), HMS Fury (Lt.Cdr. T.C. Robinson, RN) and HMS Hesperus (Lt.Cdr. A.A. Tait, RN).
HMS Norfolk and HMS Suffolk shadowing Bismarck 23 / 24 May 1941.
During the night of 23 / 24 May 1941 HMS Norfolk and HMS Suffolk hung on to the enemy, The Norfolk on their port quarter, Suffolk on their starboard quarter. All through the night they sent signals with updates on the position, course and speed of the enemy. At 0516 hours HMS Norfolk sighted smoke on her port bow and soon HMS Hood and HMS Prince of Wales came in sight.
HMS Hood and HMS Prince of Wales 23 / 24 May 1941.
At 2054/23 the four remaining escorting destroyers were ordered to follow at best speed in the heavy seas if they were unable to keep up with the capital ships which were proceeding at 27 knots. Two destroyers, HMS Antelope and HMS Anthony had been ordered to proceed to Iceland to refuel at 1400/23. The destroyers all managed to keep up for now and at 2318 hours they were ordered to form a screen ahead of both capital ships. At 0008/24 speed was reduced to 25 knots and course was altered to due north at 0017 hours. It was expected that contact with the enemy would be made at any time after 0140/24. It was just now that the cruisers lost contact with the enemy in a snowstorm and for some time no reports were coming in. At 0031 hours the Vice-Admiral signalled to the Prince of Wales that if the enemy was not in sight by 0210 hours he would probably alter course to 180° until the cruisers regained touch. He also signalled that he intended to engage the Bismarck with both capital ships and leave the Prinz Eugen to Norfolk and Suffolk.
The Prince of Wales' Walrus aircraft was ready for catapulting and it was intended to fly it off, but visibility deteriorated and in the end it was defuelled and stowed away at 0140 hours. A signal was then passed to the destroyers that when the capital ships would turn to the south they were to continue northwards searching for the enemy. Course was altered to 200° at 0203/24. As there was now little chance of engaging the enemy before daylight the crews were allowed to rest.
At 0247/24 HMS Suffolk regained touch with the enemy and by 0300 hours reports were coming in again. At 0353 hours HMS Hood increased speed to 28 knots and at 0400/24 the enemy was estimated to be 20 nautical miles to the north-west. By 0430 hours visibility had increased to 12 nautical miles. At 0440 hours orders were given to refuel the Walrus of HMS Prince of Wales but due to delays due to water in the fuel it was not ready when the action began and it was damaged by splinters and eventuelly jettisoned into the sea.
At 0535/24 hours a vessel was seen looming on the horizon to the north-west, it was the Bismarck. She was some 17 nautical miles away bearing 330°. Prinz Eugen was ahead of her but this was not immediately realised and as the silhoutte of the German ships was almost similar the leading ship was most likely thought to be the Bismarck on board HMS Hood.
Battle of the Denmark Strait, action with the Bismarck and Prinz Eugen. Loss of HMS Hood.
At 0537/24 HMS Hood and HMS Prince of Wales were turned together 40° to starboard towards the enemy. At 0549 hours course was altered to 300° and the left hand ship was designated as the target. This was a mistake as this was the Prinz Eugen and not the Bismarck. This was changed to the Bismarck just before fire was opened at 0552 hours. At 0554 hours the Bismarck and Prinz Eugen also opened fire. In the meantime Prince of Wales had also opened fire at 0053 hours. Her first salvo was over. The sixth salvo was a straddle. The Norfolk and Suffolk were too far astern of the enemy to take part in the action.
At 0555 hours Hood and Prince of Wales turned two points to port. This opened up Prince of Wales' A arcs as her ninth salvo was fired.
Shortly before 0605 hours Hood signalled that another turn of two points to port had to be executed. Bismarck had just fired her fifth salvo when the Hood was rent in two by a huge explosion rising apparently between the after funnel and the mainmast. The fore part began to sink seperately, bows up, whilst the after part remained shrouded in a pall of smoke. Three or four minutes later, the Hood had vanished between the waves leaving a vast cloud of smoke drifting away to the leeward. She sank in position 63°20'N, 31°50'W (the wreck was found in 2001 in approximate position 63°22'N, 32°17'W, the exact position has not been released to the public.)
The Prince of Wales altered course to starboard to avoid the wreckage of the Hood. The Bismarck now shifted fire from her main and secondary armament to her. Range was now 18000 yards. Within a very short time she was hit by four 15" and three 6" shells. At 0602 hours a large projectile wrecked the bridge, killing or wounding most of the personnel and about the same time the ship was holed underwater aft. It was decided temporarily to discontinue the action and at 0613 hours HMS Prince of Wales turned away behind a smoke screen. The after turret continued to fire but it soon malfunctioned and was out of action until 0825 hours. When the Prince of Wales ceased firing the range was 14500 yards. She had fired 18 salvos from the main armament and five from the secondary. The Bismarck made no attempt to follow or continue the action. She had also not escaped unscatched and had sustained two severe hits.
Such was the end of the brief engagement. The loss by an unlucky hit of HMS Hood with Vice-Admiral Holland, Captain Kerr and almost her entire ships company was a grievous blow, but a great concentration of forces was gathering behind the Commander-in-Chief, and Admiral Sommerville with Force H was speeding towards him from the south.
The chase
When the Hood blew up, HMS Norfolk was 15 nautical miles to the northward coming up at 28 knots. By 0630/24 she was approaching HMS Prince of Wales and Rear-Admiral Wake-Walker, signalling his intention to keep in touch, told her to follow at best speed. The destroyers that had been with HMS Hood and HMS Prince of Wales were still to the northward. They were ordered to search for survivors but only HMS Electra found three. The Prince of Wales reported that she could do 27 knots and she was told to open out to 10 nautical miles on a bearing of 110° so that HMS Norfolk could fall back on her if she was attacked. Far off the Prinz Eugen could be seen working out to starboard of the Bismarck while the chase continued to the southward.
At 0757 hours, HMS Suffolk reported that the Bismarck had reduced speed and that she appeared to be damaged. Shortly afterwards a Sunderland that had taken off from Iceland reported that the Bismarck was leaving behind a broad track of oil. The Commander-in-Chief with HMS King George V was still a long way off, about 360 nautical miles to the eastward, and Rear-Admiral Wake-Walker on the bridge of HMS Norfolk had to make an important decision, was he to renew the action with the help of the Prince of Wales or was he to make it his business to ensure that the enemy could be intercepted and brought to action by the Commander-in-Chief. A dominant consideration in the matter was the state of the Prince of Wales. Her bridge had been wrecked, she had 400 tons of water in her stern compartments and two of her guns were unserverable and she could go no more then 27 knots. She had only been commissioned recently and barely a week had passed since Captain Leach had reported her ready for service. Her turrets were of a new and an untried model, liable for 'teething' problems and evidently suffering from them, for at the end of the morning her salvoes were falling short and wide. It was doubted if she was a match for the Bismarck in her current state and it was on these grounds that Rear-Admiral Wake-Walker decided that he would confine himself to shadowing and that he would not attempt to force on an action. Soon after 1100/24 visibility decreased and the Bismarck was lost out of sight in mist and rain.
Measures taken by the Admiralty, 24 May 1941.
After the loss of HMS Hood the following measures were taken by the Admiralty. To watch for an attempt by the enemy to return to Germany, HMS Manchester, HMS Birmingham and HMS Arethusa had been ordered at 0120/24 to patrol off the north-east point of Iceland. They were told to proceed to this location with all despatch.
HMS Rodney (Capt. Sir F.H.G. Dalrymple-Hamilton, RN), which with four destroyers was escorting the troopship Britannic (26943 GRT, built 1930) westward, was ordered at 1022/24 to steer west on a closing course and if the Britannic could not keep up she was to leave her with one of the destroyers. Rodney was about 550 nautical miles south-east of the Bismarck. At 1200/24 she left the Britannic in position 55°15'N, 22°25'W and left HMS Eskimo (Lt.Cdr. E.G. Le Geyt, RN) with her. Rodney then proceeded with HMS Somali (Capt. C. Caslon, RN), HMS Tartar (Cdr. L.P. Skipwith, RN) and HMS Mashona (Cdr. W.H. Selby, RN) westwards on a closing course.
Two other capital ships were in the Atlantic; HMS Ramillies (Capt. A.D. Read, RN) and HMS Revenge (Capt. E.R. Archer, RN). The Ramillies was escorting convoy HX 127 from Halifax and was some 900 nautical miles south of the Bismarck. She was ordered at 1144/24 to place herself to the westward of the enemy and leaving her convoy at 1212/24 in position 46°25'N, 35°24'W, she set course to the north. HMS Revenge was ordered to leave Halifax and close the enemy.
Light cruiser HMS Edinburgh (Capt. C.M. Blackman, DSO, RN) was patrolling in the Atlantic between 44°N and 46°N for German merchant shipping and was ordered at 1250/24 to close the enemy and take on relief shadower. At 1430/24 she reported her position as 44°17'N, 23°56'W and she was proceeding on course 320° at 25 knots.
Rear-Admiral Wake-Walker was ordered to continue shadowing even if he ran short of fuel so to bring the Commander-in-Chief into action.
The Bismack turns due south at 1320 hours on 24 May 1941.
In the low state of visibility, HMS Norfolk and HMS Suffolk had to be constantly on the alert against the enemy falling back and attacking them. At 1320/24 the Bismarck and Prinz Eugen altered course to the south and reduced speed. HMS Norfolk sighted them through the rain at a range of only 8 nautical miles. Norfolk had to quickly turn away under the cover of a smoke screen.
It was at 1530/24 when HMS Norfolk received a signal made by the Commander-in-Chief at 0800/24 from which it was estimated that the Commander-in-Chief would be near the enemy at 0100/25. This was later changed to 0900/25.
At 1545/24, Rear-Admiral Wake-Walker was asked by the Admiralty to answer four questions; 1) State the remaining percentage of the Bismarck's fighting efficiency. 2) What amout of ammunition had the Bismarck expended. 3) What are the reasons for the frequent alterations of course by the Bismarck. 4) What are your intentions as regards to the Prince of Wales' re-engaging the Bismarck.
The answers by Rear-Admiral Wake-Walker were as follows. 1) Uncertain but high. 2) About 100 rounds. 3) Unaccountable except as an effort to shake off HMS Norfolk and HMS Suffolk. 4) Consider it wisely for HMS Prince of Wales to not re-engage the Bismarck until other capital ships are in contact, unless interception failed. Doubtful if she has the speed to force an action.
The afternoon drew on towards evening. Still the Bismarck and Prinz Eugen held on to the south while the Norfolk, Suffolk and Prince of Wales were still keeping her in sight.
At 1711/24 in order to delay the enemy if possible, by attacking him from astern, the Prince of Wales was stationed ahead of the Norfolk. The enemy was not in sight from the Norfolk at that time, but the Suffolk was still in contact.
At 1841/24 the Bismarck opened fire on the Suffolk. Her salvoes fell short, but one or two shorts came near enough to cause some minor damage to her hull plating aft. HMS Suffolk replied with nine broadsides before turning away behind a smoke screen.
On seeing the Suffolk being attacked, HMS Norfolk turned towards and she and HMS Prince of Wales opened fire, the latter firing 12 salvoes. By 1856 hours the action was over. Two of the guns on the Prince of Wales malfuntioned again. After the action the cruisers started to zig-zag due to fear for German submarines.
British dispositions at 1800 hours on 24 May 1941.
From the Admiralty at 2025/24, there went out a signal summarising the situation at 1800/24. The position, course and speed of the Bismarck was given as 59°10'N, 36°00'W, 180°, 24 knots with HMS Norfolk, HMS Suffolk and HMS Prince of Wales still in touch. The Commander-in-Chiefs estimated position at 1800/24 was 58°N, 30°W, with HMS King George V and HMS Repulse. HMS Victorious was with the 2nd Cruiser Squadron (HMS Galatea, HMS Aurora, HMS Kenya, HMS Neptune). They had parted company with the Commander-in-Chief at 1509/24. Heavy cruiser HMS London (Capt. R.M. Servaes, CBE, RN) was in position 42°45'N, 20°10'W and had been ordered to leave her convoy and close the enemy. HMS Ramillies was in estimated position 45°45'N, 35°40'W. She had been ordered to place herself to the west of the enemy. HMS Manchester, HMS Birmingham and HMS Arethusa were returning from their position off the north-east of Iceland to refuel. HMS Revenge had left Halifax and was closing convoy HX 128. HMS Edinburgh was in approximate position 45°15'N, 25°10'W. She had been ordered to close and take over stand by shadower.
Evening of 24 May 1941.
At 2031/24 HMS Norfolk received a signal sent by the Commander-in-Chief at 1455/24 stating that aircraft from HMS Victorious might make an attack at 2200/24 and Rear-Admiral Wake-Walker now waited for an air attack which he expected at 2300 hours. By that time Bismarck had been lost from sight but at 2330/24 HMS Norfolk briefly sighted her at a distance of 13 nautical miles. At 2343/24 aircraft from HMS Victorious were seen approaching. They circled round HMS Prince of Wales and HMS Norfolk and the latter was able to direct them to the enemy. At 0009/25 heavy anti-aircraft gunfire was seen and the Bismarck was just visible as the aircraft attacked.
HMS Victorious and the 2nd Cruiser Squadron detached by the Commander-in-Chief.
At 1440/24 the Commander-in-Chief ordered the 2nd Cruiser Squadron (HMS Galatea, HMS Aurora, HMS Kenya, HMS Hermione) and HMS Victorious to a position within 100 nautical miles from Bismarck and to launch a torpedo bombing attack and maintain contact as long as possible. The object of the torpedo bombing attack was to slow the enemy down. On board the Victorious were only 12 Swordfish torpedo bombers and 6 Fulmar fighters. Victorious was only recently commissioned and her crew was still rather green. She had on board a large consignment of crated Hurricane fighters for Malta which were to be delivered to Gibraltar.
At 2208/24 HMS Victorious commenced launching 9 Swordfish in position 58°58'N, 33°17'E. Two minutes later al were on their way to find the Bismarck. The Squadron was led by Lt.Cdr.(A) E. Esmonde, RN.
HMS Victorious aircraft attack the Bismarck.
When the Swordfish took off from HMS Victorious the Bismarck was estimated to be in position 57°09'N, 36°44'W and was steering 180°, speed 24 knots. At 2330/24 they sighted the Bismarck but contact was lost in the bad weater. Shortly afterwards the Swordfish sighted HMS Prince of Wales, HMS Norfolk and HMS Suffolk. HMS Norfolk guided them to the enemy which was 14 nautical miles on her starboard bow. At 2350 hours a vessel was detected ahead and the squadron broke cloud to deliver an attack. To their surprise they found themselves over a United States Coastguard cutter. The Bismarck was 6 nautical miles to the southward and on sighting the aircraft opened up a heavy barrage fire. Lt.Cdr. Esmonde pressed home his attack, 8 of the Swordfish were able to attack, the other had lost contact in the clouds.
The 8 planes attacked with 18" torpedoes, fitted with Duplex pistols set for 31 feet. At midnight three Swordfish attacked simultaneously on the port beam. Three others made a longer approach low down attacking on the port bow a minute later. One took a longer course, attacking on the port quarter. One went round and attacked on the starboard bow a couple of minutes after midnight. At least one hit was claimed on the starboard side abreast the bridge. The Germans however state that no hit was scored but that the violent maneuvering of the ship to avoid the attack, together with the heavy firing by the Bismarck caused the leak in no.2 boiler room to open up. No.2 boiler room was already partially flooded and now had to be abandoned.
All Swordfish from the striking had returned to HMS Victorious by 0201/25. Two Fulmars launched at 2300/24 for shadowing failed to find their ship in the darkness due to the failure of Victorious' homing beacon. Their crews were in the end picked up from the chilly water.
HMS Norfolk and HMS Suffolk loose contact at 0306/25.
While the aircraft from HMS Victorious were making their attack, HMS Norfolk sighted a ship to the south-west and gave the order to open fire. HMS Prince of Wales was able to identify it in time as an American coast guard cutter, but in the movements prepartory to opening fire HMS Norfolk lost touch with the enemy for a time and it was not until 0116/25 that she suddenly sighted the Bismarck only 8 nautical miles away. There followed a brief exchange of fire. HMS Norfolk and HMS Prince of Wales turned to port to bring their guns to bear and the latter was ordered to engage. It was then 0130/25. The Prince of Wales fired two salvoes at 20000 yards by radar. The Bismarck answered with two salvoes which fell a long way short. The light was failing and the enemy was again lost to sight. HMS Suffolk, which had to most reliable RDF set was told to act independently so as to keep in touch.
Around 0306/25 the Suffolk lost touch with the Bismarck. At 0552/25 Rear-Admiral Wake-Walker asked if HMS Victorious could launch aircraft for a search at dawn.
Search measures, 25 May 1941.
With the disappearance of the Bismarck at 0306/25 the first phase of the pursuit ended. The Commander-in-Chief, in HMS King George V with HMS Repulse in company was then about 115 nautical miles to the south-east. At 0616/25, Rear-Admiral Wake-Walker signalled that it was most probable that Bismarck and Prinz Eugen made a 90° turn to the west or turned back and 'cut away' to the eastward astern of the cruisers. Suffolk was already searching to the south-west and Norfolk was waiting for daylight to do the same. Prince of Wales was ordered to join the King George V and Repulse.
Force H was still on a course to intercept the Bismarck while steaming on at 24 knots. The Rear-Admiral commanding the 2nd Cruiser Squadron in HMS Galatea had altered course at 0558/25 to 180° for the position where the enemy was last seen and the Victorious was getting 8 aircraft ready to fly off at 0730/25 for a search to the eastward. This plan however was altered on orders being recieved from the Commander-in-Chief to take the cruisers and Victorious and carry out a search to the north-west of the Bismarck's last reported position. Five Fulmars had already been up during the night, two of them had not returned to the ship. The search therefore had to be undertaken by Swordfish, the only aircraft available. At 0810/25, seven Swordfish were flown off from position 56°18'N, 36°28'W to search between 280° and 040° up to 100 nautical miles. The search was supplemented by Victorious herself as well as the cuisers from the 2nd Cruiser Squadron (Galatea, Aurora, Kenya and Hermione) which were spread some miles apart.
DF position of the Bismarck of 0852/25.
HMS King George V was still proceeding to the south-west when at 1030/25 the Commander-in-Chief recieved a signal from the Admiralty that the Bismarck's position had been obtained by DF (direction finding) and that it indicated that the Bismarck was on a course for the North Sea by the Faeroes-Iceland passage. To counter this move by the enemy the Commander-in-Chief turned round at 1047/25 and made for the Faeroes-Iceland passage at 27 knots. HMS Repulse was no longer in company with HMS King George V, she had been detached at 0906/25 for Newfoundland to refuel. Suffolk also turned to the eastward to search, her search to the south-west had been fruitless. The search by HMS Victorious, her aircraft and the 2nd Cruiser Squadron to the north-west also had no result. Six Swordfish were landed on by 1107/25, one failed to return. HMS Galatea, HMS Aurora and HMS Kenya now turned towards the DF position of the Bismarck to search in that direction. HMS Hermione had to be detached to Hvalfiord, Iceland to refuel as she was by now down to 40%. The other cruisers slowed down to 20 knots to economise their remaining fuel supply wich was also getting low. At this moment HMS King George V had about 60% remaining.
Events during 25 May 1941.
At 1100/25, HMS King George V, HMS Suffolk and HMS Prince of Wales were proceeding to the north-east in the direction of the enemy's DF signal. HMS Rodney was in position 52°34'N, 29°23'W some 280 nautical miles to the south-eastward on the route towards the Bay of Biscay. On receiving the Commander-in-Chiefs signal of 1047/25 she too proceeded to the north-east.
Meanwhile to Admiralty had come to the conclusion that the Bismarck most likely was making for Brest, France. This was signalled to the Commander-in-Chief at 1023/25 to proceed together with Force H and the 1st Cruiser Squadron on that assumption.
In the absence however of definite reports it was difficult to be certain of the position of the enemy. The DF bearings in the morning had not been very definite. At 1100/25, HMS Renown (Force H), was in position 41°30'N, 17°10'W was ordered to act on the assumption the enemy was making for Brest, France. She shaped course accordingly and prepared a comprehensive sheme of air search. At 1108/25, HMS Rodney, was told to act on the assumption that the enemy was making for the Bay of Biscay. At 1244/25 the Flag Officer Submarines ordered six submarines to take up intercepting positions about 120 nautical miles west of Brest. The submarines involved were HMS Sealion (Cdr. B. Bryant, DSC, RN), HMS Seawolf (Lt. P.L. Field, RN), HMS Sturgeon (Lt.Cdr. D. St. Clair-Ford, RN) from the 5th Submarine Flottilla at Portsmouth, HMS Pandora (Lt.Cdr. J.W. Linton, DSC, RN), which was on passage to the U.K. from the Mediterranean to refit, HMS Tigris (Lt.Cdr. H.F. Bone, DSO, DSC, RN), from the 3rd Submarine Flottilla at Holy Loch and HMS H 44 (Lt. W.N.R. Knox, DSC, RN), a training boat from the 7th Submarine Flotilla at Rothesay which happened to be at Holyhead. Seawolf, Sturgeon and Tigris were already on patrol in the Bay of Biscay, Sealion departed Portsmouth on the 25th as did H 44 but she sailed from Holyhead. Pandora was on passage to the U.K. to refit and was diverted.
At 1320/25 a good DF fix located an enemy unit within a 50 mile radius from position 55°15'N, 32°00'W. This was sent by the Admiralty to the Commander-in-Chief at 1419/25 and it was received at 1530/25. It was only in the evening that it was finally clear to all involved that Bismarck was indeed making for a French port. Air searches had failed to find her during the day. (1)
18 May 1941

Chase and sinking of the German battleship Bismarck, 18 to 27 May 1941.
Part II.
26 May 1941.
By now the question of fuel was becoming acute. For four days ships had been steaming at high speeds and the Commander-in-Chief was faced with the reality of fuel limits. HMS Repulse had already left for Newfoundland, HMS Prince of Wales had by now been sent to Iceland to refuel. HMS Victorious and HMS Suffolk had been forced to reduce speed to economise their fuel.
Coastal Command started air searches along the route towards the Bay of Biscay by long range Catalina flying boats. Lack of fuel was effecting the destroyer screens of the capital ships. There was no screen available for HMS Victorious. The 4th Destroyer Flotilla, escorting troop convoy WS 8B, was ordered at 0159/26 to join the Commander-in-Chief in HMS King George V and HMS Rodney as was HMS Jupiter (Lt.Cdr. N.V.J.P. Thew, RN) which sailed from Londonderry. Leaving the convoy the 4th D.F. proceeded to the north-east. Force H in the meantime was also approaching the immediate area of operations. These forces were to play an important part in the final stages of the chase of the Bismarck.
Force H, 26 May 1941.
HMS Renown, HMS Ark Royal and HMS Sheffield were having a rough passage north in heavy seas, high wind, rain and mist. Their escorting destroyers had already turned back towards Gibraltar at 0900/25. At dawn on the 26th there was half a gale blowing from the north-west. At 0716/26 HMS Ark Royal launched a security patrol in position 48°26'N, 19°13'W to search to the north and to the west just in case the Scharnhorst and Gneisenau had departed Brest to come to the aid of the Bismarck. At 0835/26 there followed an A/S patrol of ten Swordfish. All planes had returned by 0930. None had seen anything.
Bismarck sighted at 1030/26.
It was at 1030/26 that one of the long range Catalina's of the Coastal Command sighted the Bismarck in position 49°30'N, 21°55'W. It was received in HMS King George V at 1043 hours and in HMS Renown in 1038 hours. It placed the enemy well to the westward of the Renown. It was confirmed within the hour when two Swordfish from the Ark Royal which reported the Bismarck in position 49°19'N, 20°52'W some 25 miles east of the position given by the Catalina. The Commander-in-Chief was at that moment about 130 miles to the north of the Bismarck but it was soon clear that the Bismarck had too great a lead to permit her being overtaken unless her speed could be reduced. Nor was the question one merely of distance and speed. The Bismarck was approaching a friendly coast and could run her fuel tanks nearly dry and was sure of air protection, while the British ships would have a long journey back to base in the face of air and submarine attack. HMS Renown was ahead of the Bismarck but it was important that she did not engage the Bismarck unless the latter was already heavily engaged by the better armoured HMS King George V and HMS Rodney.
When the Catalina found the Bismarck at 1030 hours, the 4th Destroyer Flotilla was steering east to join the Commander-in-Chief. They seem to have crossed astern of the enemy's track about 0800/26. The Catalina's report reached Capt. Vian in HMS Cossack at 1054/26 and 'knowing that the Commander-in-Chief would order him to intercept the enemy' Capt. Vian altered course to the south-east.
First attack by aircraft from the Ark Royal.
At 1315/26 HMS Sheffield was detached to the southward with orders to close and shadow the enemy, who was estimated to be 40 nautical miles south-west of the Renown. The visual signal ordering this movement was not repeated to HMS Ark Royal, an omission which had serious consequenses for the aircraft that were to take off did not know that HMS Sheffield had parted company.
At 1450/26 HMS Ark Royal launched a striking force of 14 Swordfish aircraft with the orders to proceed to the south and attack the Bismarck with torpedoes. Weather and cloud conditions were bad and a radar contact was obtained on a ship some 20 nautical miles from the estimated position of the enemy that had been given to the leader shortly before takeoff. At 1550 hours they broke through the clouds and fired 11 torpedoes. Unfortunately the supposed enemy was HMS Sheffield which managed to avoid all torpedoes. The Bismarck at that time was some 15 nautical miles to the southward. The striking force then returned an all aircraft had landed on by 1720/26.
At 1740/26, HMS Sheffield, sighted the Bismarck in position 48°30'N, 17°20'W and took station about 10 nautical miles astern and commenced shadowing the enemy.
Ark Royal's second attack, 2047/26.
The first striking force on its way back sighted the 4th Destroyer Flotilla 20 nautical miles west of Force H. As soon as the aircraft from the first strike had landed they were refuelled and rearmed as fast as possible. Take off started at 1910/26, a total of 15 Swordfish were launched. Reports coming in from HMS Sheffield placed the Bismarck at 167°, 38 nautical miles from the Ark Royal. The striking force was ordered to contact HMS Sheffield who was told to use DF to guide them in.
At 1955/26 HMS Sheffield was sighted but soon lost in the bad weather conditions. She was found again at 2035 hours, she guided the Swordfish in and directed them by visual signal on the enemy bearing 110°, 12 nautical miles. The force took departure for the target in subflights in line astern at 2040/26.
At 2047/26 no.1 subflight of three Swordfish dived through the clouds and sighted the Bismarck 4 nautical miles off to the south-east. One Swordfish of no.3 subflight was with them. Approaching again just inside the cloud they made their final dive at 2053/26 on the port beam under a very intense and accurate fire from the enemy. They dropped four torpedoes of which one was seen to hit. No.2 subflight, made up of two Swordfish, lost touch with no.1 subflight in the clouds, climed to 9000 feet, then dived on a bearing obtained by radar and then attacked from the starboard beam, again under heavy and intense fire. They dropped two torpedoes for one possible hit. The third plane of this subflight had lost touch with the other two and had returned to HMS Sheffield to obtained another range and bearing to the enemy. It then flew ahead of the enemy and carried out a determined attack from his port bow under heavy fire and obtained a torpedo hit on the port side amidships.
Subflight no.4 followed subflight no.3 into the clouds but got iced up at 6600 feet. It then dived through the clouds and was joined by no.2 aircraft from subflight no.3. The Bismarck was then sighted engaging subflight no.2 to starboard. The four aircraft then went into the clouds and cicled the German battleships stern and then dived out of the clouds again and attack simultaneously from the port side firing four torpedoes. All however missed the Bismarck. They came under a very heavy and fierce fire from the enemy and one of the aircraft was heavily damaged, the pilot and air gunner being wounded.
The two aircraft of subflight no.5 lost contact with the other subflights and then with each other in the cloud. They climbed to 7000 feet where ice began to form. When coming out of the cloud at 1000 feet aircraft 4K sighted the Bismarck down wind, she then went back into the cloud under fire from the enemy. She saw a torpedo hit on the enemy's starboard side, reached a position on the starboard bow, withdrew to 5 miles, then came in just above the sea and just outside 1000 yards fired a torpedo which did not hit. The second plane of this flight lost his leader diving through the cloud, found himself on the starboard quarter and after two attempts to attack under heavy fire was forced to jettison his torpedo.
Of the two Swordfish of subflight no.6 one attacked the Bismarck on the starboard beam and dropped his torpedo at 2000 yards without success. The second plane lost the enemy, returned to the Sheffield for a new range and bearing and after searching at sea level attacked on the starboard beam but was driven off by intense fire. The attack was over by 2125/26. Thirteen torpedoes had been fired and it was thought two hits and one probable hit had been obtained. Two torpedoes were jettisoned. The severe nature and full effect of the damage done was at first not fully realised. Actually the Bismarck had received a deadly blow. The last of the shadowing aircraft to return had seen her make two complete circles. One torpedo had struck her on the port side amidships doing little damage but th other torpedo that hit was on the starboard quarter damaging her propellors, wrecking her steering gear and jambing her rudders, it was this torpedo hit that sealed her fate.
HMS Sheffield was still shadowing astern when at 2140/26 the Bismarck turned to port and fired six accurate salvoes of 15". None actually hit Sheffield but a near miss killed three men and seriously injured two. HMS Sheffield turned away and while doing so she sighted HMS Cossack and the other destroyers from the 4th DF approaching from the westward. She then gave them the approximate position of the Bismarck. At 2155/26, HMS Sheffield lost touch with the Bismarck. The destroyers continued to shadow and eventually attack. Meanwhile HMS Renown and HMS Ark Royal shaped course for the southward to keep the road clear for the Commander-in-Chief in HMS King George V and for HMS Rodney. Also in the Ark Royal aircraft were being got ready for an attack on the Bismarck at dawn.
Bismarck, 26 May 1941.
The Bismarck could no longer steer after the torpedo hit aft. The steering motor room was flooded up to the main deck and the rudders were jambed. Divers went down to the steering room and managed to centre one rudder but the other remained immovable. She was by this time urgently in need of fuel. It was hoped by the Germans that while she was nearing the French coast strong forces of aircraft and submarines would come to her assistance.
At 2242/26, Bismarck sighted the British destroyers. A heavy fire was opened on them. Their appearence greatly complicated the situation. Before their arrival however, Admiral Lütjens seems to have made up his mind as one hour earlier he had signalled to Berlin 'ship out of control. We shall fight to the last shell. Long live the Führer.'
The fourth Destroyer Flotilla makes contact, 26 May 1941.
Just as the sun was setting, Captain Vian (D.4) in HMS Cossack with HMS Maori, HMS Sikh, HMS Zulu and the Polish destroyer ORP Piorun arrived on the scene.
Shortly after 1900/26 HMS Renown and HMS Ark Royal were sighted to the northward. Ark Royal was just about to fly off the second striking force. The destroyers continued on the the south-east. At 2152/26 HMS Sheffield was sighted and from her Captain Vian obtained the approximate position of the enemy.
The destroyers were spread 2.5 nautical miles apart on a line bearing 250° - 070° in the order from north-east to south-west, Piorun, Maori, Cossack, Sikh, Zulu. During the latter stages of the approach speed was reduced and the flotilla manoeuvred so as to avoid making a high speed end-on contact.
At 2238/26, ORP Piorun on the port wing reported the Bismarck 9 nautical miles distant, bearing 145° and steering to the south-eastward.
Destroyers shadowing, late on 26 May 1941.
At the time the Piorun reported being in contact with the Bismarck the destroyers were steering 120°. All were at once ordered to take up shadowing positions. Four minutes later the Bismarck opened a heavy fire with her main and secondary armaments on the Piorun and Maori. Two attempts were made by these ships to work round to the northward of the enemy but they were silhouetted against the north-western horizon making them easy to spot. The Bismarck's fire was unpleasantly accurate, through neither destroyer was actually hit. The Commanding Officer of the Maori then decided to work round to the southward and altered course accordingly.
The Piorun closed the range and herself opened fire from 13500 yards but after firing three salvoes, she was straddled by a salvo which fell about 20 yards from the ships side. She then ceased fire and turned away to port while making smoke. During this engagement she lost touch with the other destroyers and later also with the Bismarck. She remained under fire for about one hour but was not hit. She worked round to the north-east of the Bismarck but eventually lost touch with her prey at 2355/26.
The other destroyers, meanwhile, had been working round to the southward of the enemy to take up shadowing positions to the eastward of him. Soon after the initial contact it was evident the the Bismarck's speed had been so seriously reduced that interception by the battlefleet was certain, provided that contact could be held. In these circumstances Captain Vian defined his object at firstly, to deliver the enemy to the Commander-in-Chief at the time he desired, and secondly, to sink or immoblise her with torpedoes during the night but not with to great a risk for the destroyers. Accordingly at 2248/26 as signal was made to all ordering them to shadow and this operation was carried out through the night, though torpedo attacks were carried out later under the cover of darkness.
As darkness came on, the weather deteriorated and heavy rain squalls became frequent. Visibility varied between 2.5 nautical miles and half a mile but the Bismarck, presumably using radar, frequently opened up accurate fire outside these ranges.
About half an hour after sunset, the destroyers were ordered at 2324/26 to take up stations prepartory to carrying out a synchronised torpedo attack. This was subsequently cancelled on account of the adverse weather conditions and they were ordered to attack independently as opportunity offered. At about 2300 hours the Bismarck altered course to the north-westward.
At this time HMS Zulu was in touch with her and kept her under observation from the southward. At 2342 hours the Bismarck opened fire on HMS Cossack, then about 4 miles to the south-south-west and shot away her aerials. The Cossack turned away under the cover of smoke, shortly afterwards resuming her course to the eastward.
A few minutes later, at 2350 hours, HMS Zulu came under heavy fire from the Bismarck's 15" guns. The first three salvoes straddled wounding an officer and two ratings. Drastic avoiding action was taken as a result of which Zulu lost touch. HMS Sikh, however, who had lost sight of the enemy half an hour previously, had observed her firing at HMS Cossack and now succeeded in shadowing from astern until 0020/27 when the enemy made a large alteration to port and commenced firing at her. HMS Sikh altered course to port, intending to fire torpedoes, but the view of the Torpedo Control Officer was obscured by shell splashes and Sikh then withdrew to the southward.
Destroyer night torpedo attacks, 26/27 May 1941.
HMS Zulu, after her escape at 2345/26, had steered to the northward and at 0030/27 fell in with HMS Cossack. Shortly afterwards she sighted ORP Piorun. On receipt of a signal from Captain Vian, timed 0040/27, to take any opporunity to fire torpedoes, HMS Zulu altered course to the westward,and at 0100/27 sighted the Bismarck steering 340°.
Positions of the destroyers was now as follows; to the north-eastward of the enemy, HMS Cossack was working round to the north and west. HMS Maori, since losing touch, had been making to the westward. She was now to the south-west of the Bismarck. HMS Sikh was some distance to the southward, not having received any information regarding the position of the Bismarck since 0025/27. HMS Zulu was astern of the enemy and in contact. Range was only 5000 yards. Bismarck finally spotted Zulu and at once opened fire with her main and secondary armament and straddled Zulu. She fired four torpedoes at 0121/27 but no hits were observed and they are believed to have missed ahead. Zulu then ran out to the northward in order to be clear of the other destroyers. Shortly afterwards they widnessed a successful attack by HMS Maori.
HMS Maori had seen the Bismarck opening fire on the Zulu at 0107/27. Maori then closed to 4000 yards on Bismarck's port quarter apparently undetected. When abeam of the enemy, who then appeared to be altering course to starboard Maori fired a star shell to see what he was about. Two minutes later, at 0137/27, two torpedoes were fired and course was altered towards the Bismarck with the intention of attacking again from her starboard bow once the enemy had steadied on her new course. Whilst Maori was turning a torpedo hit was observed on the enemy. A bright glow illuminated the waterline of the enemy battleship from stem to stern. Shortly afterwards there appeared between the bridge and the stem a glare that might have been a second hit. The enemy immediately opened up a very heavy fire with both main and secondairy armaments and quick firing guns. As the Maori was being straddled, she turned away, and increased to full speed. Shots continued to fall on both sides of the ship until the range had been opened up to 10000 yards. Maori was not actually hit. Meanwhile HMS Cossack had been creeping up from the north-eastward and at 0140/27, only three minutes after Maori had fired two torpedoes, Cossack launched three torpedoes from 6000 yards. Bismarck stood out plainly, silhoutted by the broadsides she was firing at the Maori. One torpedo was seen to hit. Flames blazed on the forecastle of the Bismarck after this hit but they were quickly extinguished. Probably as a consequence of the torpedo hits the Bismarck stopped dead in the water, this was reported by HMS Zulu at 0148/27. After about one hour the Bismarck got underway again. On receipt of this report, HMS Sikh, who was closing the scene of the action from the southward, made an attack. Four torpedoes were fired at 0218/27 at the stopped battleship. It is believed that one hit was obtained. After this attack Sikh remained in radar contact with the enemy until 0359/27 when contact was lost.
Around 0240/27 the Bismarck was underway again, proceeding very slowly to the north-westward. At 0335/27, HMS Cossack made another attack firing her last remaining torpedo from a range of 4000 yards. It missed. HMS Cossack then came under a heavy fire. She withdrew to the northward under the cover of smoke, altering to a westerly course shortly afterwards.
At 0400/27 all destroyers had lost touch with the enemy. HMS Cossack was then to the north-west and HMS Sikh, HMS Zulu and HMS Maori were between the south-west and south-east of the Bismarck. All destroyers now endeavoured to regain contact.
Touch with the enemy was not regained until shortly before 0600 hours. By that time ORP Piorun, which was running short of fuel, had been ordered to proceed to Plymouth.
Destroyers shadowing, morning twilight, 27 May 1941, final attack.
Touch was regained by HMS Maori at 0550/27 when she sighted the Bismarck zigzagging slowly on a base course of 340° at about 7 knots. Maori commenced shadowing until daylight. At 0625 hours, HMS Sikh was also in contact when the Bismarck emerged from a rain squal 7000 yards on her starboard bow. By then it was nearly full daylight but to the surprise of the crew of the Sikh she got away with it without being fired at.
Shortly before sunrise a final torpedo attack was carried out by HMS Maori, which fired two torpedoes at 0656/27 from 9000 yards. Both missed. The Bismarck opened fire and straddled Maori which escaped at 28 knots.
At daylight the destroyers were stationed in four sectors from which they were able to keep the enemy under continuous observation until the arrival of the Battle Fleet at 0845 hours.
Force H, 26/27 May 1941.
While the destroyers were shadowing the Bismarck, the pursuing forces were drawing steadily closer. To the north was the Commander-in-Chief with the King George V and the Rodney with the Norfolk closing on them. In the south HMS Dorsetshire (Capt. B.C.S. Martin, RN) was coming up, while Force H was waiting for the dawn. When Captain Vian's destroyers got in touch at 2251/26 the Renown and Ark Royal were north-west of the enemy. It was not possible to attack with aircraft during the night but all preparations were made to attack at dawn with 12 Swordfish. Course was shaped to the northward and then to the west for a time and at 0115/27 Force H turned south. Shortly afterwards instructions were received from the Commander-in-Chief to keep not less then 20 miles to the southward of the Bismarck so as to leave a clear approach for the Battle Fleet. Force H accordingly continued to the southward during the night. Bursts of starshell and gunfire could be seen during the night while the destroyers attacked. At 0509/27 an aircraft was flown off from HMS Ark Royal to act as a spotter for HMS King George V but it failed to find the Bismarck in the bad weather. The striking of force of 12 Swordfish was ready but due to the bad weather to strike was cancelled.
At 0810/27, HMS Maori was sighted. She reported the Bismarck 11 miles to the north of her. The made the enemy 17 miles to the north of HMS Renown so course was shaped to the south-west. At 0915/27 heavy gunfire could be heard and the striking force was flown off. They found the Bismarck at 1016/27. By then the battle was almost over, her guns were silenced and she was on fire. They saw her sink. At 1115/27 they had all landed back on HMS Ark Royal. A German Heinkel aircraft dropped a couple of bombs near HMS Ark Royal when they were landing on.
HMS Norfolk, 26/27 May 1941.
When the Catalina report (1030/26) came in, HMS Norfolk altered course to the south-west and increased speed to 27 knots. At 2130/26 the Bismarck was still some 160 nautical miles to the southward and speed was increased to 30 knots. At 2228/26 the report on the torpedo hit by the aircraft from Ark Royal came in and the Norfolk turned to the southward, continuing to close the enemy. At 0753/27 Norfolk sighted the Bismarck. She did not open fire and was lost to sight after ten minutes. At 0821/27, HMS King George V, was sighted to the westward, 12 nautical miles away. The position of the enemy was passed to the Commander-in-Chief. The action opened at 0847/27 at which time HMS Norfolk was then some 10 nautical miles from the Commander-in-Chief and due north of the Bismarck. HMS Norfolk had seen the beginning and was now to see the end.
HMS Dorsetshire, 26/27 May 1941.
On 26 May 1941, HMS Dorsetshire, was with convoy SL 74 proceeding from Freetown to the U.K. When she received the sighting report from the Catalina at 1056/26 she was some 360 nautical miles to the south of the Bismarck. She then left the protection of the convoy to the Armed Merchant Cruiser HMS Bulolo (Capt.(Retd.) R.L. Hamer, RN) and set course for the northward to take up the possible task of shadowing. By 2343/26 it became clear from reports that the Bismarck was making no ground to the eastward and that at 0230/27 she appeared to be laying stopped. Due to the heavy seas HMS Dorsetshire was forced to reduce speed to 25 knots and later even to 20 knots. At 0833/27 a destroyer was sighted ahead at a range of 8 nautical miles, it was HMS Cossack which reported the enemy at a range of 6 nautical miles. At 0850/27 the flashes of the Bismarck's guns could be seen to the westward. HMS Dorsetshire arrived at the scene of the action in the nick of time.
HMS King George V and HMS Rodney, 26/27 May 1941.
During 26 May 1941 the Commander-in-Chief in HMS King George V had been making hard to the south-east at 25 knots. He had been joined by HMS Rodney at 1806/26. They were then some 90 nautical miles north of the Bismarck. Fuel was a matter of grave anxiety. At noon on the 26th, HMS King George V, had only 32% remaining and HMS Rodney reported that she had to return at 0800/27. Speed had to be reduced on this account to 22 knots at 1705/26. In these circumstances it was no longer possible to hope to intercept the enemy, and the Commander-in-Chief decided that unless the enemy's speed had been reduced by 2400/26, he must turn at that hour. The only hope lay in the Bismarck being slowed up by the Swordfish attacking from HMS Ark Royal. A report came in that the striking force had left. Then at 2132/26, HMS Sheffield, reported that the enemy was steering 340° followed by 000° four minutes later. These reports indicated that the Bismarck was not able to hold her course and that her steering gear must have been damaged. It might still be possible to intercept her.
The Commander-in-Chief turned to the south at once hoping to make contact from the eastward in the failing light. Due to the bad weather conditions and visibility the Commander-in-Chief decided to haul off the the eastward and northward and then work round to engage from the westward at dawn. He turned eastward at 2306/26. During the night reports from Captain Vian's destroyers came in confirming the northerly course of the Bismarck. At 0236/27 the Commander-in-Chief ordered Captain Vian that the destroyers were to fire star-shell every half hour, but frequent rain squalls prevented these from being seen and they tended to attrack the enemy's fire. The Bismarck was still a formidable opponent for at 0353/27 Captain Vian reported that during the last hour she had done 8 nautical miles and that she was still capable of heavy and accurate fire. The Commander-in-Chief decided not to make a dawn approach but to wait until daylight while approaching from the west taking advantage of wind, sea and light. At 0529/27 HMS Rodney reported sighting HMS Norfolk to the eastward by DF. It was light at 0600 hours. At 0820 hours HMS Norfolk was sighted on the port bow of HMS King George V. She signalled 'enemy 130°, 16 nautical miles'. At 0843/27 looming on the starboard bow there emerges out of a rain squall the dark grey blot of a large ship. 'Enemy in sight'.
Bismarck 26/27 May 1941.
The Bismarck after altering course to the north-west had been labouring along with a jambed rudder, steering an erratic course at 8 knots. During the night the attacking destroyers were met with heavy and accurate salvoes. Sixteen torpedoes were fired at her. Early in the morning a glare of star-shell burst over her, lighting her up. Three torpedoes followed from a destroyer on the port bow (HMS Maori) of which one hit on the port side amidships. Three minutes later three more came from the starboard side (these were fired by HMS Cossack) of which one hit on the starboard bow. The damage that was sustained from these torpedo hits is not known. The Bismarck lay stopped for over one hour. At 0140/27 a message was received that a large number of Junkers bombers were coming to her aid as were U-boats but the Bismarck was beyond their help besides that the aircraft did not find her. One U-boat (U-556, which was out of torpedoes) on its way back from the Atlantic joined her and was within sight during the night. Another (U-74) arrived at 0600/27 but had been damaged in a depth charge attack and could do nothing as well. In the Bismarck the crew was exhausted and men were falling asleep at their posts. It was under these conditions that at 0840/27 two British battleships were seen to approach from the westward.
Situation before the action, 27 May 1941.
A north-westerly gale was blowing when dawn broke with a good light and clear horizon to the north-eastward. Reports received during the night indicated that, despite reduced speed and damaged rudders, Bismarck's armament was functioning effectively. Given the weather conditions the Commander-in-Chief decided to approach on a west-north-westerly bearing and, if the enemy continued his northerly course, to deploy to the southward on opposite course at a range of about 15000 yards. Further action was to be dictated by events.
Between 0600 and 0700 hours a series of enemy reports from HMS Maori which was herself located by DF bearings. This enabled HMS King George V to plot her position relatively to the Bismarck which had apparently settled down on a course of 330° at 10 knots. At 0708/27, HMS Rodney, was ordered to keep station 010° from the flagship. HMS Norfolk came in sight to the eastward at 0820/27 and provided a visual link between the Commander-in-Chief and the enemy. After the line of approach had been adjusted by two alterations of course, the Bismarck was sighted at 0843/27 bearing 118°, range about 25000 yards. Both British battleships was then steering 110° almost directly towards the enemy in line abreast formation, 8 cables apart.
Commencement of action 0847/27.
HMS Rodney opened fire at 0847/27, her first salvo sending a column of water 150 feet into the air. HMS King George V opened fire one minute later. Bismarck opened fire at 0850 hours after turning to open up A arcs. The first German salvo was short. The third and fourth salvoes straddled and nearly hit, but the Rodney manoeuvered succesfully to avoid them and the nearest fell 20 yards short. At 0854/27, HMS Norfolk joined in, but the target was not clearly visible and she opened fire without obtaining a range.
Observers state that the German gunnery was accurate at first, but commenced to deteriorate after 8 to 10 salvoes. The first hit on the Bismarck was believed to be scored by the Rodney at 0854 hours with her third salvo. Both British battleships made small alterations of course away from the enemy shortly after opening fire, the King George V to increase her distance from the Rodney and the latter to open her A arcs. From then onwards they manoeuvered independently although HMS Rodney conformed to the Flagship's general movements. The Bismarck's secondary armament came into action during this phase. HMS Rodney opened fire with her secondary armament at 0858 hours.
Run to the southward.
HMS King George V deployed to the southward at 0859/27 when the Bismarck was 16000 yards distant. HMS Rodney, 2.5 nautical miles to the northward, followed suit a minute or two later. Cordite smoke was hanging badly with the following wind and spotting was most difficult. Considerable smoke interference was therefore experienced on the southerly course which was partly overcome by radar. The Bismarck had transferred her fire to the King George V shortly after the turn but except for an occasional splash the latter hardly knew that she was under fire. At 0902/27, HMS Rodney saw a 16" shell hit the Bismarck on the upper deck forward, apparently putting the forward turrets out of action. At 0904 hours, HMS Dorsetshire joined in the firing from the eastwards from a range of 20000 yards but observation of the target was difficult and she had to check fire from 0913 to 0920 hours. Between 0910 and 0915 hours the range in King George V was more or less steady at 12000 yards.
The fate of the Bismarck was decided during this phase of the action although she did not sink until later. Around 0912 hours, the Bismarck was hit on her forward control position. During the run to the south HMS Rodney fired six torpedoes from 11000 yards and HMS Norfolk four from 16000 yards. No hits were obtained. The King George V's secondary battery came into action at 0905 hours but this increased the smoke interference and was accordingly ordered to cease fire after two or three minutes.
strong>Run to the northward.
At 0916/27 the Bismarck's bearing was drawing rapidly aft and HMS Rodney turned 16 points to close and head her off. The King George V followed a minute or so later and both ships re-opened fire at ranges from 8600 and 12000 yards respectively. The Bismarck shifted her target to the Rodney about this time. A near miss damaged the sluice of her starboard torpedo tube. Most of the enemy's guns had however been silenced at this time. Only one turret from her main armament was firing at this time as was part of her secondary armament. A fire was blazing amidships and she had a heavy list to port. During the run to the north HMS Rodney obtained a very favourable position on the Bismarck's bow from which she poured in a heavy fire from close range. She also fired two torpedoes from 7500 yards but no hits were obtained.
HMS King George V's position, further to leeward, was less favourable. Her view was obscured by smoke and splashes surrounding the target and her radar had temporarily broken down. Mechanical failures in the 14" turrets constituted, however, a more serious handicap at this stage. 'A', 'X' and 'Y' turrets were out of action for 30, 7 and a unspecified short period, respectively. This resulted in reduction of firepower of 80% for 7 minutes and 40% for 23 minutes which might have had serious effects under less favourable conditions. There were also several defects of individual guns in addition to those effecting the turrets.
At 0925/27, HMS King George V, altered outwards to 150° and reduced speed to avoid getting too far ahead of the Bismarck. She closed in again at 1005 hours, fired several salvoes from a range of only 3000 yards and then resumed her northerly course. Meanwhile HMS Rodney was zigzagging across the Bismarck's line of advance at a range of about 4000 yards firing her main and secondary armaments. She also fired four torpedoes, one of which is thought to have hit. By 1015 hours the Bismarck was no more than a wreck. All her guns were silenced, her mast had been blown away, she was a black ruin, pouring high into the air a great cloud of smoke and flame. Men were seen jumping overboard at this time and the Captain of the King George V later remarked had he known it he would have ceased fire.
End of the action.
The Commander-in-Chief was confident that the enemy could never get back to harbour, and as both battleships were running short of fuel and as further gunfire was unlikely to hasten the Bismarck's end, the Commander-in-Chief signalled the King George V and Rodney to steer 027° at 1015/27 in order to break off the action and return to base. At 1036/27 the Commander-in-Chief ordered HMS Dorsetshire to use her torpedoes, if she had any, on the enemy. In the meantime HMS Norfolk had been closing the target but due to the movements of the King George V and Rodney, had not fired her torpedoes until 1010 hours when she fired four torpedoes from 4000 yards and two possible hits were reported. The Dorsetshire was then approaching a mile or so to the southward, and anticipating the Commander-in-Chief's signal at 1025 hours fired two torpedoes from 3600 yards into the enemy's starboard side. She then steamed round the Bismarck's bow and at 1036 hours fired another torpedo but now into her port side from 2600 yards. This was the final blow, the Bismarck heeled over quickly to port and commenced to sink by the stern. The hull turned over keel up and disappeared beneath the waves at 1040/27.
The Dorsetshire then closed and signalled to one of HMS Ark Royal's aircraft to carry out a close A/S patrol while she was to pick up survivors assisted by HMS Maori. After 110 men had been picked up by both ships from the water both ships got underway again as a submarine was suspected to be in the area.
Damage to the Bismarck.
Survivors have told the story of terrible damage inflicted on her. The fore turrets seem to have been knocked out at 0902 hours. The fore control position was knocked out around 0912 hours. The after control position followed about 0915 hours. The after turrets were at that moment still in action. Then the aftermost gun turret was disabled by a direct hit on the left gun which burst sending a flash right through the turret. 'C' turret was the last one in action.
One survivor stated that around 0930 hours a shell penetrated the turbine room and another one entered a boiler room. A hit in the after dressing station killed all the medical staff and wounded that were in there at that moment. The upper deck was crowded with killed and wounded men and the seas surging in washed them overboard. Conditions below were even more terrible. Hatches and doors were jammed by concussion and blocked with wreckage. The air was thick with smoke and even more smoke was coming in from great holes in the upper deck. By 1000 hours all heavy guns were out of action and 10 minutes later the all secondary guns were also silent.
Commander-in-Chief returns.
As HMS King George V and HMS Rodney turned northwards they were joined by HMS Cossack, HMS Sikh and HMS Zulu at by 1600/28 more detroyers had joined the screen (HMS Maori, HMS Jupiter, HMS Somali, HMS Eskimo, HMS Punjabi, HMAS Nestor, HMS Inglefield, HMS Lance, HMS Vanquisher (Cdr. N.V. Dickinson, DSC, RN), HMCS St. Clair (Lt.Cdr. D.C. Wallace, RCNR), HMCS Columbia (Lt.Cdr. (Retd.) S.W. Davis, RN) and HMS Ripley (Lt.Cdr. J.A. Agnew, RN)). Heavy air attacks were expected that day, but only four enemy aircraft appeared, one of which bombed the screen while another one jettisoned her bombs on being attacked by a Blenheim fighter. The destroyers HMS Mashona and HMS Tartar, 100 nautical miles to the southward, were not so furtunate. They were attacked in position 52°58'N, 11°36'W at 0955/28 by German aircraft. HMS Mashona was hit and sank at noon with the loss of 1 officer and 45 men. The Commander-in-Chief reached Loch Ewe at 1230/29. Vice-Admiral Sommerville with Force H was on his way back to Gibraltar.
End of 'Operation Rheinübung'.
The Bismarck's consort, heavy cruiser Prinz Eugen, was not heard off until 4 June 1941 when aircraft reported her having arrived at Brest. After leaving the Bismarck at 1914/24, the Prinz Eugen's primary need was to replenish her fuel stock. She set course for a rendez-vous with two tankers, the Spichern (9323 GRT, built 1935, former Norwegian Krossfonn) and the Esso Hamburg (9849 GRT, built 1939) which were position to the north-west of the Azores. All next day the German cruiser made her way southwards, and at 0906/26 , some 600 nautical miles west-north-west of the Azores she sighted the Spichern and refuelled. Two reconnaissance ships had also been ordered into this area, the Gonzenheim and the Kota Pinang. On the 28th Prinz Eugen fuelled from the Esso Hamburg. She then proceeded southwards to carry out cruiser warfare against independently routed ships in the area to the north and west of the Cape Verde Islands but an inspection of her engines the next day showed that an extensive overhaul was needed. Her Commanding Officer then decided to break off the action and course was set for Brest, France where she arrived at 2030/1 June.
A German reconnaissance ship, a supply vessel and two tankers were intercepted by Royal Navy warships and sunk by their own crew or sunk with gunfire. Also two tankers were captured. These were in chronological order; tanker Belchen (6367 GRT, built 1932, former Norwegian Sysla) by gunfire from HMS Kenya and HMS Aurora on 3 June 1941 in the Greenland area in approximate position 59°00'N, 47°00'W. On 4 June the tanker Esso Hamburg by HMS London and HMS Brilliant (Lt.Cdr. F.C. Brodrick, RN) in position 07°35'N, 31°25'W, tanker Gedania (8966 GRT, built 1920) was captured in the North Atlantic in position 43°38'N, 28°15'W by naval auxiliary (Ocean Boarding Vessel) HMS Marsdale (Lt.Cdr. D.H.F. Armstrong, RNR), she was put into service with the MOWT as Empire Garden, reconnaissance vessel Gonzenheim (4000 GRT, built 1937, former Norwegian Kongsfjord) was scuttled by her own crew after being sighted by HMS Esperance Bay ((Capt.(ret) G.S. Holden, RN) and intercepted by HMS Nelson (Capt. Sir. G.J.A. Miles, RN) and finally ordered to be boarded by HMS Neptune in position 43°29'N, 24°04'W. The next day (5 June) supply vessel Egerland (10040 GRT, built 1940) was intercepted by HMS London and HMS Brilliant in approximate position 07°00'N, 31°00'W. On 12 June, HMS Sheffield, intercepted tanker Friedrich Breme (10397 GRT, built 1936) in position 49°48'N, 22°20'W and finally on 15 June, HMS Dunedin (Capt. R.S. Lovatt, RN), captured the tanker strong>Lothringen (10746 GRT, built 1940, former Dutch Papendrecht) in position 19°49'N, 38°30'W which had first been sighted by an aircraft from HMS Eagle (Capt. E.G.N. Rushbrooke, DSC, RN). The Lothringen was sent to Bermuda and was put into service by the MOWT as Empire Salvage. (1)
25 Aug 1941
HMS Prince of Wales (Capt. J.C. Leach, MVO, RN) conducted RD/F exercises to the west of Scapa Flow together with HMS Repulse (Capt. Sir W.G. Tennant, CB, MVO, RN), HMS Euryalus (Capt. E.W. Bush, DSO, DSC, RN) and HMS Lively (Lt.Cdr. W.F.E. Hussey, DSC, RN).
During these exercises Prince of Wales was escorted by HMS Lamerton (Lt.Cdr. H.C. Simms, RN), HMS Puckeridge (Lt. H.B. Acworth, RN) and HMS Badsworth (Lt.Cdr. M.S. Townsend, DSC and Bar, OBE, RN). (2)
29 Nov 1941
HMS Prince of Wales (Capt. J.C. Leach, MVO, RN), and her escorting destroyers, HMS Electra (Cdr. C.W. May, RN) and HMS Express (Lt.Cdr. F.J. Cartwright, RN), departed Colombo for Singapore. At sea they made rendez-vous with the British battlecruiser HMS Repulse (Capt. Sir W.G. Tennant, CB, MVO, RN) and her two escorting destroyers HMS Encounter (Lt.Cdr. E.V.St J. Morgan, RN) and HMS Jupiter (Lt.Cdr. N.V.J.P. Thew, RN) which came from Trincomalee. (3)
2 Dec 1941
HMS Prince of Wales (Capt. J.C. Leach, MVO, RN), HMS Repulse (Capt. Sir W.G. Tennant, CB, MVO, RN) and their escorting destroyers, HMS Electra (Cdr. C.W. May, RN) and HMS Express, HMS Encounter (Lt.Cdr. E.V.St J. Morgan, RN) and HMS Jupiter (Lt.Cdr. N.V.J.P. Thew, RN) arrive at Singapore.
At Singapore HMS Prince of Wales, HMS Encounter and HMS Jupiter were taken in hand for some much needed repairs. (4)
8 Dec 1941

Sinking of the Prince of Wales and the Repulse
Movements of Force Z, 8 to 10 December 1941
At 1735 hours, Force Z, made up of HMS Prince of Wales (Capt. J.C. Leach, MVO, RN and flagship of Acting Admiral Phillips), HMS Repulse (Capt. Sir W.G. Tennant, CB, MVO, RN) escorted by the British destroyers HMS Electra (Cdr. C.W. May, RN), HMS Express (Lt.Cdr. F.J. Cartwright, RN), HMS Tenedos (Lt. R. Dyer, RN) and the Australian destroyer HMAS Vampire (Cdr. W.T.A. Moran, RAN) departed Singapore for a raid against Japanese landing forces that were reported off the east coast of Malaya. Course was shaped to the east-north-east to pass east of the Anambas Islands in order to avoid possible minefields.
At 0125/9 an important signal was received from the Chief of Staff who had remained in Singapore, which confirmed that the air reconaissance asked for had been arranged, but it also stated that owning to the current military situation fighter protection off Singora the next day would not be possible. It also added that the Japanese had large bomber forces based in Southern Indo-China and possibly in Siam and that a requist had been made to the US General MacArthur to attack the Indo-China airfields with longe range bombers from the Philippines as soon as possible. Finally the signal stated that the airfield at Kota Bharu airfield had been evacuated and that we seemed to be 'loosing grip' in the other northern airfields due to enemy action.
Admiral Phillips decided, to carry on with the operation provided that he was not being sighted by enemy aircraft during 9 December. At 0400 hours course was therefore altered to the northward.
At 0620/9 HMAS Vampire reported an aircraft. It was sighted for a few seconds by one lookout only and as the weather was favourable for evasion, with frequent rain squalls and low cloud, the squadron held its course to the northward.
Between 1700 and 1830 hours, however, the weather cleared and three Japanese reconnaissance aircraft were sighted from the Prince of Wales at 1740 hours. This meant that all hopes of surprise had been lost, and a heavy scale air attack off Singora had to be anticipated. Under these cirumstances the Commander-in-Chief that the risk was unjustifiable and that the strike against the enemy landing fleet at Singora had to be given up.
At 1825/9, HMS Tenedos, which was by now getting low on fuel was detached to Singapore. She was also ordered to transmit a signal at 0800/10 to the Chief of Staff requisting additional destroyers to meet Force Z off the Anambas Islands at dawn on the 11th. The remainder of the squadron then altered course to the north-westward at 1850 hours and to the westward towards Singora at 1930 hours. The squadron continued to the westward until 2015 hours when Admiral Phillips finally decided to abandon the operation and return to Singapore at high speed.
At 2335/9, a signal was received mentioning a landing by the Japanese at Kuantan, this was over 150 miles to the southward of Kota Bharu and it seemed unlikely that the enemy would expect Force Z, last located on a northerly course and making for Singora, to be as far south by daylight. Kuantan was a key military position of great importance, it was not far off the return track to Singapore and was 400 miles from the Japanese airfields in French Indo-China. On these grounds Admiral Phillips decided to alter course for Kuantan at 0052/10 and increase speed to 25 knots.
Japanese reaction during 9/10 December.
Bad weather had precluded air search by shore base aircraft on 9 December but that afternoon the British squadron had been sighted by the submarine I-65. This report reached the 22nd Air Flotilla, based near Saigon, Indo-China at about 1600 hours. Aircraft then took off for a night attack but the British force was not found and all aircraft returned to their base around midnight.
In the meantime Force Z had been located by aircraft from the heavy cruiser Kumano and light cruiser Kinu and Admiral Kondo who was moving south from Hainan with the battlefleet (battleships Kongo, Haruna, heavy cruisers Atago, Takao and destroyers Arashi, Hagikaze, Nowaki, Maikaze, Ikazuchi, Inazuma, Asashio, Oshio, Michishio and Arashio), decided to keep in touch with Force Z by aircraft and submarine during the night and to attack at dawn with all available aircraft. He also ordered Vice-Admiral Ozawa's forces (heavy cruiser Chokai and destroyer Sagiri) and Rear-Admiral Kurita's forces (heavy cruisers Kumano, Mikuma, Mogami, Suzuya and destroyers Fubuki, Hatsuyuki and Shirayuki to join his flag at 0230/10 south of Pulau Condore, when he would move with his whole fleet to the southward on the flank of Admiral Phillips probable line of retreat.
The shadowing aircraft however lost touch with Force Z during the night owning to rain squalls however at 0221/10 the Japanese submarine I-58 sighted Force Z on a southerly course and attacked HMS Repulse with five torpedoes which all missed. She then surfaced and followed at 16 knots but lost contact at 0305 hours.
On receipt of the enemy report from the I-58 at about 0315 hours it was clear that Force Z was out of reach of the fleet which then set course for Camranh Bay at 0645/10. All was then dependend on aircraft and submarines.
At Saigon, twelve aircraft armed with two 60kg bombs took off at 0600/10 to conduct a sector search. About one hour later a striking force made up of 84 aircraft (30 bombers and 54 torpedo planes) took off and was ordered to the estimated position of the enemy task force. The force was organised in flights of of about 9 planes. The general plan was to attack continuously, stating with a bombing attack from about 8000 feet. All attacks were to be controlled by the flight leaders according to the way in which the situation developed. As will be seen the attacks were carried out almost exactly as planned.
The flights proceeded independently to the south along the 105th meridian. Nothing was seen of Force Z during this southerly run and after sighting Singapore they turned to the northward, a course which was to lead them straight to their quarry, which was sighted by a land based reconnaissance aircraft at 1026/10.
Loss of the Prince of Wales and Repulse.
In the meantime Force Z had been closing the shore at 25 knots and at dawn on 10 December was about 60 nautical miles east-north-east of Kuantan. The sun had just risen when HMS Repulse reported an aircraft which was not identified (Capt. Tennant later stated that it was Japanese). The force continued to the westward. HMS Prince of Wales launched a Walrus aircraft which arrived of Kuantan at 0800 hours. No enemy forces were sighted. HMS Express was then ordered to investigate and reported 'complete peace' and rejoined the force at 0845 hours. The Commander-in-Chief then decided to investigate a tug towing some barges which had been sighted at extreme visibility during the run in. Course was then altered to the northward and later to the eastward for this purpose.
It was during this run to the eastward that Force Z was attacked by successive waves of Japanese bomber and torpedo aircraft which eventually sank both capital ships.
Shortly after 1000/10 reports of hostile aircraft were received from the destroyer Tenedos, then being bombed 140 nautical miles to the south-east. At 1020 hours a shadowing aircraft was sighted from the Prince of Wales and the first degree of readiness was assumed. Soon afterwards an enemy aircraft was picked up by the radar of HMS Repulse.
At 1100 hours course was altered to 135°. A few minutes later nine enemy aircraft were seen approaching from the starboard bow, flying at about 10000 feet. All ships, except HMAS Vampire, which was outranged, opened fire. The enemy concentrated the high level bombing attack on HMS Repulse. One bomb fell just clear to starboard, seven very close to port, and one hit the port hangar, bursting on the armour below the marines mess deck at 1122 hours. This caused a fire on the catapult deck and fractured a steam pipe. No damage was done to the engine or boiler rooms and the fire was rapidly got under control.
Twenty minutes later nine torpedo bombers attacked from the port bow. They had been seen to cross from starboard to port at extreme range, and after making use of cloud on the port beam to do a series of turns together, attacked in waves of two or three in line abreast. The attack was very well executed and the enemy was in no way disturbed by gunfire from Force Z. HMS Repulse alter course right away to starboard and escaped unhurt. HMS Prince of Wales however altered course to port and it was thought at that time that she had avoided all torpedoes fired at her except one which hit the port side aft, approximately abreast of 'P 3' and 'P 4' 5.25" gun turrets, but it now seems probable that she was actually hit simultaneously by another torpedo abaft 'Y' turret. The consequences of this attack were disastrous. 'B' engine room, 'Y' boiler room, the port diesel engine room and 'Y' action machinery room were flooded. Both propeller shafts stopped and speed dropped to 15 knots. The steering gear was damaged and the ship was never again under complete control. Within a few minutes she assumed a list of 13° to port and increased her trim by the stern, till by 1220 hours the port side of the quarter deck was awash. All the 5.25" armament, except turret 'S 1', was put out of action either due to the list or failure of power.
As they crossed the line of advance after dropping their torpedoes, two of the enemy aircraft were hit. One crashed into the sea on the starboard beam.
At 1156 hours HMS Repulse was attacked by another group of nine torpedo bombers. These came in from her port side. Repulse altered course towards them and succeeded in combing a large number of torpedo tracks. Almost simultaneously a high level bombing attack developed, again concentrated on HMS Repulse. The ship was manoeuvering at high speed, being actually under helm when the bombs fell at 1158 hours and escaped untouched. There was one near miss to starboard and the remainder fell just clear to port.
Owing to independent avoiding action, HMS Prince of Wales and HMS Repulse had opened some distance apart. Captain Tennant, who was uncertain what signals the Prince of Wales had made, himself made an emergency W/T report 'enemy aircraft bombing' at 1158 hours and after the second high level bombing attack, he informed the Commander-in-Chief by visual that HMS Repulse had so far avoided all torpedoes and that damage from the bomb which had hit her was under control. He also asked him whether the flagship's wireless was still in action, in case he wished any reports made by HMS Repulse. At 1210 hours the Prince of Wales hoisted 'not under control' balls and Captain Tennant closed her, reducing to 20 knots to see if he could be of any assistance. In the meantime another attack was developing. About eight aircraft were sighted low on the horizon on the starboard bow of the Repulse. When about three miles distant they split into two formations. The right-hand one attacked the Repulse from the starboard side, dropping their torpedoes at about 2500 yards range.
Captain Tennant, foreseeing this, had already started to swing the ship to starboard, and anticipated no difficulty in combing their tracks. The left hand formation was appartently making straight for the Prince of Wales, at that time abaft of the Repulse's port beam, but suddenly turned straight at the latter and dropped torpedoes when about 2000 yards on her port beam. No avoiding action was possible as any large alteration of course would have incurred a hit from the torpedoes whose tracks were already being combed, and one torpedo hit amidships on the port side. This Repulse stood well and she continued to manoeuvre at 25 knots.
Almost at the same time HMS Prince of Wales was attacked from her starboard side. She seemed incapable of taking avoiding action, and sustained two hits at 1223 hours, and a further two a minute and a half later. The first two of these hits were forward of the breakwater and just before the bridge, the others aft, near 'Y' turret and abreast of 'B' turret. The immediate effect was to reduce the list to 3° to port, the starboard outer propeller shaft stopped and speed dropped to about eight knots. One of the attacking aircraft was shot down.
Fresh waves of torpedo bombers then attacked HMS Repulse from several directions. She shot down two at 1226 hours but a torpedo hit jammed her stearing gear, and, though she could still steam at well over 20 knots, almost immediately afterwards three torpedoes hit her abreast the superstructure, two simultaneously on the port side and one on the starboard side. She turned sharply 90° to starboard, listing heavily to port. This brought her fine on the Prince of Wales' quarter, steering a parralel course. Captain Tennant knew that the end was at hand, and at once gave the order for everyone to come on deck and cast loose the Carley floats. HMS Repulse hung for at least a minute and a half to two minutes with a list of 60° to 70° to port and then rolled over at 1233 hours.
During these attacks HMS Express had been screening the flagship's starboard bow, and HMAS Vampire on her port bow, while HMS Electra, which had been detached to pick up a man who had fallen overboard from the Prince of Wales at 1205 hours, was between the two capital ships. HMS Vampire and HMS Electra now at once closed HMS Repulse by order of the Commander-in-Chief and they succeeded in rescuing 42 out of 69 officers (including Captain Tennant) and 754 out of 1240 ratings.
The Prince of Wales meanwhile had been heading north, her speed reduced to eight knots. Just after Repulse had capsized nine high level bombers were seen passing from port to starboard, and then ten minutes later a high level bombing attack developed from ahead. At 1244 hours a bomb hit near 'S 3' turret wrecking the port crane and canteen flat, and causing a fire. It failed however to pierce the armoured deck. The remainder of the bombs missed narrowly aft, falling on both sides of the ship.
At 1250 hours a signal was sent to Singapore requisting all available tugs, but by this time the ship was clearly doomed and a few minutes later HMS Express went alongside the starboard quarter, and the disembarkation of wounded and men not required to fight the ship commenced. Carley floats were launched and the gripes cast off the boom boats. By 1310 hours the ship was settling rapidly, listing steeply to port and orders were passed to inflate lifebelts and abandon ship. At 1320 hours HMS Prince of Wales heeled over sharply, turned turtle and sank.
Skilfully handled, HMS Express had remained alongside until the last possible moment and had to go full speed astern to clear herself, sustaining damage from a projection on the hull of the battleship, possibly the bilge keel, as she heeled over. The next three quarters of an hour was spent in rescue work, at the end of which time she was completely full and at 1415 hours course was set for Singapore. All the remaining survivors for whom she had no room were then on rafts or in boats, from where they were subsequently picked up by HMS Electra and HMAS Vampire. A total of 90 officers out of 110 and 1195 ratings out of 1502 were rescued. Neither Admiral Phillips nor Captain Leach was among them.
At 1515 hours, HMAS Vampire left the scene followed at 1602 hours by HMS Electra after she had made a final search of the area. All three destroyers arrived at Singapore between 2300/10 and 0000/11. (4)
Sources
ADM 234/322
ADM 53/114891
ADM 199/2566
ADM 234/330
ADM numbers indicate documents at the British National Archives at Kew, London.