Wolfgang Riekeberg
Kapitänleutnant (Crew 37a)
Successes
1 warship sunk, total tonnage 39 tons
| | | | |
| --- | --- | --- | --- |
| Born | 14 Oct 1918 | | Peine, Hannover |
| Died | 26 Apr 1945 | (26) | Norwegian Sea |
| | | |
| --- | --- | --- |
| 3 Apr 1937 | | Offiziersanwärter |
| 21 Sep 1937 | | Seekadett |
| 1 May 1938 | | Fähnrich zur See |
| 1 Jul 1939 | | Oberfähnrich zur See |
| 1 Aug 1939 | | Leutnant zur See |
| 1 Sep 1941 | | Oberleutnant zur See |
| 1 Apr 1944 | | Kapitänleutnant |
U-boat Commands
| U-boat | From | To | |
| --- | --- | --- | --- |
| U-1054 | 25 Mar 1944 | 16 Sep 1944 | No war patrols |
| U-637 | 1 Oct 1944 | 26 Apr 1945 (+) | 3 patrols (63 days, * died during this patrol) |
Wolfgang Riekeberg joined the Kriegsmarine as part of crew 37a in April 1937. He served as gunnery officer on the merchant raider Stier from March to Dec 1942. Riekeberg then was assigned as gunnery officer to the proposed merchant raider Hansa, which was cancelled, and he joined the U-boat force in May 1943.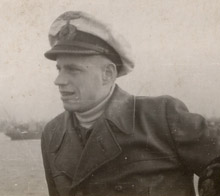 Riekeberg first went through regular U-boat training from May to Oct 1943 and then a U-boat commander course with the 23rd flotilla (training) until Jan 1944. On 25 March 1944 he commissioned U-1054.
On 1 Oct 1944 he took over command of U-637.
On 26 April 1945 Riekeberg took his own life after suffering serious face wounds in a skirmish with two Norwegian motor torpedo boats off Utsira. Several of his crew died in action, and U-637 returned to base under the command of the Chief Engineer.
Sources
Busch, R & Röll, H-J. (1998). German U-boat commanders of World War II.
Patrol info for Wolfgang Riekeberg
U-boat
Departure
Arrival
1.
U-637
13 Oct 1944
Kiel
16 Oct 1944
Danzig
4 days
2.
U-637
25 Nov 1944
Danzig
13 Jan 1945
Danzig
Patrol 1,
50 days
3.
U-637
5 Apr 1945
Kiel
13 Apr 1945
Stavanger
Patrol 2,
9 days
4.
U-637
23 Apr 1945
Stavanger
28 Apr 1945
Stavanger
Patrol 3,
4 days
*
3 patrols, 63 days at sea
* Wolfgang Riekeberg died during this patrol on 26 Apr 1945
Ships hit by Wolfgang Riekeberg
Date
U-boat
Name of ship
Tons
Nat.
Convoy
24 Dec 1944
U-637

BMO-594 (No 90)
39
sj
39

1 ship sunk (39 tons).

About ranks and decorations
Ranks shown in italics are our database inserts based on the rank dates of his crew comrades. The officers of each crew would normally have progressed through the lower ranks at the same rate.

As an Amazon Associate uboat.net earns a commission from qualifying purchases.