Werner Witte
Korvettenkapitän (Crew 35)
Successes
5 ships sunk, total tonnage 29,091 GRT
3 ships damaged, total tonnage 20,014 GRT
1 ship a total loss, total tonnage 7,129 GRT
| | | | |
| --- | --- | --- | --- |
| Born | 5 Jan 1915 | | Berlin-Friedenau |
| Died | 15 Jul 1943 | (28) | north-west of Madeira |
| | | |
| --- | --- | --- |
| 5 Apr 1935 | | Offiziersanwärter |
| 25 Sep 1935 | | Seekadett |
| 1 Jul 1936 | | Fähnrich zur See |
| 1 Jan 1938 | | Oberfähnrich zur See |
| 1 Oct 1938 | | Leutnant zur See |
| 1 Oct 1939 | | Oberleutnant zur See |
| 1 Feb 1943 | | Kapitänleutnant |
| 1 Jul 1943 | | Korvettenkapitän |
U-boat Commands
| U-boat | From | To | |
| --- | --- | --- | --- |
| U-509 | Sep, 1942 | 15 Jul 1943 (+) | 3 patrols (196 days) |
Werner Witte joined the Kriegsmarine in 1935. From March to July 1940 he served as Watch Officer (WO) on the minelayer Hansestadt Danzig before joining the 15th Minesweeping Flotilla until Sept 1941.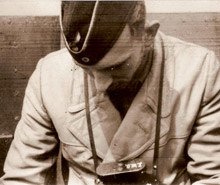 Witte went through U-boat Commander training with the 24th (Training) Flotilla from July to Aug 1942 before taking command of the type IXC U-boat U-509.
On his first patrol he sank four ships and damaged three, all from convoy SL 125 off west Africa in late Oct 1942.
On 15 July 1943 during his third patrol U-509 was sunk with all hands, 54 men, in mid Atlantic by Fido homing torpedoes from Avenger aircraft (VC-29) of the US escort carrier USS Santee (Niestlé, 1998).
Sources
Busch, R. and Röll, H-J. (1998). German U-boat commanders of World War II.
Niestle, A. (1998). German U-boat losses during World War II.
Patrol info for Werner Witte
U-boat
Departure
Arrival
1.
U-509
15 Oct 1942
Lorient
26 Nov 1942
Lorient
Patrol 1,
43 days
2.
U-509
23 Dec 1942
Lorient
11 May 1943
Lorient
Patrol 2,
140 days
3.
U-509
3 Jul 1943
Lorient
15 Jul 1943
Sunk
Patrol 3,
13 days
3 patrols, 196 days at sea
Ships hit by Werner Witte
Date
U-boat
Name of ship
Tons
Nat.
Convoy
26 Oct 1942
U-509
Anglo Mærsk (d.)
7,705
br
SL-125
27 Oct 1942
U-509
Pacific Star
7,951
br
SL-125
27 Oct 1942
U-509
Stentor
6,148
br
SL-125
28 Oct 1942
U-509
Nagpore
5,283
br
SL-125
28 Oct 1942
U-509
Hopecastle (d.)
5,178
br
SL-125
29 Oct 1942
U-509
Corinaldo (d.)
7,131
br
SL-125
30 Oct 1942
U-509
Brittany
4,772
br
SL-125
10 Feb 1943
U-509

Queen Anne
4,937
br
CA-11
2 Apr 1943
U-509
City of Baroda (t.)
7,129
br
NC-9
56,234

6 ships sunk (36,220 tons) and 3 ships damaged (20,014 tons).

Legend
We have a picture of this vessel.
(d.) means the ship was damaged.
(t.) means the ship was a total loss (included in ships & tonnage lost).

About ranks and decorations
Ranks shown in italics are our database inserts based on the rank dates of his crew comrades. The officers of each crew would normally have progressed through the lower ranks at the same rate.

As an Amazon Associate uboat.net earns a commission from qualifying purchases.