Oskar Curio
Kapitänleutnant (Crew 37a)
Successes
2 ships sunk, total tonnage 13,374 GRT
1 warship sunk, total tonnage 925 tons
1 ship damaged, total tonnage 7,176 GRT
| | | | |
| --- | --- | --- | --- |
| Born | 28 Feb 1918 | | Klein-Algemissen, near Hildesheim |
| Died | 9 Aug 1981 | (63) | Cologne, Germany |
| | | |
| --- | --- | --- |
| 3 Apr 1937 | | Offiziersanwärter |
| 21 Sep 1937 | | Seekadett |
| 1 May 1938 | | Fähnrich zur See |
| 1 Jul 1939 | | Oberfähnrich zur See |
| 1 Aug 1939 | | Leutnant zur See |
| 1 Sep 1941 | | Oberleutnant zur See |
| 1 Jan 1944 | | Kapitänleutnant |
U-boat Commands
| U-boat | From | To | |
| --- | --- | --- | --- |
| U-80 | 5 May 1942 | 22 Nov 1942 | No war patrols |
| U-952 | 10 Dec 1942 | 12 Jul 1944 | 5 patrols (197 days) |
| U-2528 | 9 Dec 1944 | 23 Apr 1945 | No war patrols |
| U-1025 | 24 Apr 1945 | 30 Apr 1945 | No war patrols |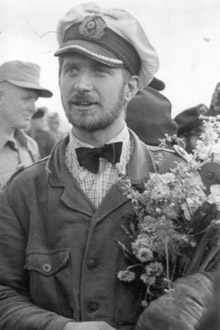 Oblt. Oskar Curio returning from mission in 1943
Patrol info for Oskar Curio
U-boat
Departure
Arrival
1.
U-952
22 Apr 1943
Kiel
26 Apr 1943
Bergen
5 days
2.
U-952
27 Apr 1943
Bergen
31 May 1943
Bordeaux
Patrol 1,
35 days
3.
U-952
2 Aug 1943
Bordeaux
2 Aug 1943
La Pallice
1 days
4.
U-952
26 Aug 1943
La Pallice
5 Sep 1943
La Pallice
11 days
5.
U-952
6 Sep 1943
La Pallice
23 Oct 1943
La Pallice
Patrol 2,
48 days
6.
U-952
11 Dec 1943
La Pallice
15 Dec 1943
La Pallice
Patrol 3,
5 days
7.
U-952
16 Dec 1943
La Pallice
15 Jan 1944
Toulon
Patrol 3,
31 days
8.
U-952
17 Feb 1944
Toulon
20 Mar 1944
La Spezia
Patrol 4,
33 days
9.
U-952
3 May 1944
La Spezia
7 May 1944
Toulon
5 days
10.
U-952
8 May 1944
Toulon
21 Jun 1944
Toulon
Patrol 5,
45 days
5 patrols, 197 days at sea
Ships hit by Oskar Curio
Date
U-boat
Name of ship
Tons
Nat.
Convoy
21 Sep 1943
U-952
HMS Polyanthus (K 47)
925
br
ON-202
23 Sep 1943
U-952
Steel Voyager
6,198
am
ON-202
23 Sep 1943
U-952
James Gordon Bennett (d.)
7,176
am
ON-202
10 Mar 1944
U-952

William B. Woods
7,176
am
21,475

3 ships sunk (14,299 tons) and 1 ship damaged (7,176 tons).

Legend
We have a picture of this vessel.
(d.) means the ship was damaged.

About ranks and decorations
Special thanks to Fernando Almeida for data on ranks and decorations.

As an Amazon Associate uboat.net earns a commission from qualifying purchases.