Kurt Dobratz
Kapitän zur See (Crew 22)
Successes
3 ships sunk, total tonnage 17,355 GRT
1 ship damaged, total tonnage 2,373 GRT
1 ship a total loss, total tonnage 7,176 GRT
| | | | |
| --- | --- | --- | --- |
| Born | 9 Apr 1904 | | Stettin |
| Died | 21 Dec 1996 | (92) | Bremen, Germany |
| | | |
| --- | --- | --- |
| 30 Mar 1922 | | Offiziersanwärter |
| 1 Apr 1924 | | Fähnrich zur See |
| 1 Apr 1926 | | Oberfähnrich zur See |
| 1 Oct 1926 | | Leutnant zur See |
| 1 Jul 1928 | | Oberleutnant zur See |
| 1 Jul 1934 | | Kapitänleutnant |
| 1 Oct 1935 | | Hauptmann der Luftwaffe |
| 1 Apr 1937 | | Major der Luftwaffe |
| 1 Dec 1940 | | Oberstleutnant der Luftwaffe |
| 1 Jun 1942 | | Oberst der Luftwaffe |
| 1 Jun 1943 | | Kapitän zur See |
U-boat Commands
| U-boat | From | To | |
| --- | --- | --- | --- |
| U-1232 | 8 Mar 1944 | 31 Mar 1945 | 1 patrol (97 days) |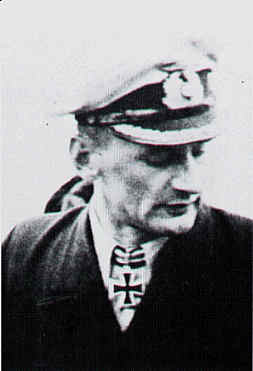 Kurt Dobratz after his patrol.
Kurt Dobratz began his naval career in March 1922. After over ten years sea time on the cruisers Hamburg and Leipzig and the battleships Schleswig-Holstein and Hannover, he was transferred to the Luftwaffe on September 1935. During the next eight years he served in several staff positions, but also commanded combat units, flying 11 combat sorties in 1941.
In April 1943 he rejoined the Kriegsmarine to undergo eight months of training before commissioning the type IXC/40 U-1232 in March 1944.
In November 1944 he sailed from Horten, Norway on his first and only patrol, one of the most successful in the final year of the war. In January 1945 he sank four ships in Canadian waters with a total of 24,531 tons.
One of the oldest commanders
At 40, Kapitän zur See Dobratz was one of the oldest U-boat commanders of WWII to see active service when he took U-1232 out from Horten on 10 Nov 1944. The patrol lasted 97 days. It may be that his time in the Luftwaffe stood him in good stead while on patrol. His unusual success and survival rate for this stage of the war is shared by other U-boat commanders with aviation experience (Hardegen, Hechler, Thomsen).
After returning to base in February 1945 he left U-1232 to became chief of staff at Bdu. He was the last Kommandierender Admiral der U-Boote (Admiral of U-boats) during the final days of the war. He then spent nine months in captivity. When he returned to Germany he studied law, eventually earning a doctorate.
Sources
Busch, R. and Röll, H-J. (1998). German U-boat commanders of World War II.
Busch, R. and Röll, H-J. (1997). Der U-Bootkrieg 1939-1945 (Band 2).

Patrol info for Kurt Dobratz
U-boat
Departure
Arrival
1.
U-1232
28 Oct 1944
Kiel
31 Oct 1944
Horten
4 days
2.
U-1232
10 Nov 1944
Horten
14 Feb 1945
Marviken
Patrol 1,
97 days
Ships hit by Kurt Dobratz
Date
U-boat
Commander
Name of ship
Tons
Nat.
Convoy
4 Jan 1945
U-1232
Kurt Dobratz
Nipiwan Park (d.)
2,373
ca
SH-194
4 Jan 1945
U-1232
Kurt Dobratz
Polarland
1,591
nw
SH-194
14 Jan 1945
U-1232
Kurt Dobratz
Athelviking
8,779
br
BX-141
14 Jan 1945
U-1232
Kurt Dobratz
British Freedom
6,985
br
BX-141
14 Jan 1945
U-1232
Kurt Dobratz
Martin Van Buren (t.)
7,176
am
BX-141
26,904

4 ships sunk (24,531 tons) and 1 ship damaged (2,373 tons).

Legend
We have a picture of this vessel.
(d.) means the ship was damaged.
(t.) means the ship was a total loss (included in ships & tonnage lost).

About ranks and decorations
Special thanks to Fernando Almeida for data on ranks and decorations.

As an Amazon Associate uboat.net earns a commission from qualifying purchases.