Günther Pulst
Kapitänleutnant (Crew 37b)
Successes
1 ship a total loss, total tonnage 7,176 GRT
| | | | |
| --- | --- | --- | --- |
| Born | 26 Mar 1918 | | Braunschweig |
| Died | 5 Jan 1991 | (72) | Bonn, Germany |
| | | |
| --- | --- | --- |
| 9 Oct 1937 | | Offiziersanwärter |
| 28 Jun 1938 | | Seekadett |
| 1 Apr 1939 | | Fähnrich zur See |
| 1 Mar 1940 | | Oberfähnrich zur See |
| 1 May 1940 | | Leutnant zur See |
| 1 Apr 1942 | | Oberleutnant zur See |
| 1 Jan 1945 | | Kapitänleutnant |
U-boat Commands
| U-boat | From | To | |
| --- | --- | --- | --- |
| U-978 | 12 May 1943 | 9 May 1945 | 2 patrols (124 days) |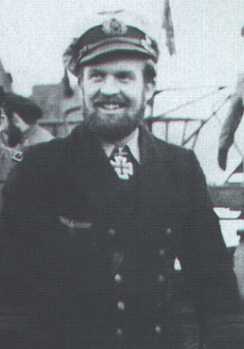 Kapitänleutnant Günther Pulst
after his last patrol in April 1945
Günther Pulst began his naval career in October 1937. In December 1939 he began service on the destroyer Wolfgang Zenker. When the destroyer was sunk in the Norwegian Campaign, Günther Pulst fought for a few weeks in the battle ashore. For this he was awarded the Narvik shield, a decoration received by only a few men of the U-boat force (e.g., Rolf Thomsen). In autumn 1940 he became a training officer at the Marineschule Flensburg-Mürwik (Mürwik Naval Academy) before joining the U-boat force in April 1942.
He made two patrols in U-752 as I WO (1st Watch Officer). He left U-753 in March 1943, and in May 1943 commissioned the type VIIC U-boat U-978.
His first patrol with U-978 was notable due to the fact that he made the whole patrol of 68 days underwater, using the Schnorchel - the longest submerged patrol of WWII (and two days longer than U-997's famous voyage to Argentina after the ceasefire). He attacked three ships and was credited with one certain sinking.
After his second patrol Germany surrendered, and Günther Pulst sailed U-978 under British control from Norway to Loch Ryan, Scotland at the end of May 1945. He then spent nearly three years in British captivity.
In September 1957 he became a civilian staff member of the Bundeswehr (Federal German Armed Services) and worked for some years in the 1960s as Financial Controller NATO in Paris. He retired in March 1983. He was decorated in 1980 with the Bundesverdienstkreuz (Federal Merit Cross) and in 1983 with the Outstanding Civilian Service Medal (USA).
Sources
Busch, R. and Röll, H-J. (1999). German U-boat commanders of World War II.
Busch, R. and Röll, H-J. (1997). Der U-Bootkrieg 1939-1945 (Band 2).

Patrol info for Günther Pulst
U-boat
Departure
Arrival
1.
U-978
22 Aug 1944
Kiel
24 Aug 1944
Horten
3 days
2.
U-978
5 Sep 1944
Horten
7 Sep 1944
Flekkefjord
3 days
3.
U-978
13 Sep 1944
Flekkefjord
13 Sep 1944
Egersund
1 days
4.
U-978
7 Oct 1944
Egersund
8 Oct 1944
Bergen
2 days
5.
U-978
9 Oct 1944
Bergen
16 Dec 1944
Bergen
Patrol 1,
69 days
6.
U-978
25 Feb 1945
Bergen
20 Apr 1945
Trondheim
Patrol 2,
55 days
2 patrols, 124 days at sea
Ships hit by Günther Pulst
Date
U-boat
Commander
Name of ship
Tons
Nat.
Convoy
23 Nov 1944
U-978
Günther Pulst

William D. Burnham (t.)
7,176
am
TMC-44
7,176

1 ship sunk (7,176 tons).

Legend
(t.) means the ship was a total loss (included in ships & tonnage lost).

About ranks and decorations
Ranks shown in italics are our database inserts based on the rank dates of his crew comrades. The officers of each crew would normally have progressed through the lower ranks at the same rate.

As an Amazon Associate uboat.net earns a commission from qualifying purchases.