Heinz Sieder
Oberleutnant zur See (Crew 38)
Successes
1 ship damaged, total tonnage 7,240 GRT
3 ships a total loss, total tonnage 21,550 GRT
1 warship a total loss, total tonnage 1,300 tons
| | | | |
| --- | --- | --- | --- |
| Born | 28 Jun 1920 | | Munich |
| Died | 2 Aug 1944 | (24) | Bay of Biscay |
| | | |
| --- | --- | --- |
| 1 Oct 1938 | | Offiziersanwärter |
| 1 Jul 1939 | | Seekadett |
| 1 Dec 1939 | | Fähnrich zur See |
| 1 Aug 1940 | | Oberfähnrich zur See |
| 1 Apr 1941 | | Leutnant zur See |
| 1 Jan 1943 | | Oberleutnant zur See |
U-boat Commands
| U-boat | From | To | |
| --- | --- | --- | --- |
| U-984 | 17 Jun 1943 | 2 Aug 1944 (+) | 5 patrols (94 days) |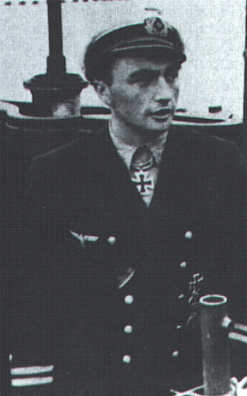 Oblt. z. S.Heinz Sieder on board
Heinz Sieder began his naval career in October 1938. During his officer training he served for seven months on the battleship Scharnhorst and took part in two patrols in the Atlantic.
In April 1941 he joined the U-boat force and after four months of training he became watch officer on a school boat (probably U-46) in the 26th Flotilla.
In January 1942 he became first watch officer on the newly commissioned U-440 and was on board for four patrols. He left U-440 in April 1943 (U-440 was lost a month later) and commissioned the type VIIC U-boat U-984 in June 1943.
In January 1944 he was attached to the 9th Flotilla in Brest (France) and made some patrols in the Channel and in the Atlantic. During a patrol at the end of June 1944 he torpedoed a British destroyer and four US vessels.
Sunk on or about 2 August 1944 in the English Channel south-west of Brighton, in position 50.03.732N, 00.32.398W, by unknown cause (Niestlé, McCartney 2012).
Sources
Busch, R. and Röll, H-J. (1999). German U-boat commanders of World War II.
Niestlé, A. (1998). German U-boat losses during World War II.
Rohwer, J. (1998). Axis Submarine Successes of World War Two.
Patrol info for Heinz Sieder
U-boat
Departure
Arrival
1.
U-984
30 Dec 1943
Kiel
2 Jan 1944
Egersund
4 days
2.
U-984
4 Jan 1944
Egersund
24 Feb 1944
Brest
Patrol 1,
52 days
3.
U-984
22 May 1944
Brest
27 May 1944
Brest
Patrol 2,
6 days
4.
U-984
6 Jun 1944
Brest
10 Jun 1944
Brest
Patrol 3,
5 days
5.
U-984
12 Jun 1944
Brest
19 Jun 1944
St. Peter Port
Patrol 4,
8 days
6.
U-984
21 Jun 1944
St. Peter Port
5 Jul 1944
Brest
Patrol 4,
15 days
7.
U-984
26 Jul 1944
Brest
2 Aug 1944
Sunk
Patrol 5,
8 days
5 patrols, 94 days at sea
Ships hit by Heinz Sieder
Date
U-boat
Commander
Name of ship
Tons
Nat.
Convoy
25 Jun 1944
U-984
Heinz Sieder

HMS Goodson (K 480) (t.)
1,300
br
29 Jun 1944
U-984
Heinz Sieder
Edward M. House (d.)
7,240
am
ECM-17
29 Jun 1944
U-984
Heinz Sieder
H.G. Blasdel (t.)
7,176
am
ECM-17
29 Jun 1944
U-984
Heinz Sieder
John A. Treutlen (t.)
7,198
am
ECM-17
29 Jun 1944
U-984
Heinz Sieder

James A. Farrell (t.)
7,176
am
ECM-17
30,090

4 ships sunk (22,850 tons) and 1 ship damaged (7,240 tons).

Legend
We have a picture of this vessel.
(d.) means the ship was damaged.
(t.) means the ship was a total loss (included in ships & tonnage lost).

About ranks and decorations
Ranks shown in italics are our database inserts based on the rank dates of his crew comrades. The officers of each crew would normally have progressed through the lower ranks at the same rate.

As an Amazon Associate uboat.net earns a commission from qualifying purchases.