Walter Juchereau Kingsmill, RCNVR
| | | | |
| --- | --- | --- | --- |
| Born | 20 Jul 1901 | | |
| Died | 27 Apr 1949 | (47) | |

Lt.Cdr. Walter Juchereau Kingsmill

Ranks

| | | |
| --- | --- | --- |
| 3 Sep 1938 | | T/Lt. |
| ??? | | T/A/Lt.Cdr. |




Decorations
Warship Commands listed for Walter Juchereau Kingsmill, RCNVR
| | | | | |
| --- | --- | --- | --- | --- |
| Ship | Rank | Type | From | To |
| HMCS Blairmore (J 314) | T/A/Lt.Cdr. | Minesweeper | 17 Nov 1942 | 24 Oct 1943 |
| HMCS Long Branch (K 487) | T/A/Lt.Cdr. | Corvette | 5 Jan 1944 | 21 Jan 1944 |
| HMCS Kokanee (K 419) | T/A/Lt.Cdr. | Frigate | 1 Feb 1945 | 14 Mar 1945 |
Career information
Lt. Cdr Walter Juchereau Kingsmill (RCNVR) was the eldest son of Admiral Sir Charles Kingsmill, founding director of the Canadian Navy.
Graduate of the Royal Naval College in Halifax, Kingston and Esquimault. While at college in Halifax, he was injured in the infamous 1917 Halifax Explosion.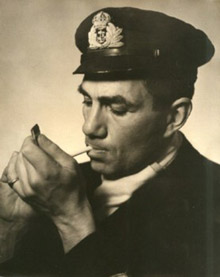 He briefly served in WWI as a naval cadet. He graduated from McGill University in Mining Engineering and worked as an engineer and then later a manufacturer's agent until the outbreak of war. He joined the RCNVR on Sept 2, 1939.
Because of his age (38), he was made a paymaster lieutenant. However, he repeatedly requested that he be sent to sea, and so was transferred to the executive branch in June, 1940. He served as second Lieutenant onboard the corvette the HMCS Bittersweet (1940-1942).
He was promoted to commander in 1942 and commanded the Bangor minesweeper HMCS Blairmore (Nov 1942-Oct 1943), the HMCS Longbranch (Mar-April 1944), and the frigate HMCS Kokanee (Feb 1945-May 1945). He also served on board the HMCS Postillion, but not as a commander.
He was discharged on medical grounds in June 1945, having contracted TB at sea, and was placed on the retired list. He died April 27, 1949, after battling the illness for almost four years.
Events related to this officer
No events found for this officer. This may be due to unknown dates of command (we pull ship events to their respective commander pages).

You can help improve officers Walter Juchereau Kingsmill's page
Click here to Submit events/comments/updates for this officer.
Please use this if you spot mistakes or want to improve his page.