Fighting the U-boats
Allied Naval officers
Admiral Sir Max Kennedy Horton, RN
29th November 1883 - 30th July 1951
G.C.B., D.S.O.**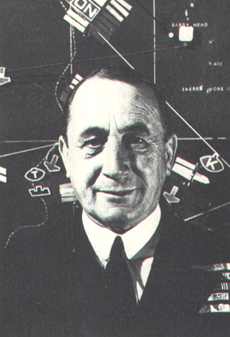 Admiral Max Horton
Max Kennedy Horton passed into H.M.S. "Britannia" in September 1898 and after being promoted Sub-Lieutenant served mostly in submarines.
During the first two years of World War One he commanded the submarine E.9 of 800 tons, one of the first ocean going submarines.
When the war broke out she was sent with others of her class to patrol the inshore waters of the Heligoland Bight and at dawn on the 13th September 1914 Lt.-Commander Horton brought E.9 to periscope depth about six miles S.S.W. of Heligoland Harbour. On his first look around he sighted the German light cruiser S.M.S. Hela emerging from a clearing in the early morning mist. He closed her unseen to 600 yards, fired two torpedoes and dived deep. The "Hela" was hit amidships and sank, leaving her survivors to be picked up by armed trawlers.
Despite being hunted for the rest of the day, and with her batteries dangerously low, Horton managed to bring E.9 safely back to her base at Harwich.
Three weeks later he was off the mouth of the river Ems, where navigation was hazardous and the narrow channels between the sandbanks were heavily guarded by destroyers. Disgusted by not finding bigger game, Horton carefully stalked and at close range torpedoed the German destroyer S. 116. For these achievements Horton was awarded the D.S.O. and on 31st December 1914, at the age of 31, promoted to Commander.
In October 1914 E.9 passed through the Sound between Denmark and Sweden into the Baltic. It was a hazardous passage, as she had to negotiate a minefield and was forced down repeatedly by enemy destroyers. Safely through, E.9 vent to Reval where she and a few other British submarines came under the orders of Admiral von Essen, the Russian Commander-in-Chief.
Operating from Reval E.9 did a large number of patrols, sinking a destroyer and heavily damaging the German heavy cruiser S.M.S. Prinz Adalbert, besides intercepting and sinking a large number of merchant ships carrying the vital iron ore from Sweden to Germany.
Returning from Russia in 1915, Max Horton assumed command of the very large submarine J.6 and did a number of strenuous patrols in the North Sea. Later Horton was selected to command and supervise the building of the experimental submarine M.1. She was a notable departure from existing design, carrying, in addition to her torpedo armament a twelve-inch gun mounted in a turret.
Commander-in-Chief, Western Approaches
17th November 1942 - 15th August 1945
During his time as Commander-in-Chief, Western Approaches, Max Horton decisively defeated the formidable German U-boat fleet, which, in ever growing numbers and with even more efficient weapons, threatened to cut the vital lifeline between the two major Western Allies.
Reaping the benefits of the valuable initial work done by his predecessor, Admiral Sir Percy Noble, Horton threw himself into this tremendous battle with grim determination, demanding the utmost efforts from the crews manning the small escort ships, the numerous training-establishments and the staffs ashore. Aloof and sparing with praise, Horton, with great efficiency, used the growing resources available to him in the form of vastly increased numbers of efficient escorts around the convoys themselves, freely roaming Support Groups and "Hunter-Killer" groups formed around the small escort-carriers. These forces were strongly supported by efficient and well-armed V.L.R. (Very Long Range) aircraft from R.A.F. Coastal Command.
The greatly improved materiel which Horton's Command received from "Bletchly Park", the code-breaking centre reading a large part of the high security German "Enigma" traffic, very often enabled the staff ashore to redirect the convoys around the massive concentrations of U-boats set up by "Befehlshaber der Unterseeboote".
At last, in early May 1945, after many fiercely fought battles and with painful losses on both sides, the U-boats were forced to surrender, having shown themselves incapable of breaking the Atlantic life-line, thereby making Germany's defeat inevitable.
Admiral Hortons career (in brief):
| | |
| --- | --- |
| 1898: | H.M.S. "Britannia" (Dartmouth), 1903: Sub-Lieutenant. |
| 1905: | Lieutenant, submarine D.6, 1912: Lt.-Commander (D.6). |
| 1914: | Captain of submarine E.9, patrols in the North Sea and Baltic (awarded the D.S.O. for highly successful attacks on German men-of-war). Commander |
| 1917: | Awarded bar to his D.S.O. 'for long and arduous services in command of overseas submarines'. |
| 1920: | Captain, awarded a second bar to his D.S.O. for 'distinguished service in command of the Baltic submarine flotilla', 1922-24: Captain of H.M.S. "Conquest". |
| 1930: | Captain of H.M.S. "Resolution". |
| 1932: | Rear-Admiral 2nd Battle Squadron in H.M.S. "Malaya". |
| 1935: | Commanding 1st Cruiser Squadron in H.M.S. "London". |
| 1937: | Vice-Admiral Commanding Reserve Fleet. |
| 1939: | Awarded the K.C.B. in the New Year Honours. |
| 1940: | Admiral and Flag Officer Submarines. |
| 1945: | On 14th June Admiral Max Horton was awarded the G.C.B. |
On 15th August placed on Retired List, at own request, to facilitate the promotion of younger officers.
Article compiled by Mogens Byrler
Lieutenant-Commander(ret.) Royal Danish Navy