HMS Rifleman (J 299)
Minesweeper of the Algerine class
| | |
| --- | --- |
| Navy | The Royal Navy |
| Type | Minesweeper |
| Class | Algerine |
| Pennant | J 299 |
| Mod | Turbine engined |
| Built by | Harland & Wolff Ltd. (Belfast, Northern Ireland) |
| Ordered | 30 Apr 1942 |
| Laid down | 20 Apr 1943 |
| Launched | 25 Nov 1943 |
| Commissioned | 11 Feb 1944 |
| End service | |
| History | Rifleman spent some years during the early 1960's in the Vickers Shipyard at Barrow-in-Furness as an accomodation ship for Royal Navy crews attending the building of RN submarines especially the two Polaris Submarines Resolution and Repulse. |
Commands listed for HMS Rifleman (J 299)
Please note that we're still working on this section
and that we only list Commanding Officers for the duration of the Second World War.
You can help improve our commands section
Click here to Submit events/comments/updates for this vessel.
Please use this if you spot mistakes or want to improve this ships page.


Notable events involving Rifleman include:
Two photographs of the crew of HMS Rifleman, both taken at Malta. Photographs with thanks to Vincent Camilleri, Australia.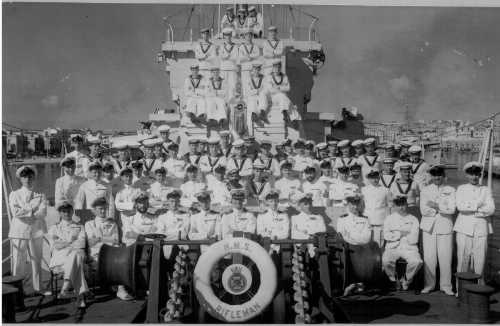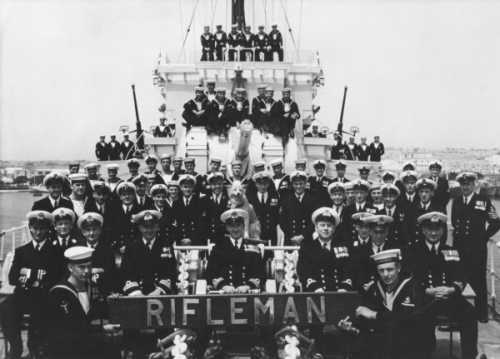 The second photo taken post 1950 as the bofors were fitted that year (1)
29 Mar 1944
HMS United (Lt. N.R. Wood, RN) conducted A/S exercises off Stornoway together with HMS Rifleman (Lt. C.L. Carroll, DSC, RNR), HMS Man o' War (T/Lt. P.W. Arnold, RNVR) and HMS Southern Shore (Skr. S. Hearne, RNR).
Later the same day she departed Stornoway for Tobermory. (2)
19 Jul 1945

Operation Livery.
Sweeping of mines off Phuket; bombardment and air strikes directed against appropriate targets.
'Force 63' departed Trincomalee on 19 July 1945. It was made up of the following warships; battleship HMS Nelson (Capt. C. Caslon, CBE, RN, flying the flag of Vice Admiral H.C.T. Walker, CB, RN), heavy cruiser HMS Sussex (Capt. A.F. de Salis, DSO, RN), escort carriers HMS Ameer (Cdr. P.D.H.R. Pelly, DSO, RN), HMS Empress (Capt. J.R.S. Brown, RN), destroyers HMS Rotherham (Capt. H.W. Biggs, DSO and Bar, RN), HMS Racehorse (Cdr. J.J. Casement, DSC, RN), HMS Raider (Lt.Cdr. J.C. Cartwright, DSC, RN), HMS Paladin (Lt. H.R. Hewlett, RN) and the minesweepers HMS Pincher (T/A/Lt.Cdr. C.B. Blake, RNVR), HMS Plucky (T/A/Lt.Cdr. G. Wallis, RNVR), HMS Squirrel (Lt. M. Buist, RN), HMS Rifleman (Lt. C.L. Carroll, DSC, RNR), HMS Vestal (Lt.Cdr. C.W. Porter, DSC, RN), HMIS Punjab(Lt. A.V. Baker, RIN) and HMS Deccan as attached danlayers.
The force passed through Sombrero Channel during the night of 22/23 July 1945 and arrived off Phuket in the morning of 24 July.
The area which had been given first priority was cleared of mines of as a result of operations carried out of 24th, 25th, and 26th July. A total of 24 mines were swept.
During the minesweeping operations HMS Squirrel was mined and damaged forward. Two and a half hours after hitting the mine she took a heavy list and therefore had to be sunk by our own forces. Seven ratings were lost with the ship.
In strikes against targets on the Kraa Isthumus, our aircraft achieved commendable results. Three small ships were destroyed and eleven others strafed in the Singora area, while fifteen locomotives were put out of action and rolling stock strafed on the railway system between Bandon and Dhungsong. A camp at Huatsei was bombed. One Sungei Patani airfield six grounded aircraft were destroyed, three left burning and two others hit. In all these operations only one Hellcat fighter was lost.
On 26 July 1945 attacks by enemy suicide aircraft were launched against units of 'Force 63'. One of these aircraft was shot down in flames by HMS Ameer and two were shot down by HMS Sussex. HMS Vestal was hit by a suicide aircraft, caught fire and had to be sunk by our own forces. Fifteen ratings were lost with the ship. Another enemy suicide aircraft bounced on the water and hit the side of HMS Sussex which sustained some hull damage above the waterline, but remained fully operational.
'Force 63' left the area of operation p.m. on 26 July and returned to Trincomalee where it arrived on 30 July. (3)
Sources
Personal communication
ADM 173/19217
ADM 199/1457
ADM numbers indicate documents at the British National Archives at Kew, London.