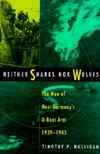 Neither Sharks nor Wolves
by Mulligan, Timothy P.
The Men of Nazi Germany's U-boat Arm, 1939-1945
1999, United States Naval Inst.
ISBN 1557505942
340 pages, 24 photos
This book investigates the men behind the myth - the real officers and enlisted men behind the "shark" and "wolf" images often associated with the U-boat arm. The author surveyed over one thousand veterans of the U-boat-waffe, interviewing many of them personally. Besides demonstrating patterns in the age, educational background, former occupation, and geographic origin of officers and enlisted men, he also covers the training regimen in detail as it evolved during the course of the war as well as the morale crisis of 1943-1944. He addresses common assumptions about U-boat men and attempts to verify them based on his survey data and other statistical information: Was the U-boat war really a children's crusade? Was inexperience really behind the huge casualty rates? Was the U-boat arm truly apolitical? A very interesting chapter describes U-boat officers' treatment of survivors of sinkings at various stages of the war. A well-researched book on a little-studied aspect of the U-boat war.


Purchase information: (info)


Get Neither Sharks nor Wolves now at amazon.co.uk
Errata list
Please note: This listing may, or may not be complete.
We normally do not flip through a certain book cover to cover looking for mistakes.
| | | |
| --- | --- | --- |
| Page | Mistake | Correction |
| 42 | "... a new Type VIIC U-boat entered service in the German Navy as U-109." | U-109 was a type IXB. |
| 64 | "...Otto Kretschmer (U-99), and Joachim Schepke (U-100), accomplished all of their sinkings with VIIBs;" | Kretschmer had success commanding Type IIB U-23. Schepke sank ships while in command of a Type IIA U-3, and Type IIB U-19. |
2 errata entries located for title Neither Sharks nor Wolves.