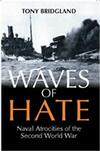 Waves of Hate
by - Bridgland, Tony
Naval Atrocities of the Second World War
2002, United States Naval Inst.
ISBN 1557504393
Hardcover, 256 pages
From the publisher: "Was chivalry a casualty of twentieth-century global warfare? According to this disturbing look at tragic naval incidents in World War II, the answer is yes. Drawing on official and unofficial records, personal testimony, and little-known, previously published works, Tony Bridgland catalogs atrocities perpetrated by all sides, the Allies as well as the Germans and Japanese. The author describes in gripping detail the sinking of hospital ships and neutral liners and the abandonment and gunning down of survivors. An additional chilling reminder of the cost of total war is the horrific story of the Japanese hellships."
Purchase information: (info)

Get Waves of Hate now at amazon.com ($ 28.57)


Get Waves of Hate now at amazon.de (EUR 44.25)
Errata list
Please note: This listing may, or may not be complete.
We normally do not flip through a certain book cover to cover looking for mistakes.
| | | |
| --- | --- | --- |
| Page | Mistake | Correction |
| 1 | States "Oehrn had taken over U-37 from Werner Hartenstein." | U-37 was commanded by Werner Hartmann. |
| 217 | "Junker, a then forty-nine-year-old torpedo specialist from Freiburg, headed back to Germany from Djakarta in January 1945. … He was reported as still alive in August 2000, thus being possibly the oldest surviving U-boat commander of the Second World War." | Ottoheinrich Junker was born in 1905, making him 40 in 1945, not 49. He died in July 2000. |
2 errata entries located for title Waves of Hate.