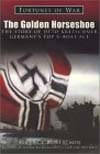 The Golden Horseshoe
by Robertson, Terence
2000, Tempus Publishing Ltd.
ISBN 0752420194
Paperback, 192 pages, 23 b&w photographs
Covers Kretschmer's career in the U-boat arm and as a prisoner of war in England and Canada. Later re-issued under the title Night Raider of the Atlantic. First published 1955.


Purchase information: (info)


Get The Golden Horseshoe now at amazon.co.uk
Errata list
Please note: This listing may, or may not be complete.
We normally do not flip through a certain book cover to cover looking for mistakes.
| | | |
| --- | --- | --- |
| Page | Mistake | Correction |
| 9 | "Captain Otto Kretschmer, the German Navy´s greatest ´ace, who caused more destruction on the High Seas than any other commander of any nation in any war." | Kapitänleutnant Lothar von Arnauld de la Perieré, commander of of U-35 and U-139 in the First World War, sank more ships and more tonnage than Kretschmer. |
| 14 | "...Germany´s leading U-boat ´ace' of the First World War, Captain Karl Dönitz, from the cruiser Emden..." | The leading ´ace´of course was Kapitänleutnant Lothar von Arnauld de la Perieré. Dönitz himself sank two ships. |
| 17 | "...Kretschmer and the First Lieutenant, U. Schnee..." | Should be A. Schnee instead of U. Adalbert Schnee. |
| 19 | On Adalbert Schnee: "He became a wartime ´ace´ as commander of U-66 and U-200 with 198,000 tons to his credit." | Schnee never served aboard either of those boats, and his wartime credit is 98,565 tons sunk along with 28,820 tons damaged. |
| 33 | "On February 12th, 1940, U-23 sailed from Kiel on her eight wartime trip." | U-23 sailed from Wilhelmshaven on the 9th. |
5 errata entries located for title The Golden Horseshoe.