The German Invasion of Norway
April 1940
Geirr H. Haarr
2009, Naval Institute Press
ISBN 1591143101
Hardcover, 416 pages
| | |
| --- | --- |
| Type. | Historical narrative |
| Pros. | Great research, very complete and detailed |
| Cons. | Might use a few more maps |
| Rating. | |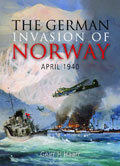 This is the first half of Haarr's great work on the German invasion of Norway in April 1940 and the following battles into the summer. He splits the work into two volumes; The German invasion of Norway, April 1940 and The battle for Norway, April-June 1940 (our review).
Each of the main theatres of war is given the same coverage; first the state of preparedness on April 8, the evening before the German landings, then the men in charge and finally the fight against the Germans during the early hours of April 9. Invasion of Oslo, Horten, Bergen, Trondheim, Stavanger (and Sola airport) and Narvik are covered in this manner and through these chapters the main picture is developed.
The events in Oslo fjord where the brand-new and under-prepared heavy cruiser Blücher was sunk through series of avoidable events and the resulting critical delay in German invasion of the capital is very. This helped the Norwegian King and government to first escape the city and then eventually reach England. This was exactly what the Germans wanted desperately to avoid and was to cost them dearly. In Oslo fjord the German invasion fleet was hit the hardest - even though they knew how the defences were laid out for the most part.
Haarr explains just how close the invasion was to suffer severe losses and perhaps even fail completely. In several cases the invasion fleet passed under the Norwegian guns just as they were starting to fire or were given conflicting orders. The Germans were amazed and one officer was quoted as saying "every [Norwegian] shot should have been a hit".
This book is of the same very high quality as his follow up title and they complement each other wonderfully. Haarr's prose is very good and a pleasure to follow and the viewpoint constantly switches from Norwegian to German to Allied side as needed. Both are loaded with photos and footnotes greatly helping the reader. I have to say this has to be the best narrative on the Norway invasion.
As with the other title a few more maps, especially in the opening of chapters dealing with new city or area, would have been very helpful to get even better perspective.
Highly recommended.
Review written by Guðmundur Helgason.
Published on 21 Nov 2010.
This title is highly recommended.
Purchase information: (info)

Get The German Invasion of Norway now at amazon.com


Get The German Invasion of Norway now at amazon.co.uk