The U-Boat War in the Caribbean
Kelshall, Gaylord T.M.
2004, United States Naval Inst.
ISBN 1557504520
Hardcover, 505 pages, 30 pictures, 9 maps, 2 diagrams
| | |
| --- | --- |
| Type. | Historical rnarrative |
| Pros. | Very detailed and comprehensive |
| Cons. | Lack of editorial treatment |
| Rating. | |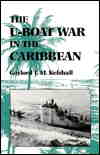 The U-boat war in the Caribbean is one of the most overlooked aspects of the entire U-boat war or World War Two. The U-boat force stuck hard during the spring of 1942 and sank 400 merchant ships and damaged 56 more for a total of 15% of all losses due to U-boat attacks. It was here that the Germans found a literal stranglehold on the allies, namely the fuel and bauxite routes so vital to the allies.
The book is very detailed one, focusing on 1942 that saw most of the action. Interesting is to read about the U-boat exploits, like the ones of U-161 (Achilles) and U-160 (Lassen) which caused the allies severe troubles and expenses. The air power in the Caribbean is covered very extensively, illustrating the massive search and kill operations put into place there as the war progressed. The allied air force losses and the effort their crews had to put in to defeat the U-boats are detailed.
This book suffers from, as explained in the publisher's note, lack of editorial treatment. Unfortunate spelling mistakes and sometimes-incorrect references to U-boats are found in a number of places. This is not enough to really undermine the fantastic research that obviously went into the creation of this work.
This is one of the very best books on any given U-boat war battles and an absolute must-read for the Caribbean theatre. See map of U-boats lost in the Caribbean here.
The author is the founder and director of the Chaguaramas Military History and Aviation museum in Trinidad.
Review written by Guðmundur Helgason.
Published on 15 Sep 1998.
This title is highly recommended.
Purchase information: (info)


Get The U-Boat War in the Caribbean now at amazon.co.uk