Herbert Schneider
Kapitänleutnant (Crew 34)
Successes
7 ships sunk, total tonnage 45,826 GRT
2 ships damaged, total tonnage 12,479 GRT
| | | | |
| --- | --- | --- | --- |
| Born | 25 Jun 1915 | | Nuremberg |
| Died | 23 Feb 1943 | (27) | Middle Atlantic |
| | | |
| --- | --- | --- |
| 8 Apr 1934 | | Offiziersanwärter |
| 26 Sep 1934 | | Seekadett |
| 1 Jul 1935 | | Fähnrich zur See |
| 1 Jan 1937 | | Oberfähnrich zur See |
| 1 Jul 1937 | | Leutnant zur See |
| 1 Apr 1939 | | Oberleutnant zur See |
| 1 Apr 1942 | | Kapitänleutnant |
U-boat Commands
| U-boat | From | To | |
| --- | --- | --- | --- |
| U-522 | 11 Jun 1942 | 23 Feb 1943 (+) | 2 patrols (111 days) |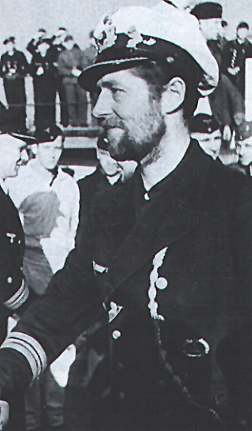 Kapitänleutnant Herbert Schneider after patrol
Herbert Schneider began his naval career in April 1934. After the usual officer training, in October 1936 he transferred to the Luftwaffe and received air reconnaissance training. In Spring 1938 he spent two months in Spain during the Civil War and made eight sorties. In October 1940 he returned to the Kriegsmarine.
Over the next six months he received U-boat training, and then became I WO on U-123 under Kptlt. Reinhard Hardegen. After two patrols he left the U-boat to complete commander training, and then commissioned the type IXC U-boat U-522. During his first patrol in the North Atlantic he sank four ships with a total of 20,077 tons and damaged another vessel.
His second patrol was also successful with three ships sunk and one damaged. U-522 was sunk with all hands by depth charges from the British cutter HMS Totland on 23 February, 1943 (Niestlé, 1998).
Sources
Busch, R. and Röll, H-J. (1999). German U-boat commanders of World War II.
Busch, R. and Röll, H-J. (1997). Der U-Bootkrieg 1939-1945 (Band 2).
Niestlé, A. (1998). German U-boat losses during World War II.
Rohwer, J. (1998). Axis Submarine Successes of World War Two.
Patrol info for Herbert Schneider
U-boat
Departure
Arrival
1.
U-522
8 Oct 1942
Kiel
2 Dec 1942
Lorient
Patrol 1,
56 days
2.
U-522
31 Dec 1942
Lorient
23 Feb 1943
Sunk
Patrol 2,
55 days
2 patrols, 111 days at sea
Ships hit by Herbert Schneider
Date
U-boat
Name of ship
Tons
Nat.
Convoy
2 Nov 1942
U-522
Hartington (d.)
5,496
br
SC-107
2 Nov 1942
U-522
Maritima
5,801
br
SC-107
2 Nov 1942
U-522
Mount Pelion
5,655
gr
SC-107
2 Nov 1942
U-522
Parthenon
3,189
gr
SC-107
18 Nov 1942
U-522
Yaka
5,432
am
ONS-144
9 Jan 1943
U-522

Minister Wedel
6,833
nw
TM-1
9 Jan 1943
U-522

Norvik
10,034
pa
TM-1
11 Jan 1943
U-522
British Dominion (d.)
6,983
br
TM-1
23 Feb 1943
U-522
Athelprincess
8,882
br
UC-1
58,305

7 ships sunk (45,826 tons) and 2 ships damaged (12,479 tons).

Legend
We have a picture of this vessel.
(d.) means the ship was damaged.

About ranks and decorations
Ranks shown in italics are our database inserts based on the rank dates of his crew comrades. The officers of each crew would normally have progressed through the lower ranks at the same rate.

As an Amazon Associate uboat.net earns a commission from qualifying purchases.