Herbert Wohlfarth
Kapitänleutnant (Crew 33)
Successes
21 ships sunk, total tonnage 66,032 GRT
2 ships damaged, total tonnage 9,903 GRT
1 auxiliary warship damaged, total tonnage 10,552 GRT
| | | | |
| --- | --- | --- | --- |
| Born | 5 Jun 1915 | | Kanazawa, Japan |
| Died | 13 Aug 1982 | (67) | Villingen-Schwenningen, Germany |
| | | |
| --- | --- | --- |
| 1 Apr 1933 | | Offiziersanwärter |
| 1 Jul 1934 | | Fähnrich zur See |
| 1 Apr 1936 | | Oberfähnrich zur See |
| 1 Oct 1936 | | Leutnant zur See |
| 1 Jun 1938 | | Oberleutnant zur See |
| 1 Oct 1940 | | Kapitänleutnant |
U-boat Commands
| U-boat | From | To | |
| --- | --- | --- | --- |
| U-14 | 19 Oct 1939 | 1 Jun 1940 | 4 patrols (60 days) |
| U-137 | 15 Jun 1940 | 14 Dec 1940 | 3 patrols (38 days) |
| U-556 | 6 Feb 1941 | 27 Jun 1941 | 2 patrols (39 days) |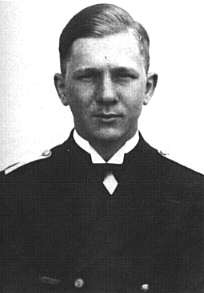 Fähnrich Herbert Wohlfarth
Herbert Wohlfarth began his naval career in April 1933. After standard training he spent more than a year on the cruiser Admiral Graf Spee. In May 1937 he joined the U-boat force, and like many of the later successful commanders received a solid pre-war training under Admiral Dönitz. After some months as aide-de-camp in the 3rd Flotilla Lohs, in September 1938 he became watch officer on U-16.
On 19 October 1939 he took over command of the type IIB U-boat U-14. On his first three patrols he sank nine mainly smaller ships in Scottish and Norwegian waters. The fourth patrol in U-14 was for him, as for most other commanders during Operation Hartmut against Norway, unsuccessful.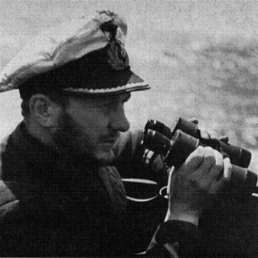 Kptlt. Herbert Wohlfarth on patrol
On 15 June 1940 Herbert Wohlfarth commissioned U-137, another a type IIB boat, referred to as an 'Einbaum' (dugout canoe). But these small boats were also very successful and other well-known commanders including Hardegen, Kretschmer and Lüth won their first successes in them.
Herbert Wohlfarth led U-137 on three patrols during the autumn of 1940. He sank seven ships with a total of 25,465 tons, mostly in the area south of the Hebrides. Especially notable was his torpedo hit on the armed merchant cruiser HMS Cheshire (10,552 tons), damaged so badly that she had to spend six months in the shipyard for repairs.
In the U-boat force Herbert Wohlfarth was known by his nickname, Parzival. After a radio message to the BdU, reporting his successes with his 'dugout', he received the following praise from Dönitz:
An Wohlfarth: Gut gemacht!
(To Wohlfarth: Well done!)
Wohlfarth answered, also by radio:
An Löwe von Parzival: Ja, ja, die kleinen Boote !
(To Lion from Parzival: Well, well, these small boats!)

This typical example of communication between Dönitz and his commanders became famous throughout the Kriegsmarine.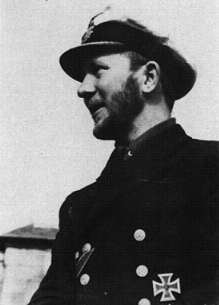 Herbert Wohlfarth after patrol
On 15 December 1940 Wohlfarth left U-137, and two months later commissioned the larger type VIIC U-boat U-556. On the first patrol in the Atlantic he sank four ships with a total of 18,583 tons and damaged two more.
During his return he witnessed one of the most disastrous events in the history of the Kriegsmarine, the sinking of the battleship Bismarck. Wohlfarth was unable to help because he had already fired all his torpedoes. He saw a battleship and an aircraft carrier pass in front of his boat on their way to sink the pride of the German fleet and could do nothing to hinder them.
On 15 May 1941 he received the Knights Cross for this patrol.
(See also: Dönitz and his aces)
On 19 June 1941 Wohlfarth started his second patrol in U-556, but only eight days later the boat was sunk by the British corvettes HMS Nasturtium, HMS Celandine and HMS Gladiolus southwest of Iceland. Kptlt Wohlfarth and most of his crew were captured (Niestlé, 1998).
Herbert Wohlfarth spent more than six years in English and Canadian POW camps before returning to Germany on 14 July 1947.
Sources
Busch, R. and Röll, H-J. (1999). German U-boat commanders of World War II.
Busch, R. and Röll, H-J. (1997). Der U-Bootkrieg 1939-1945 (Band 2).
Niestlé, A. (1998). German U-boat losses during World War II.
Rohwer, J. (1998). Axis Submarine Successes of World War Two.
Patrol info for Herbert Wohlfarth
U-boat
Departure
Arrival
1.
U-14
17 Jan 1940
Kiel
18 Jan 1940
Helgoland
Patrol 1,
2 days
2.
U-14
20 Jan 1940
Helgoland
26 Jan 1940
Wilhelmshaven
Patrol 1,
7 days
3.
U-14
11 Feb 1940
Wilhelmshaven
20 Feb 1940
Wilhelmshaven
Patrol 2,
10 days
4.
U-14
3 Mar 1940
Wilhelmshaven
11 Mar 1940
Wilhelmshaven
Patrol 3,
9 days
5.
U-14
4 Apr 1940
Wilhelmshaven
5 May 1940
Kiel
Patrol 4,
32 days
6.
U-137
14 Sep 1940
Kiel
17 Sep 1940
Stavanger
4 days
7.
U-137
21 Sep 1940
Stavanger
29 Sep 1940
Lorient
Patrol 5,
9 days
8.
U-137
9 Oct 1940
Lorient
17 Oct 1940
Lorient
Patrol 6,
9 days
9.
U-137
3 Nov 1940
Lorient
22 Nov 1940
Bergen
Patrol 7,
20 days
10.
U-137
24 Nov 1940
Bergen
27 Nov 1940
Kiel
4 days
11.
U-556
1 May 1941
Kiel
30 May 1941
Lorient
Patrol 8,
30 days
12.
U-556
19 Jun 1941
Lorient
27 Jun 1941
Sunk
Patrol 9,
9 days
9 patrols, 137 days at sea
Ships hit by Herbert Wohlfarth
Date
U-boat
Name of ship
Tons
Nat.
Convoy
25 Jan 1940
U-14
Biarritz
1,752
nw
15 Feb 1940
U-14
Sleipner
1,066
da
16 Feb 1940
U-14
Rhone
1,064
da
16 Feb 1940
U-14
Osmed
1,526
sw
16 Feb 1940
U-14
Liana
1,646
sw
7 Mar 1940
U-14
Vecht
1,965
nl
9 Mar 1940
U-14

Borthwick
1,097
br
9 Mar 1940
U-14
Abbotsford
1,585
br
9 Mar 1940
U-14

Akeld
643
br
26 Sep 1940
U-137
Manchester Brigade
6,042
br
OB-218
26 Sep 1940
U-137

Ashantian (d.)
4,917
br
OB-218
26 Sep 1940
U-137

Stratford
4,753
br
OB-218
14 Oct 1940
U-137
HMS Cheshire (F 18) (d.)
10,552
br
13 Nov 1940
U-137
Cape St. Andrew
5,094
br
OB-240
16 Nov 1940
U-137
Planter
5,887
br
SLS-53
17 Nov 1940
U-137

Saint Germain
1,044
br
HG-46
17 Nov 1940
U-137
Veronica
1,316
sw
HG-46
6 May 1941
U-556

Emanuel
166
fa
10 May 1941
U-556

Aelybryn (d.)
4,986
br
OB-318
10 May 1941
U-556

Empire Caribou
4,861
br
OB-318
10 May 1941
U-556
Gand
5,086
be
OB-318
20 May 1941
U-556
Darlington Court
4,974
br
HX-126
20 May 1941
U-556

British Security
8,470
br
HX-126
20 May 1941
U-556

Cockaponset
5,995
br
HX-126
86,487

21 ships sunk (66,032 tons) and 3 ships damaged (20,455 tons).

Legend
We have a picture of this vessel.
(d.) means the ship was damaged.

About ranks and decorations
Ranks shown in italics are our database inserts based on the rank dates of his crew comrades. The officers of each crew would normally have progressed through the lower ranks at the same rate.

As an Amazon Associate uboat.net earns a commission from qualifying purchases.