Günter Hessler
Fregattenkapitän (Crew 27)
Successes
19 ships sunk, total tonnage 108,411 GRT
2 auxiliary warships sunk, total tonnage 10,411 GRT
| | | | |
| --- | --- | --- | --- |
| Born | 14 Jun 1909 | | Beerfelde, Lebus |
| Died | 4 Apr 1968 | (58) | Bochum-Laer, Westphalia, Germany |
| | | |
| --- | --- | --- |
| 11 Oct 1927 | | Seekadett |
| 1 Apr 1929 | | Fähnrich zur See |
| 1 Jun 1931 | | Oberfähnrich zur See |
| 1 Oct 1931 | | Leutnant zur See |
| 1 Jul 1933 | | Oberleutnant zur See |
| 1 Oct 1936 | | Kapitänleutnant |
| 1 Sep 1941 | | Korvettenkapitän |
| 1 Dec 1944 | | Fregattenkapitän |
U-boat Commands
| U-boat | From | To | |
| --- | --- | --- | --- |
| U-107 | 8 Oct 1940 | 1 Dec 1941 | 3 patrols (200 days) |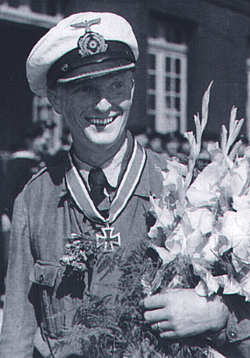 Kptlt. Günther Hessler after his second patrol
Günther Hessler joined the Kriegsmarine in April 1927. Prior to being assigned to the U-Boot-Waffe (U-boat arm) he served on torpedo boats and the battleship Schlesien. He was the commanding officer of the torpedo boat Falke from April 1939 to March 1940.
In April 1940 he transferred to the U-boat force and six months later commissioned U-107. It was rare for an officer to take command of a U-boat without previous experience as a watch officer or Kommandanten-Schüler (Commander-in-training), but Hessler was an experienced Navy officer and he soon demonstrated that this was a correct decision: during his first patrol he sank four ships totalling 18,514 tons.
But it was the second patrol in U-107 that was to make him famous. Kptlt. Günther Hessler put out from Lorient at 19:30 on 29 March 1941 to sink the highest tonnage of Allied merchant ships of any U-boat patrol of the entire war. U-107 left base in company with U-94 (Kuppisch), but U-107 then headed south. Her operational area was around the Canary Islands and near Freetown, where she sank 14 ships totalling 86,699 tons, starting with the British merchant SS Eskdene which required two torpedoes and 104 rounds from the 105mm fast-firing deck gun. The largest ship sunk was the British Calchas of 10,305 tons. On 1 June 1941 Hessler sank what he assumed was a 'Q ship' (decoy vessel), the British Alfred Jones (wrongly, Q-ships having been withdrawn from service in March).
After leaving U-107 Hessler spent the rest of the war as 1.Asto (1st naval staff officer) on BdU op. (U-boat High Command, operations)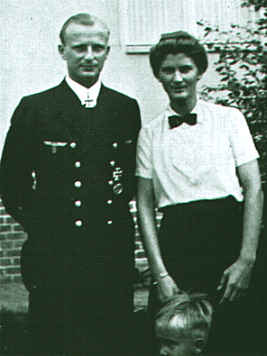 Günther Hessler and his wife Ursula.
Kptlt. Hessler married Karl Dönitz's daughter Ursula in November 1937. At that time Hessler was serving on torpedo boats.
(Admiral Dönitz had only one daughter, so the claim made in some books that Adi Schnee also married a daughter of Dönitz' is untrue.)
Because Hessler was his son-in-law, Dönitz had some reservations about awarding Hessler his deserved Knights Cross, but eventually Grand Admiral Raeder signed the papers.
After the war Hessler spent over a year in Allied captivity. From 1947 to 1951 he was commissioned by the Royal Navy to write The U-Boat War in the Atlantic in three volumes, with the assistance of Korvkpt. Alfred Hoschatt, former commander of U-378 and later, on the staff of BdU op with Hessler.
Sources
Busch, R. and Röll, H-J. (1999). German U-boat commanders of World War II.
Busch, R. and Röll, H-J. (1997). Der U-Bootkrieg 1939-1945 (Band 2).
Rohwer, J. (1998). Axis Submarine Successes of World War Two.
Patrol info for Günter Hessler
U-boat
Departure
Arrival
1.
U-107
24 Jan 1941
Wilhelmshaven
1 Mar 1941
Lorient
Patrol 1,
37 days
2.
U-107
29 Mar 1941
Lorient
2 Jul 1941
Lorient
Patrol 2,
96 days
3.
U-107
6 Sep 1941
Lorient
11 Nov 1941
Lorient
Patrol 3,
67 days
3 patrols, 200 days at sea
Ships hit by Günter Hessler
Date
U-boat
Name of ship
Tons
Nat.
Convoy
3 Feb 1941
U-107
Empire Citizen
4,683
br
OB-279
3 Feb 1941
U-107
HMS Crispin
5,051
br
OB-280
6 Feb 1941
U-107
Maplecourt
3,388
ca
SC-20
23 Feb 1941
U-107
HMS Manistee (F 104)
5,360
br
OB-288
8 Apr 1941
U-107
Eskdene
3,829
br
OG-57
8 Apr 1941
U-107

Helena Margareta
3,316
br
OG-57
9 Apr 1941
U-107
Harpathian
4,671
br
OG-57
9 Apr 1941
U-107
Duffield
8,516
br
21 Apr 1941
U-107
Calchas
10,305
br
30 Apr 1941
U-107
Lassell
7,417
br
OB-309
17 May 1941
U-107
Marisa
8,029
nl
18 May 1941
U-107
Piako
8,286
br
27 May 1941
U-107
Colonial
5,108
br
OB-318
28 May 1941
U-107
Papalemos
3,748
gr
31 May 1941
U-107

Sire
5,664
br
OB-320
1 Jun 1941
U-107
Alfred Jones
5,013
br
OB-320
8 Jun 1941
U-107
Adda
7,816
br
OB-323
13 Jun 1941
U-107
Pandias
4,981
gr
OG-63
24 Sep 1941
U-107

John Holt
4,975
br
SL-87
24 Sep 1941
U-107
Dixcove
3,790
br
SL-87
24 Sep 1941
U-107
Lafian
4,876
br
SL-87
118,822

21 ships sunk (118,822 tons).

Legend
We have a picture of this vessel.


As an Amazon Associate uboat.net earns a commission from qualifying purchases.