Victor Oehrn
Fregattenkapitän (Crew 27)
Successes
23 ships sunk, total tonnage 103,760 GRT
1 warship sunk, total tonnage 1,025 tons
1 ship damaged, total tonnage 9,494 GRT
| | | | |
| --- | --- | --- | --- |
| Born | 21 Oct 1907 | | Kedabeg, Caucasus, Russia |
| Died | 26 Dec 1997 | (90) | Bonn, Germany |
| | | |
| --- | --- | --- |
| 11 Oct 1927 | | Seekadett |
| 1 Apr 1929 | | Fähnrich zur See |
| 1 Jun 1931 | | Oberfähnrich zur See |
| 1 Oct 1931 | | Leutnant zur See |
| 1 Jul 1933 | | Oberleutnant zur See |
| 1 Oct 1936 | | Kapitänleutnant |
| 1 Sep 1941 | | Korvettenkapitän |
| 1 May 1944 | | Fregattenkapitän |
U-boat Commands
| U-boat | From | To | |
| --- | --- | --- | --- |
| U-14 | 18 Jan 1936 | 4 Oct 1937 | No war patrols |
| U-37 | 6 May 1940 | 26 Oct 1940 | 4 patrols (81 days) |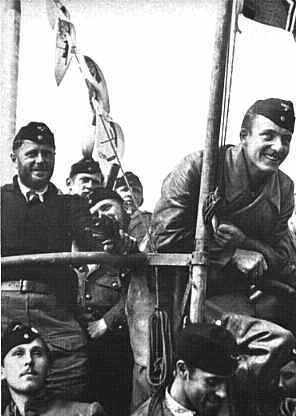 Kptlt. Oehrn amidst the crew of U-37.
Victor Oehrn joined the Reichsmarine in 1927. He spent his first years mostly on the light cruisers Königsberg and Karlsruhe, but then was one of the first officers to transfer to the newly commissioned U-boat force in July 1935. After a short program of U-boat training, he became commander of U-14 in January 1936, taking the boat into Spanish waters during the Civil War in July/September 1936.
After a year in officer training units he finished as one of the few U-boat officers in the German Marine-Akademie in summer 1939. In August 1939 he became an Asto (Admiralstabsoffizier, Admiral staff officer) on the staff of Dönitz (BdU org).
Following the torpedo malfunctions crisis during and after the invasion of Norway, Kptlt. Oehrn was sent on patrol with U-37 to restore the U-boat men's trust in their torpedoes. This patrol became a great success when he sank ten ships with a total of 41,207 tons and torpedoed and damaged another of 9,494 tons.
His second patrol (seven ships with a total of 28,439 tons) and third patrol (six ships with a total of 28,210 tons) were also successful, and he was awarded the Knights Cross in October 1940 during the third patrol.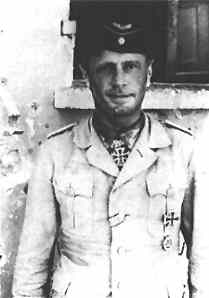 Korvkpt. Oehrn during his
North African mission
For the next year Victor Oehrn served as 1st Asto on the staff of Dönitz (BdU org). In November 1941 he took over command of the Mediterranean U-boats, and in February 1942 became 1st Asto on the Mediterranean U-boat staff.
During a mission in North Africa in July 1942, Victor Oehrn was captured after being severely wounded, and ended up in the British General Hospital 19 at Alexandria, Egypt. Later he was sent to POW Camp 306 near the Bitter Lakes on the Suez Canal. He was released in an exchange of prisoners in October 1943 and returned to Germany via Port Said, Barcelona and Marseilles in November 1943.
For the remainder of the war he served in staff positions.
Sources
Busch, R. and Röll, H-J. (1999). German U-boat commanders of World War II.
Busch, R. and Röll, H-J. (1997). Der U-Bootkrieg 1939-1945 (Band 2).
Rohwer, J. (1998). Axis Submarine Successes of World War Two.
Patrol info for Victor Oehrn
U-boat
Departure
Arrival
1.
U-37
15 May 1940
Wilhelmshaven
9 Jun 1940
Wilhelmshaven
Patrol 1,
26 days
2.
U-37
1 Aug 1940
Wilhelmshaven
12 Aug 1940
Lorient
Patrol 2,
12 days
3.
U-37
17 Aug 1940
Lorient
30 Aug 1940
Lorient
Patrol 3,
14 days
4.
U-37
24 Sep 1940
Lorient
22 Oct 1940
Lorient
Patrol 4,
29 days
4 patrols, 81 days at sea
Ships hit by Victor Oehrn
Date
U-boat
Name of ship
Tons
Nat.
Convoy
19 May 1940
U-37
Erik Frisell
5,066
sw
22 May 1940
U-37
Dunster Grange (d.)
9,494
br
24 May 1940
U-37
Kyma
3,994
gr
27 May 1940
U-37

Sheaf Mead
5,008
br
27 May 1940
U-37
Uruguay
3,425
ar
28 May 1940
U-37
Brazza
10,387
fr
60-XF
28 May 1940
U-37
Julien
116
fr
29 May 1940
U-37

Marie José
2,477
fr
29 May 1940
U-37
Telena
7,406
br
1 Jun 1940
U-37
Ioanna
950
gr
HG-32F
3 Jun 1940
U-37
Snabb
2,317
fi
8 Aug 1940
U-37
Upwey Grange
9,130
br
23 Aug 1940
U-37
Keret
1,718
nw
OA-200
23 Aug 1940
U-37
Severn Leigh
5,242
br
OA-200
24 Aug 1940
U-37

Brookwood
5,100
br
OA-200
24 Aug 1940
U-37
HMS Penzance (L 28)
1,025
br
SC-1
25 Aug 1940
U-37
Blairmore
4,141
br
SC-1
25 Aug 1940
U-37
Yewcrest
3,774
br
OB-201
27 Aug 1940
U-37
Theodoros T.
3,409
gr
27 Sep 1940
U-37

Georges Mabro
2,555
ag
28 Sep 1940
U-37
Corrientes
6,863
br
OB-217
30 Sep 1940
U-37

Samala
5,390
br
30 Sep 1940
U-37
Heminge
2,499
br
OB-220
6 Oct 1940
U-37
British General
6,989
br
OA-222
13 Oct 1940
U-37
Stangrant
5,804
br
HX-77
114,279

24 ships sunk (104,785 tons) and 1 ship damaged (9,494 tons).

Legend
We have a picture of this vessel.
(d.) means the ship was damaged.


As an Amazon Associate uboat.net earns a commission from qualifying purchases.