Johann Limbach
Oberleutnant zur See KrO
| | | |
| --- | --- | --- |
| Born | 9 December, 1912 | Uerdingen/Krefeld |

Johann Limbach
18/12/1941 Iron Cross 2nd class (EK II)
27/01/1942 Ubootskriegsabzeichen
21/01/1943 Iron Cross 1st class (EK I)
19/11/1943 Deutsches Kreuz in Gold (-168-)
29/08/1944 U-Boots-Frontspange in Bronze
06/02/1945 Knights Cross (-137-)
20/04/1945 U-Boots-Frontspange in Silber

01/10/1932 Obermatrose
01/10/1934 Matrosengefreiter
01/10/1936 Marineartillerieobergefreiter
01/03/1938 Marineartilleriemaat
10/08/1939 Bootsmannsmaat
01/10/1939 Bootsmann
01/06/1941 Obersteuermann
01/04/1944 Leutnant zur See (Kriegsoffizier) (-24-)
01/10/1944 Oberleutnant zur See (Kriegsoffizier)

U-boat Career

U-43
IX
Obersteuermann; 2 patrols, 59 days
11.41 - 03.42
U-181
IXD2
Obersteuermann & II WO; 3 patrols, 488 days
05.42 - 10.44
U-181
IXD2
I WO; 1 patrol, 78 days
10.44 - 05.45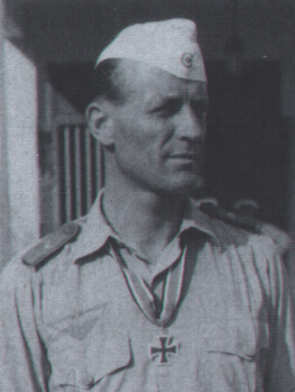 Oberleutnant zur See Johann Limbach.
Johann Limbach started his naval career in October 1930 and served then till June 1939 in coastal artillery units. Before he joined in June 1941 the U-boat force, he rode on several mine sweepers.
After the U-boat training he became the Obersteuermann (helmsmate) on U-43. In spring 1942 Johann Limbach left U-43 together with the comander Wolfgang Lüth for commissioning U-181. He took part on the incredible 205 days patrol in summer 1943, one of longest U-boat patrols ever rode.
In March 1944 he became an officer and served to the end of war as watch officer on U-181.
Source
Dörr, Manfred
Die Ritterkreuzträger der U-Bootwaffe
Band 2. K - Z
Biblio-Verlag, Osnabrück, 1989
ISBN 3-7648-1759-3