Type IXD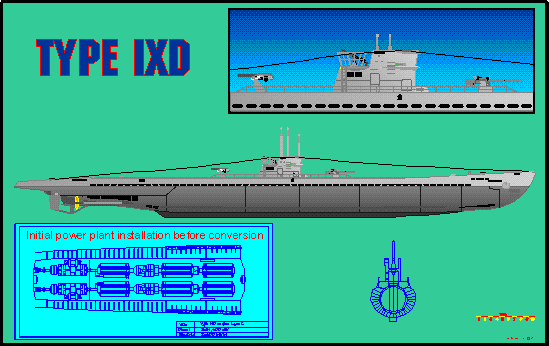 30 boats commissioned
Construction history of type IXD
These boats, designed in 1939-40, have been called IXD/41, IXD and my main source gives them as IX D1 and IX D2. The difference between D1 and D2 was mostly in engine layout and power. The D1 had teething troubles and the D2 boats had a more proven layout.
These were more than 500 tons heavier and almost 10 meters longer than the IXC/40. They were armed with 24 torpedoes in 6 tubes (4 at the bow and 2 at the stern) and had the secondary armament in the form of the Utof 105mm/45 deck gun with roughly 150 rounds of ammunition.
In 1943-44 the torpedo tubes were removed from the D1 boats (U-180 and U-195) and they converted for transport use. In their new role the could transport 252 tons of freight.
All type IXD U-boats
Below you can see the 30 commissioned U-boats of this type.
U-180, U-195, U-177, U-178, U-179, U-181, U-182, U-196, U-197, U-198, U-199,
U-200, U-847, U-848, U-849, U-850, U-851, U-852, U-859, U-860, U-861, U-862,
U-863, U-864, U-871, U-872, U-873, U-874, U-875, and U-876.
Technical information for type IXD
Displacement:


(tons)

1616

(sf)


1804

(sm)


2150

(total)

Length: (m)
87,60 oa
68,50 ph
Beam: (m)
7,50 oa
4,40 ph
Draught: (draft)
5,40 m
Height:
10,20 m
Power: (hp)
4400

(sf)


1000

(sm)

Speed:


(knots)

19,2

(sf)


6,9

(sm)

Range:


(miles / knots)

23700/12

(sf)


57/4

(sm)

Torpedoes:
24
4/2

(bow / stern tubes)

Mines:
48 TMA
Deck gun:
105/45
150 rounds
Crew:
55-63 men
Max depth:
ca. 230 m
(755 feet)
sm = submerged, sf = surfaced, ph = pressure hull,
oa = overall, hp = horsepower.
The table above is for the IXD2 boat.