Heinrich-Andreas Schroeteler
Kapitänleutnant (Crew 36)
Successes
1 warship sunk, total tonnage 335 tons
1 ship damaged, total tonnage 7,345 GRT
| | | | |
| --- | --- | --- | --- |
| Born | 10 Dec 1915 | | Essen-Katernberg |
| Died | 19 Jan 2000 | (84) | Bochum, Germany |
| | | |
| --- | --- | --- |
| 3 Apr 1936 | | Offiziersanwärter |
| 10 Sep 1936 | | Seekadett |
| 1 May 1937 | | Fähnrich zur See |
| 1 Jul 1938 | | Oberfähnrich zur See |
| 1 Oct 1938 | | Leutnant zur See |
| 1 Oct 1940 | | Oberleutnant zur See |
| 1 Apr 1943 | | Kapitänleutnant |
U-boat Commands
| U-boat | From | To | |
| --- | --- | --- | --- |
| U-667 | 21 Oct 1942 | May, 1944 | 4 patrols (218 days) |
| U-1023 | 10 Mar 1945 | 10 May 1945 | 1 patrol (47 days) |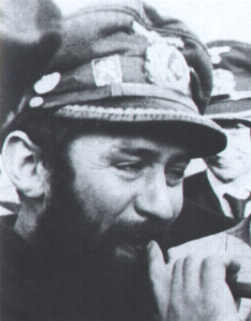 Heinrich Schroeteler after patrol
Heinrich Schroeteler joined the Kriegsmarine in April 1936, and was part of the Olympia Crew. In September 1939 he began two years of service on minesweepers.
In September 1941 he transferred to the U-boat force and went on one patrol on U-96 as Kommandantenschüler (Commander-in-training). In October 1942 he commissioned U-667 and commanded her until May 1944 when he left to join the staff member of BdU op, where in July 1944 he replaced 'Adi' Schnee.
In January 1945 he served as training officer in the 27th (Training) Flotilla for a month before taking command of the type VIIC U-boat U-1023 in February 1945.
In the last days of the war Heinrich Schroeteler damaged a British tanker of 7,345 tons and on the evening of 7 May 1945, one day before Germany's surrender, sank the Norwegian minesweeper NYMS 382 (Rohwer, 1998). Three days later Schroeteler surrendered U-1023 at Weymouth (Niestlé, 1998). He then spent three years as a POW in Britain.
Sources
Busch, R. and Röll, H-J. (1999). German U-boat commanders of World War II.
Busch, R. and Röll, H-J. (1997). Der U-Bootkrieg 1939-1945 (Band 2).
Niestlé, A. (1998). German U-boat losses during World War II.
Rohwer, J. (1998). Axis Submarine Successes of World War Two.
Patrol info for Heinrich-Andreas Schroeteler
U-boat
Departure
Arrival
1.
U-667
20 May 1943
Kiel
26 Jul 1943
St. Nazaire
Patrol 1,
68 days
2.
U-667
14 Sep 1943
St. Nazaire
16 Sep 1943
St. Nazaire
Patrol 2,
3 days
3.
U-667
18 Sep 1943
St. Nazaire
11 Oct 1943
St. Nazaire
Patrol 2,
24 days
4.
U-667
18 Nov 1943
St. Nazaire
6 Jan 1944
St. Nazaire
Patrol 3,
50 days
5.
U-667
8 Mar 1944
St. Nazaire
19 May 1944
St. Nazaire
Patrol 4,
73 days
6.
U-1023
25 Mar 1945
Bergen
10 May 1945
Weymouth, UK
Patrol 5,
47 days
5 patrols, 265 days at sea
Ships hit by Heinrich-Andreas Schroeteler

About ranks and decorations
Ranks shown in italics are our database inserts based on the rank dates of his crew comrades. The officers of each crew would normally have progressed through the lower ranks at the same rate.

As an Amazon Associate uboat.net earns a commission from qualifying purchases.