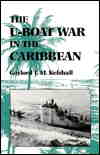 The U-Boat War in the Caribbean
by Kelshall, Gaylord T.M.
2004, United States Naval Inst.
ISBN 1557504520
Hardcover, 505 pages, 30 pictures, 9 maps, 2 diagrams
Over 500 pages of small print! Covers the entire war in the theatre in great detail, both from sea and air. This is the Bible for the Caribbean theater. Great ship index. Highly recommended. First published 1994.


Purchase information: (info)


Get The U-Boat War in the Caribbean now at amazon.co.uk
Errata list
Please note: This listing may, or may not be complete.
We normally do not flip through a certain book cover to cover looking for mistakes.
| | | |
| --- | --- | --- |
| Page | Mistake | Correction |
| 185 | The Dutch freighter VILJA.....began to sink. | The VILJA was a Norwegian freighter, and she did not sink. Crew went back on board and the VILJA was taken in to Trinidad the next day. |
1 errata entry located for title The U-Boat War in the Caribbean.