Storm Warning
Higgins, Jack
2000, Berkley Publishing Group
ISBN 042517607X
| | |
| --- | --- |
| Type. | Novel |
| Pros. | Good novel of suspense |
| Cons. | None to speak of |
| Rating. | |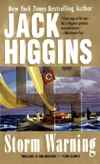 In this novel, set in 1944, a time when it was becoming apparent that Germany was headed for eventual defeat, several groups of characters come together around an island in the Outer Hebrides. The barkentine Deutschland, masquerading as a Swedish merchant ship, is leaving Brazil for Germany. The captain of the barkentine had been commander of a German submarine supply ship which was sunk in the South Atlantic, the survivors being rescued and brought to Brazil. Now that it seems Germany's end is near, the barkentine carries a mixed group of German passengers who wish to return home on a treacherous 5000 mile journey around the north of Scotland.
The second group of characters centers around an American physician working in London to help air raid victims; her uncle has a cottage in the Outer Hebrides. The third party to the coming adventures is a U-boat commander whose boat was sent on a suicidal mission to lay mines off Falmouth in order to hamper the British war fleet operating from there.
Eventually all the players converge on the Hebridean island, where a life and death drama plays out. In the course of the book, the changing fortunes of the Germans at sea and on land are clearly illustrated. The "storm warning" of the title refers not only to the stormy seas which dog the Deutschland, but also the storms of war which have engulfed the characters. A well-written novel of suspense.
Review written by Tonya Allen.
Published on 13 Jan 2002.
Purchase information: (info)


Get Storm Warning now at amazon.co.uk (£ 6.86)