Iron Coffins
A Personal Account of the German U-Boat Battles of World War II
Werner, Herbert A.
2002, Da Capo Press
ISBN 030681160X
Paperback, 388 pages
| | |
| --- | --- |
| Type. | Personal narrative |
| Pros. | Detailed and accurate narrative |
| Cons. | Factual mistakes, nothing really damaging though |
| Rating. | |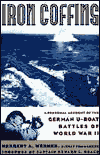 This is one of the very best personal accounts of the U-boat war of World War Two. The author was commander of 2 U-boats (U-415 and U-953) and spent most of the war at sea surviving longer than most of his less fortunate comrades.
This is a very personal and touching book, the author lost most of his family in allied air raid on his hometown. Werner covers the beginning of the war and the glamour that shone on the U-boats and his desire to join them. It then covers his first years as a low ranking officer on 2 boats during the Battle of the Atlantic's climax.
Werner did not get his own U-boat until the spring of 1944 when the war was lost and 6 out of 7 U-boat that embarked on patrols did not return, most being lost with all hands. He then bitterly fought the last months of the war, barely managing to survive. Interesting is his battle to get the latest equipment such as Schnorchels and radar detectors from shore. Both being unsuccessful as there simply were not enough of those around.
Werner surrendered to the British in Norway and was then given to the French authorities which treated its prisoners at that camp badly to say the least. Werner then managed to escape back to Germany. After the war rumor has it that he made his fortune and now lives in Florida, USA.
Prof. Dr. Rohwer once wrote in January 1970 in the "Schaltung Kueste" the official journal of the VdU (Union of the U-boatmen); "If one were to pencil in with red all the factual mistakes in this book it would look like a bloodbath". And that is just the point as I see it, this is an excellent personal account of this officer but not a serious research-book to base further work on. This was not meant to be such a book.
For anyone interested in the U-boat war this is one on the must have list.
This review is based on the edition published in England in 1990.
Review written by Guðmundur Helgason.
Published on 29 Aug 1998.
This title is highly recommended.
Purchase information: (info)


Get Iron Coffins now at amazon.co.uk