Last Year of the Kriegsmarine
Tarrant, V.E.
1994, United States Naval Inst.
ISBN 1557505101
| | |
| --- | --- |
| Type. | General History book |
| Pros. | Detailed and accurate narrative |
| Cons. | Nothing major |
| Rating. | |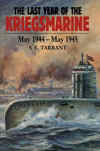 What was the German Navy, the Kriegsmarine, up to in the last desperate months of World War Two? This book attempts to explain this and does it quite well.
This is not a U-boat-only book by far although much of it deals with the last major U-boat deployments. It covers operations by all forces available to the German Naval Command in this time frame (May 1944 - May 1945), including battleship Tirpitz, cruisers, destroyers, fast boats (S-boats) midget submarines and U-boats.
One really interesting aspect of this book is the amount of statistics and data available in it, especially in regards to the much-overlooked midget submarines and their operations in this period.
One chapter deals with the destroyer flotillas based in France and their orders to attack the 1,213 allied warships in the English Channel on the eve of the Normandy invasion. The 5th destroyer flotilla had 4 ships ready for attack! Needless to say they did not fare very well.
Much attention is paid to the end of the famous but ill-fated battleship Tirpitz and its eventual demise on Nov 12, 1944 after repeated RAF air attacks during the preceding months. 1,204 German sailors perished in the final attack.
Tarrant spends considerable energy into the development and deployment history of the new Elektro boats (types XXI and the smaller XXIII) and shows how the RAF mine laying operations on the Bay of Danzig in late 1944 helped slow down their readiness tests considerably.
Operations by the smaller XXIII boats in the British Isles in 1945 are covered and although the 6 operational boats were attacked none were sunk and they did score some hits proving the soundness of the Elektro-boat concept.
The book closes on the surrender terms handed down by the allies and how the German Naval forces responded. Operation Regenbogen, the order to scuttle all naval vessels to prevent capture, is given good coverage. The end of the German surface fleet is also covered in excellent details.
This is a highly recommended general naval book.
Review written by Guðmundur Helgason.
Published on 17 Feb 1998.
This title is highly recommended.
Purchase information: (info)

Get Last Year of the Kriegsmarine now at amazon.com ($ 28.43)


Get Last Year of the Kriegsmarine now at amazon.co.uk