Hirschfeld
The Story of a U-boat NCO, 1940-1946
Brooks, Geoffrey told by Wolfgang Hirschfeld
1996, United States Naval Inst.
ISBN 1557503729
253 pages, 32 b&w photos
| | |
| --- | --- |
| Type. | Personal narrative, historical book |
| Pros. | Detailed and accurate narrative |
| Cons. | Nothing major |
| Rating. | |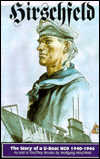 This is a unique book based on a highly secret diary kept by Wolfgang Hirshfeld during the war. Had these documents been found he would have been court-martialed. We enjoy his risks today in this fine book.
Hirschfeld writes about his entry into the armed forces and his time on a small patrol boat. Through some good luck he missed a train to an appointment which would ultimately have led him to the radio room on the Bismarck and probably lost there in May 1941.
Much of this book is spent on the famous U-109 under Kptlt. Heinrich Bleichrodt, one of the most famous aces. Patrols described there include the Operation Drumbeat attack on the US East Coast in early 1942.
In 1944 he was promoted and sent to the brand-new transport boat U-234. The book ends with one of the more famous patrols of the war onboard the transport boat U-234 that was destined for Japan with various high-tech items, such as a fighter jet and large amounts of Uranium ore. He goes into the discussions on the boat as to whether surrender or continue to Japan as planned.
This is a very well written book full of Hirschfeld's lively humor. Through his position as the radio operator he was probably better informed than many higher-ranking officers giving the reader excellent view on the war at sea as seen from the U-boats.
Highly recommended.
Review written by Guðmundur Helgason.
Published on 29 Aug 1998.
This title is highly recommended.
Purchase information: (info)


Get Hirschfeld now at amazon.co.uk