Italian submarines in World War Two
Perla (I.33 or I.30)
Perla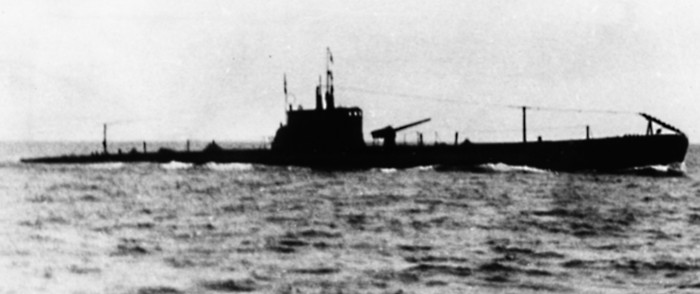 Perla (USMM)
Type
Coastal / Sea going
Class
Perla (22)
Laid down
31 Aug 1935
Cantieri Riuniti dell'Adriatico, Monfalcone
Launched
3 May 1936


Commissioned
8 Jul 1936
End service
Stricken
Loss date
9 Jul 1942
Loss position
33° 50'N, 35° 19'E
History
Captured on 9th July 1942 in 33°50'N, 35°19'E (off Beirut) by the British corvette HMS Hyacinth. Commissioned into the Royal Navy as HMS P 712 but soon transferred to Greece and served as RHS Matrozos until 1954.
Fate
Commands
Ships hit
No ships hit by this submarine.
Patrols and events
Commander
Date
Time
Port
Arr. date
Arr. time
Arr. port
Miles
Description
1
Pouchain, Mario
19 Jun 1940
1430
Massawa
20 Jul 1940
Massawa
Patrolled near Ras El Bir in Gulf of Tajura. Suffered heavily from the breakdown of the air-conditioning system and methylene chloride gas and most of her crew were intoxicated. Apparently ran aground 60 miles south of Massawa or 30 miles south of Sciab-Sciach on 26th June, and was sighted by the sloop HMS Shoreham. On 27th June, she was shelled by the light cruiser HMNZS Leander and the destroyers HMS Kingston and HMS Kandahar. Perla replied with her gun but then her commanding officer ordered her crew to abandon ship at about noon on the 27th (fifteen killed), but the intervention of eight S.81 bombers forced the three enemy ships to disengage and Perla was taken in tow and returned to Massawa for docking.
20 Jun 1940
During the day, while proceeding submerged to her patrol area, an electrician, who was at his station in the electric motors, suffered a heat stroke. As the air conditioning system did not appear to function properly, Pouchain ordered its verification. During the same evening, between 2000 and 2400/20, more cases manifested themselves. The crew suffered heavily from the breakdown of the air-conditioning system and methylene chloride gas causing intoxication of most of her crew.

At dawn on 22 June, the submarine dived 3 miles off the coast of Djibouti. As the submarine progressed toward her patrol area, disturbing signs of mental alienation, extreme fatigue, abnormal behaviour appeared.

At dawn on 24 June, the submarine dived 5 miles north of Perim. On 25 June, the temperature inside the submarine had reached 64 degrees. The First Officer had now completely lost his senses. Pouchain was himself in no condition to perform his duties and delegated them to his navigation officer and the midshipman. One crew member had succumbed and his body was committed to the deep.
26 Jun 1940

1900C (e)
The submarine was returning from her patrol when she was sighted by the destroyer HMS Kingston (Lieutenant Commander P. Somerville) at a range of 5 miles, steering 340° at 12 knots. The destroyer was proceeding independently. The submarine sighted the destroyer at 3,000 metres and crash-dived, as Kingston fired three 4.7" salvoes.

At 1920 hours, the destroyer obtained an ASDIC contact at 1,200 yards. and dropped patterns of depth charges at 1927 (5 DCs set from 50 to 150 feet), 1934 (6 DCs set from 50 to 150 feet) and 2000 hours (6 DCs set from 150 to 250 feet). After the third attack, oil patches were observed. The submarine was believed to have been sunk and HMS Kingston left the scene.

In fact, Perla had escaped serious damage and after two hours closed the coast submerged. She surfaced as she reached the Searched Channel only to run aground.
27 Jun 1940
1200+

(e) 14° 26'N, 41° 21'E
At 0641 hours, the torpedo boat Giovanni Acerbi sailed from Massawa to the assistance of Perla. The destroyers Leone and Pantera were to support her but Leone had engine defects and could not sail.

Early in the afternoon of 27th June, three enemy warships arrived. They were the light cruiser HMNZS Leander with the destroyers HMS Kingston and HMS Kandahar which located the submarine aground. Pouchain ordered the gun manned and the destruction of the secret documents but the gun was jammed and resistance was useless. The submarine was evacuated except Pouchain, the midshipman Biagio Gallo and the electrician Arduino Forgiarini. The latter refused to leave and stated his determination to stand by his captain but a shell exploded near him and he was killed outright while Pouchain and Gallo were thrown in the sea. Forgiarini was posthumously awarded the Medaglia d'Oro.

By now, most of the crew had reached the beach. Two Italian aircraft were observed attacking the enemy ships while a RAF aircraft bombed the submarine. According to British sources, HMNZS Leander began shelling her, claiming seven 6" hits. However, eight Savoia S.81 bombers arrived on the scene, forcing the cruiser to withdraw. A Walrus aircraft also joined the fight with a bomb attack, claiming a near-miss.

As the shelling continued, the survivors hid behind the dunes. At dusk, the shelling had stopped and they returned to the beach and some went back on the submarine to collect water and provisions. A group of survivors decided to walk to the Sciab-Sciach light which was about 7 miles away and were rescued at about 0700 hours on the 28th by the destroyer Manin. The remainder of the crew had remained on the beach near the submarine and decided to walk inland. They reached the village of Sereità in the afternoon of the 29th and were rescued the following day by a relief column sent from Massawa. Fifteen crew members had succumbed from heat, gas intoxication or enemy shelling. On 20th July, an unidentified requisitioned tug from Massawa managed to tow away Perla. This was just in time as a British naval force consisting of the light cruisers HMAS Hobart, HMS Ceres and the destroyers HMS Kimberley and HMS Kingston sailed from Aden on the evening of 20 July to complete her destruction.


Franchi, Mario
12 Nov 1940
0700
Massawa
12 Nov 1940
0800
Massawa
Exited from dock.


Franchi, Mario
18 Dec 1940
0800
Massawa
18 Dec 1940
1150
Massawa
10,5
Trials.


Franchi, Mario
6 Jan 1941
Massawa
6 Jan 1941
Massawa
At Massawa.


2
Napp, Bruno
1 Mar 1941
0530
Dakiliat Bay (Massawa)
20 May 1941
1600
Bordeaux
13932
After considering internment in Madagascar, it was decided to send her to Bordeaux with the assistance of German vessels (Atlantis refuelled her on 29 March 1941 in 34°00'S, 49°00'E and Nordmark (7,750 GRT, built 1930) on 23rd April 1941 in 26°00'S, 18°00'W). According to the subsequent interrogation of one of her survivors, she had a crew of only thirty-five as twelve were left behind when she sailed hurriedly. She also had a German Merchant Navy captain and an Italian Warrant Quarter Master as passengers. British Intelligence knew of both rendezvous and the cruisers HMNZS Leander and HMAS Canberra had sailed from Mauritius on 10 March and had been ordered to cruise the vicinity of 35° S, 50°00'E [yet O.I.C. reports it as 33° S, 50°'E] from 12th to 20th March, while the City of Durban (4,499 GRT, built 1921) would try to pass herself as the German supply ship (Operation SUPPLY). Leander refuelled at Mauritius on 20th March and resumed the search. The Vichy French Charles LD (5,267 GRT, built 1934) was intercepted and captured on 23rd March and the tanker Trocas, which was believed missing, was located on 27th March and escorted to Mauritius. In the South Atlantic, a similar operation was to be carried out by the British submarine HMS Severn, the sloops HMS Bridgewater, HMS Milford and the AMC HMS Alcantara. She reached Bordeaux after 13,100 miles and 81 days at sea. With Malaspina, escorted from Gironde Buoy no.1 to le Verdon by Sperrbrecher III. Then refit until September 1941.
1 Mar 1941
0700

(0) South of Massawa.
At 0700 hours, a Blenheim bomber was sighted. Perla dived but was not attacked. She surfaced again at 0745 hours,
1 Mar 1941
1315

(0) Off Summa (south of Massawa) or off Dahlak Island.
At 1315 hours, a Blenheim bomber attacked Perla with two depth charges. The submarine crash-dived and suffered no damage.

This was a Blenheim bomber from 14 Squadron. The pilot claimed a direct hit and a near-miss and the submarine was believed sunk.
2 Mar 1941
0130

(0) Off Shab Shaka (south of Massawa).
At 0130 hours, two flashing lights were observed, apparently from two warships exchanging signals. Perla steered away on the surface.
6 Mar 1941
2310

(0) Off Cape Gardafui.
At 2310 hours, a steamer was observed steering 120°. Perla had instructions to refrain from attacking.
12 Mar 1941
1020
3° 00'S, 50° 00'E
At 1020 hours, an American steamer of the Export Line was sighted going toward Madagascar. Perla steered away.
29 Mar 1941
0515-1830
34° 00'S, 49° 00'E
Perla had reached the rendezvous point with the raider Atlantis since 0500 hours on 25th March and cruised for four days in the vicinity.

At 000 hours (GMT) on 28th March, she began emitting a beacon signal.

At 1715 hours, she sighted a smoke on the horizon and proceeded toward it and, at 1800 hours, she stopped her engines at proximity of the German raider. T.V. Napp went aboard Atlantis to confer with Kapitän zur See Rogge. They agreed to select a new position (34°00' S, 49°00' E) for the refuelling, as a measure of precaution.

At 2255 hours, the submarine proceeded to the new rendezvous.

At 0515 hours on 29th March, she had reached the rendezvous and began refuelling and taking provisions from the raider. The process was completed at 1830 hours and Perla steered for the Cape of Good Hope.
7 Apr 1941
1445
37° 00'S, 26° 00'W
At 1445 hours, a steamer was sighted steering 090°. Perla dived to avoid being seen.
12 Apr 1941
1020
31° 00'S, 8° 00'E
At 1020 hours, a steamer was sighted steering for the Cape of Good Hope. Perla dived to avoid being seen.
22 Apr 1941
1605
25° 00'S, 20° 00'W
Perla had reached her rendezvous point with the German supply ship Nordmark at 2250 hours on 20th April and was cruising in the area.

At 1605 hours on 22nd April, the supply ship was met and again, as a measure of precaution, instructed Perla to go to a new rendezvous point.
23 Apr 1941
0720-1650
26° 00'S, 18° 00'W
0720 hours, Perla reached the new rendezvous point and began taking fuel and provisions from the German supply ship Nordmark.

The operation was completed at 1650 hours and the submarine steered toward her final destination of Bordeaux.
1 May 1941
0920
1° 00'N, 24° 00'W
At 0920 hours, a British steamer was sighted steering 135°. Perla dived to avoid being seen.
3 May 1941
1345
7° 00'N, 25° 00'W
At 1345 hours, an American steamer was sighted steering 140°. Perla dived to avoid being seen.
13 May 1941
1725
31° 00'N, 25° 00'W
At 1725 hours, a ship was sighted steering toward the Azores. Perla dived to avoid being seen.


Napp, Bruno
4 Sep 1941
0702
Bordeaux
4 Sep 1941
1125
Le Verdon
48
Sailed for La Pallice for trials but returned because of defects.


Napp, Bruno
4 Sep 1941
1403
Le Verdon
4 Sep 1941
1825
Bordeaux
48
Passage Le Verdon-Bordeaux.


Napp, Bruno
6 Sep 1941
0749
Bordeaux
6 Sep 1941
2300
La Pallice
118
Passage Bordeaux-La Pallice for trials.


Napp, Bruno
7 Sep 1941
0800
La Pallice
7 Sep 1941
1600
La Pallice
21
Trials.


3
Napp, Bruno
8 Sep 1941
2030
La Pallice
13 Sep 1941
1430
Bordeaux
514
Sailed for training patrol between 45°00'N and 45°30'N and 06°00'W and 07°50'W.


Napp, Bruno
20 Sep 1941
0700
Bordeaux
20 Sep 1941
1245
Le Verdon
Passage Bordeaux-Le Verdon.


4
Napp, Bruno
20 Sep 1941
1900
Le Verdon
3 Oct 1941
1100
Cagliari
2743
Passage Le Verdon-Cagliari. Passed Gibraltar on 28th September 1941.
22 Sep 1941
1532
44° 58'N, 10° 00'W
At 1532 hours, the submarine Argo was sighted. Perla submerged.
23 Sep 1941
1035
43° 56'N, 13° 00'W
At 1035 hours, the submarine Morosini was sighted. Perla steered away.
28 Sep 1941
0345
At 0345 hours, a submarine chaser was sighted at a distance of 1,500 metres. Perla steered away.
28 Sep 1941
0420
35° 58'N, 6° 00'W
(0) Approximately.
At 0420 hours, a fishing vessel was sighted at a distance of 500 metres. It closed to 200 metres making the signal "P". Perla steered away, but the fishing vessel kept on coming until forced to withdraw by the threat of the submarine< gun armament.
29 Sep 1941
0448
At 0448 hours, a large motor boat was sighted at a distance of 200 metres, making the signal "P". Perla steered away, but the fishing vessel kept on coming. The submarine made as if it was entering Ceuta and the boat finally turned back toward Gibraltar.
30 Sep 1941
0218
0200 (e)

(0) Near Cape de Gata.
At 0155 hours, a dark 8,000-ton ship westbound was sighted at 600 metres. Perla followed her to ascertain her direction as it appeared she was proceeding at 12 knots toward Gibraltar.

At 0218 hours, a pair of bow torpedoes (533mm, S.I. type) were fired at a range of 1,800 metres. The second torpedo veered right just after firing. Both missed. Immediately upon firing, Perla turned hard to port to present her stern and fired a third torpedo. The torpedo disappeared from sight shortly after firing and may have sunk or had an erratic run. T.V. Napp intended to continue the action with the gun,but an illuminated vessel, obviously neutral, came in between and thwarted this action, moreover, the target vessel was moving away at high speed. He have up the chase.

The target was the City of Pretoria (8,049 GRT, built 1937) travelling from Malta to Gibraltar. She heard two or three rapid shots followed by a dull explosion. She made smoke and dropped smoke floats, escaping into Spanish territorial waters.


Napp, Bruno
15 Oct 1941
0500
Cagliari
16 Oct 1941
0950
Naples
272,5
Passage Cagliari-Naples. Refit until December 1941.


Napp, Bruno
17 Oct 1941
1435
Naples
17 Oct 1941
1640
Naples
Exercises.


Mannanici, Santo
29 Dec 1941
1053
Naples
29 Dec 1941
1622
Naples
22
Trials.


Celeste, Giovanni
8 Jan 1942
0855
Naples
8 Jan 1942
1435
Naples
38
Trials.


Celeste, Giovanni
13 Jan 1942
0928
Naples
13 Jan 1942
1620
Naples
11
Gyrocompass tests.


Celeste, Giovanni
14 Jan 1942
0645
Naples
14 Jan 1942
1700
Naples
62
Exercises with the torpedo boat Circe (equipped with S-Gerät).


Celeste, Giovanni
17 Jan 1942
0810
Naples
17 Jan 1942
1555
Naples
42,5
Exercises.


Celeste, Giovanni
19 Jan 1942
1400
Naples
19 Jan 1942
1855
Naples
29,5
Exercises.


Celeste, Giovanni
24 Jan 1942
1740
Naples
24 Jan 1942
2210
Naples
21
Exercises.


Celeste, Giovanni
28 Jan 1942
0910
Naples
29 Jan 1942
0955
Messina
251
Passage Naples-Messina.


5
Celeste, Giovanni
10 Feb 1942
1656
Messina
26 Feb 1942
1050
Messina
1992
Patrolled off Cyrenaica within 8 miles from 34°30'N, 20°30'E, on a patrol line with Topazio, Tricheco and Malachite. On the evening of 15 February, she was shifted to 148° - 58 miles. Uneventful. Heard only hydrophone effect. T.V. Celeste was criticised for his excessive prudence.


6
Celeste, Giovanni
26 Mar 1942
1825
Messina
11 Apr 1942
0813
Messina
1942,5
Escorted out by MAS 562 for a patrol off Cyrenaica between 34°30'N and 34°40'N, and between 22°10'E and 23°10'E. On 2nd April, was moved to a new area between 33°40'N and 34°20'N, and between 22°00'E and 22°25'E.
28 Mar 1942
1510
At 1510 hours, an Italian steamer escorted by a destroyer of the FRECCIA class were sighted.


Celeste, Giovanni
28 Apr 1942
1515
Naples
28 Apr 1942
1845
Naples
19
Exercises.


Celeste, Giovanni
1 May 1942
1438
Naples
1 May 1942
1745
Naples
17,5
Trials.


Celeste, Giovanni
3 May 1942
0825
Naples
3 May 1942
1820
Naples
67
Trials, escorted by MAS 547.


Celeste, Giovanni
6 May 1942
0955
Messina
7 May 1942
0900
Trapani
229,5
Passage Messina-Trapani.


7
Celeste, Giovanni
8 May 1942
2045
Trapani
25 May 1942
0720
Trapani
871,5
Patrolled in zone K.2 (between 36°53'N and 36°57'N, and between 11°12'E and the Tunisian coast). On 17th May, was ordered to a new area between 36°20'N and 36°50'N, and between 09°20'E and 09°50'E, east of La Galite and off Cape Kelibia (Tunisia). Several French ships were sighted.
11 May 1942
0355

(0) Zone K.2 or off Ras Mustafa near Keliibia (Tunisia).
At 0350 hours, a warship was sighted travelling at a speed just under 25 knots.

At 0355 hours, two torpedoes (533mm) were fired from stern tubes at a distance of 600 metres. They missed.

This was the fast minelayer HMS Welshman. She had sailed from Malta at 2130 hours, on 10th May, after delivering supplies for the beleaguered island and was on her way to Gibraltar.

T.V. Celeste was reprimanded as he had not made an enemy report immediately after his attack on the minelayer. As report was only sent at 0517 hours and, was not received by Rome, the opportunity to sink this warship was lost.


Celeste, Giovanni
26 May 1942
1130
Trapani
27 May 1942
0825
Messina
210,8
Passage Trapani-Messina, escorted in by the torpedo boat Abba.


Mandraffino, Ernesto
10 Jun 1942
Messina
12 Jun 1942
Messina
At Messina. Change in command.


Ventura, Gioacchino
15 Jun 1942
0800
Messina
15 Jun 1942
1305
Messina
13
Exercises, escorted by the auxiliary Manas, between 38°02'N and 38°10'N, and between 15°35'E and the coast.


Ventura, Gioacchino
20 Jun 1942
1230
Messina
20 Jun 1942
1906
Messina
28,5
Exercises between 38°02'N and 38°10'N, and between 15°35'E and the coast.


Ventura, Gioacchino
22 Jun 1942
0850
Messina
22 Jun 1942
1255
Messina
28,5
Exercises between 38°02'N and 38°10'N, and between 15°35'E and the coast.


Ventura, Gioacchino
24 Jun 1942
0810
Messina
24 Jun 1942
1250
Messina
29
Exercises between 38°02'N and 38°10'N and 15°35'E and the coast.


Ventura, Gioacchino
26 Jun 1942
0805
Messina
26 Jun 1942
1300
Messina
27,3
Exercises between 38°02'N and 38°10'N and 15°35'E and the coast.


8
Ventura, Gioacchino
1 Jul 1942
1850 or 1923
Messina
9 Jul 1942
Captured
Passage Messina-Leros, patrol in Cyprus area and then patrolled off Beirut, between 33°40'N and 36°00'N and between 32°00'E and the Syrian coast. Captured by HMS Hyacinth 15 miles south of Beirut (one killed, five officers and forty ratings taken PoWs). Became RHN Matrozos.
2 Jul 1942
0915
36° 52'N, 17° 44'E
At 0915 hours, a wheel of a German aircraft was seen and picked up. It appeared to be the tail wheel.
2 Jul 1942
1730

(0) About 100 miles west of Navarino.
At 1730 hours, Perla carried out gunnery practice. Two 100mm and about 140 13.2mm rounds were fired.
2 Jul 1942
2145

(0) About 70 miles southwest of Navarino.
At 2145 hours, a friendly submarine (possibly U-375?) was sighted. Perla took avoiding action.
3 Jul 1942
0002

(0) West of Crete.
At 0002 hours, a hospital ship was sighted.
7 Jul 1942
1602

(0) ?
A large motor launch apparently stopped was sighted bearing 270°. Perla steered away.

At 2000 hours, information was received of a convoy, 10 miles to the southward. The submarine steered 170° to intercept, but nothing was sighted.
9 Jul 1942

1728C (e)

(e) 33° 50'N, 35° 19'E
At 0309 hours, Sunderland 'X' (W.3987) of 230 Squadron piloted by Flying Officer Howe, obtained a radar contact at a distance of 3 miles in 32°18' N, 34°28' E. This was a submarine and it submerged before an attack could be made.

At 1020C hours, a Blenheim of 13 Hellenic Squadron piloted by Pilot Officer Kipouros, sighted a surfaced submarine in 32°44' N, 34°30' E, steering 270° at 12-14 knots. The submarine crash-dived again, before an attack could be made.

These two sightings possibly referred to HMS Una, on passage from Port Said to Haifa, or U-372. The British submarine did not dive at the aforementioned time, but this is possibly an error somewhere. Check!

At 1728C hours, the corvette HMS Hyacinth (Lieutenant John Ivor Jones, DSC, RNR) was proceeding at 15 knots from Haifa to Beirut, when two torpedo tracks were observed from the port beam. A Walrus of 700 Squadron, piloted by Lieutenant P.C. Chorley, also sighted the tracks and passed a warning to the corvette. The warship turned immediately to port to comb the tracks and an ASDIC contact was obtained at 1,000 yards.

The attack had been made by Perla.

At 1730C hours, a first pattern of depth charges was delivered and oil patches were seen. Two more patterns followed and the submarine surfaced. The corvette immediately engaged Perla with all guns. A white flag was waved and the crew began abandoning ship. Firing was ceased and a boarding party (including the Maltese cook who spoke Italian) was sent under Lieutenant Jack Arthur Pollard, RNVR. After examination, Pollard judged that the submarine could be towed. Shortly after, the corvette HMS Gloxinia and the motor torpedo boats MTB-261 and MTB-265 arrived on the scene. The submarine was towed to Beirut by HMS Hyacinth, covered by the other vessels and by aircraft. At the entrance of the port, the tow was passed to a tug.

One rating of Perla had been killed. T.V. Gioacchino Ventura, four officers and forty ratings were taken as prisoners of war.
61 entries. 37 total patrol entries (8 marked as war patrols) and 30 events.