Klaus Scholtz
Fregattenkapitän (Crew 27)
Successes
24 ships sunk, total tonnage 111,546 GRT
1 auxiliary warship sunk, total tonnage 16,644 GRT
| | | | |
| --- | --- | --- | --- |
| Born | 22 Mar 1908 | | Magdeburg |
| Died | 1 May 1987 | (79) | Bad Schwartau, Germany |
| | | |
| --- | --- | --- |
| 11 Oct 1927 | | Seekadett |
| 1 Apr 1929 | | Fähnrich zur See |
| 1 Oct 1931 | | Leutnant zur See |
| 1 Oct 1933 | | Oberleutnant zur See |
| 1 Oct 1936 | | Kapitänleutnant |
| 1 Nov 1941 | | Korvettenkapitän |
| 1 Jul 1944 | | Fregattenkapitän |
U-boat Commands
| U-boat | From | To | |
| --- | --- | --- | --- |
| U-108 | 22 Oct 1940 | 14 Oct 1942 | 8 patrols (361 days) |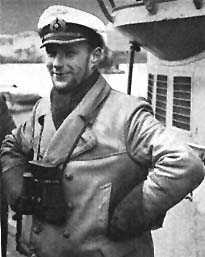 Kapitänleutnant Klaus Scholtz
Klaus Scholtz began his naval career in 1927 and spent most of his time before war began on torpedo boats (G-8, G-11 and Jaguar). He was Jaguar's commanding officer from June 1937 to April 1939.
In April 1940 he transferred to the U-boat force. After only four months of training he commissioned U-108, a large type IXB boat. On his first patrol in February 1941 he sank two ships with a total of 8,078 tons.
His second patrol was very successful: in April 1941 he sank the British armed merchant cruiser AMC Rajputana (16,644 tons) in the Straits of Denmark.
This dramatic chase is described in the following radio message sent by U-108:
FT an BdU. Eingetroffen Operationsgebiet Donnerstag, 10. April; Samstag, 12. April Hilfskreuzer gesichtet. Erster Angriff ein Torpedo, Fehlschuß. Zweiter Angriff: Zweierfächer. Gegner weggezackt. Verfolgung bis Eisgrenze. Angriff bei Dunkelheit abgebrochen. 13. April Hilfskreuzer gesichtet und Angriff. Dreierfächer. Zwei Treffer, ein Torpedoversager. Hilfskreuzer gestoppt. Fangschuß. Gegner gesunken. An Untergangsstelle zwei Zerstörer und Sunderland. Name des Hilfskreuzers 'Rajputana'.

(Radiogram to BdU. Reached operational area on Thursday 10 April; Saturday 12 April armed merchant cruiser in sight. First attack one torpedo, failure firing. Second attack: double shot. Enemy zigzagging. Pursuit to the edge of the ice. Attack terminated by darkness. 13 April sighted and attacked armed merchant cruiser. Triple shot. Two hits, one torpedo failure. Armed merchant cruiser stopped. Coup de grace. Enemy sunk. At sinking position two destroyers and a Sunderland. Name of the armed merchant cruiser 'Rajputana'.)
The BdU answered a half hour later:
Gut gemacht! Kommandant und Besatzung ausspreche Anerkennung. Rückmarsch. Dönitz.

Well done. Express acknowledgment to commander and crew. Return to base. Dönitz.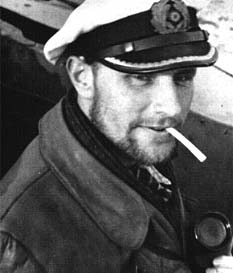 Kptlt. Scholtz on the conning tower
On the next three patrols Scholtz led U-108 against convoys in the Atlantic. In January 1942 she left Lorient to join the second wave of U-boats attacking shipping off the US east coast in the follow-up to Operation Paukenschlag (Drumbeat). There Scholtz sank five ships with a total of 20,082 tons.
His last two patrols in US and Caribbean waters were also successful. In October 1942 Klaus Scholtz left U-108 to command the 12th Flotilla based at Bordeaux.
This flotilla included most of the long-range type IX boats, which operated in the South Atlantic and the Indian Ocean. During August 1944 most of the boats left the base for Flensburg. The flotilla's history ended in August 1944 when it was dissolved. The remaining men (some 220) under Fregkpt. Klaus Scholtz attempted to march overland back to Germany. They left Bordeaux on 26 August 1944 but were captured on 11 September by American forces in Beaujancie/Loire (France). Klaus Scholtz then spent the next 18 months in US captivity.
After the war he served from 1953 to 1956 in the naval arm of the Bundesgrenzschutz (Federal Frontier Guard), then transferred to the Bundesmarine (Federal German Navy). He commanded several naval bases, including Kiel, Cuxhaven and Wilhelmshaven. In 1966 he retired with the rank of Kapitän zur See.
Sources
Busch, R. and Röll, H-J. (1999). German U-boat commanders of World War II.
Busch, R. and Röll, H-J. (1997). Der U-Bootkrieg 1939-1945 (Band 2).
Rohwer, J. (1998). Axis Submarine Successes of World War Two.
Patrol info for Klaus Scholtz
U-boat
Departure
Arrival
1.
U-108
15 Feb 1941
Wilhelmshaven
12 Mar 1941
Lorient
Patrol 1,
26 days
2.
U-108
3 Apr 1941
Lorient
2 May 1941
Lorient
Patrol 2,
30 days
3.
U-108
25 May 1941
Lorient
7 Jul 1941
Lorient
Patrol 3,
44 days
4.
U-108
19 Aug 1941
Lorient
21 Oct 1941
Lorient
Patrol 4,
64 days
5.
U-108
9 Dec 1941
Lorient
25 Dec 1941
Lorient
Patrol 5,
17 days
6.
U-108
8 Jan 1942
Lorient
4 Mar 1942
Lorient
Patrol 6,
56 days
7.
U-108
30 Mar 1942
Lorient
1 Jun 1942
Lorient
Patrol 7,
64 days
8.
U-108
13 Jul 1942
Lorient
10 Sep 1942
Lorient
Patrol 8,
60 days
8 patrols, 361 days at sea
Ships hit by Klaus Scholtz
Date
U-boat
Name of ship
Tons
Nat.
Convoy
22 Feb 1941
U-108
Texelstroom
1,617
nl
28 Feb 1941
U-108

Effna
6,461
br
13 Apr 1941
U-108
HMS Rajputana (F 35)
16,644
br
HX-117
2 Jun 1941
U-108

Michael E.
7,628
br
OB-327
8 Jun 1941
U-108

Baron Nairn
3,164
br
OB-328
8 Jun 1941
U-108
Dirphys
4,240
gr
OB-328
10 Jun 1941
U-108
Christian Krohg
1,992
nw
OB-329
25 Jun 1941
U-108
Ellinico
3,059
gr
OG-65
25 Jun 1941
U-108
Nicolas Pateras
4,362
gr
OB-336
1 Jul 1941
U-108
Toronto City
2,486
br
14 Dec 1941
U-108
Cassequel
4,751
pt
19 Dec 1941
U-108

Ruckinge
2,869
br
HG-76
8 Feb 1942
U-108

Ocean Venture
7,174
br
9 Feb 1942
U-108

Tolosa
1,974
nw
12 Feb 1942
U-108
Blink
2,701
nw
16 Feb 1942
U-108
Ramapo
2,968
pa
18 Feb 1942
U-108
Somme
5,265
br
ON-62
25 Apr 1942
U-108
Modesta
3,849
br
29 Apr 1942
U-108
Mobiloil
9,925
am
5 May 1942
U-108
Afoundria
5,010
am
6 May 1942
U-108
Abgara
4,422
le
20 May 1942
U-108

Norland
8,134
nw
ON-93
3 Aug 1942
U-108
Tricula
6,221
br
E-6
7 Aug 1942
U-108
Breñas
2,687
nw
17 Aug 1942
U-108
Louisiana
8,587
am
128,190

25 ships sunk (128,190 tons).

Legend
We have a picture of this vessel.


As an Amazon Associate uboat.net earns a commission from qualifying purchases.