Herbert Brünning
Kapitänleutnant (Crew 35)
Successes
1 ship sunk, total tonnage 2,125 GRT
| | | | |
| --- | --- | --- | --- |
| Born | 13 Sep 1915 | | Hamburg |
| Died | 23 Jan 2005 | (89) | Hagen / Westphalia, Germany |
| | | |
| --- | --- | --- |
| 5 Apr 1935 | | Offiziersanwärter |
| 1 Jul 1936 | | Fähnrich zur See |
| 1 Jan 1938 | | Oberfähnrich zur See |
| 1 Apr 1938 | | Leutnant zur See |
| 1 Oct 1939 | | Oberleutnant zur See |
| 1 Sep 1942 | | Kapitänleutnant |
U-boat Commands
| U-boat | From | To | |
| --- | --- | --- | --- |
| U-137 | 8 Dec 1941 | 1 Sep 1942 | No war patrols |
| U-642 | 1 Oct 1942 | 5 Jul 1944 | 4 patrols (185 days) |
| U-3518 | 29 Dec 1944 | 3 May 1945 | No war patrols |
Herbert Brünning joined the Kriegsmarine in 1935. From June 1939 to Jan 1941 he served as a torpedo officer on the light cruiser Emden, then until March 1941 in the same role with the training ship Schlesien. Brünning briefly returned to the Emden in March 1941 before joining the U-boat force that month (Busch & Röll, 1999).
He went through U-boat training from March to Aug 1941, then completed U-boat Commander training with the 24th Flotilla and then his sea training with the U-98, under Kptlt. Robert Gysae, (Busch & Röll, 1999). Brünning spent 32 days at sea with the boat learning the ropes of commanding a U-boat in action under the leadership of one of the best commanders.
On 8 Dec 1941 Oblt. Herbert Brünning was given command of the small school boat U-137. He would command the boat until Sept 1942 when he was sent to U-boat familiarization (Baubelehrung) to prepare him for his next command, this time a larger type VIIC boat being built at Hamburg (Busch & Röll, 1999).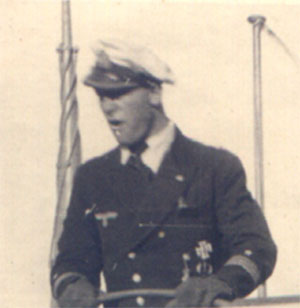 Left: Hebert Brünning on the tower.
On 1 Oct 1942 Brünning, recently promoted to Kapitänleutnant, commissioned the brand new U-642 at Blohm & Voss yard in Hamburg. Brünning and his crew spent the next 4 months preparing and training in the Baltic (Busch & Röll, 1999).
On 20 Feb 1943 Kptlt. Herbert Brünning left Kiel with his U-642 for his first war patrol. After operations in the North Atlantic where he joined 4 Wolfpacks he returned to base at St. Nazaire France 48 days later on 8 April (Busch & Röll, 1997). During this patrol he sank his first, and ultimately only, ship - the British steam merchant Leadgate (2,125 tons) (Rohwer, 1998).
Brünning next sailed on 4 May 1943 - and entered the fray at the most dangerous time for the U-boats with 40 U-boats being sunk in May. Brünning managed to survive and brought his boat back to France on 17 July 1943 after 75 days at sea (Busch & Röll, 1997). On 9 July the boat was attacked by a British Catalina aircraft but managed to shoot it down.
Kptlt. Herbert Brünning would take the boat on two more patrols. On 3 Nov 1943, during his third patrol, he entered the Mediterranean through the Straits of Gibraltar (Busch & Röll, 1997).
On 23 Jan 1944 Brünning returned to Toulon, France from his 4th patrol with U-642 (Busch & Röll, 1997). He then served with the 29th Flotilla also at Toulon for the next two months (Busch & Röll, 1999).
In Aug 1944 he was sent to another U-boat familiarization (Baubelehrung), this time to prepare him for his own Elektro boat of type XXI - the first real submarine. On 29 Dec 1944 Kptlt. Herbert Brünning commissioned the new U-3518 at Danzig (Busch & Röll, 1999). The boat was still undergoing training and work-up when the German surrender loomed over and on 3 May Brünning scuttled his boat during Operation Regenbogen near Kiel (Niestlé, 1998).
Kptlt. Herbert Brünning was detained by the Allies but was released on 15 Aug 1945 (Busch & Röll, 1999).
Photos courtesey of Mr. Günter Labude, former radio operator on U-642 and U-3518.
Sources
Busch, R. and Röll, H-J. (1999). German U-boat commanders of World War II.
Busch, R. and Röll, H-J. (1997). Der U-Bootkrieg 1939-1945 (Band 2).
Niestlé, A. (1998). German U-boat losses during World War II.
Rohwer, J. (1998). Axis Submarine Successes of World War Two.
Patrol info for Herbert Brünning
U-boat
Departure
Arrival
1.
U-642
20 Feb 1943
Kiel
8 Apr 1943
Sunk
Patrol 1,
48 days
2.
U-642
4 May 1943
St. Nazaire
17 Jul 1943
Sunk
Patrol 2,
75 days
3.
U-642
11 Sep 1943
St. Nazaire
12 Sep 1943
Sunk
Patrol 3,
2 days
4.
U-642
18 Oct 1943
St. Nazaire
13 Nov 1943
Sunk
Patrol 3,
27 days
5.
U-642
22 Dec 1943
Toulon
23 Jan 1944
Sunk
Patrol 4,
33 days
4 patrols, 185 days at sea
Ships hit by Herbert Brünning
Date
U-boat
Name of ship
Tons
Nat.
Convoy
8 Mar 1943
U-642

Leadgate
2,125
br
SC-121
2,125

1 ship sunk (2,125 tons).

About ranks and decorations
Special thanks to Fernando Almeida for data on ranks and decorations.