Werner Henke
Korvettenkapitän (Crew 33)
Successes
22 ships sunk, total tonnage 140,196 GRT
1 auxiliary warship sunk, total tonnage 10,850 GRT
1 ship damaged, total tonnage 6,034 GRT
1 warship damaged, total tonnage 1,920 tons
1 ship a total loss, total tonnage 4,668 GRT
1 warship a total loss, total tonnage 1,350 tons
| | | | |
| --- | --- | --- | --- |
| Born | 13 May 1909 | | Rudak, Thorn |
| Died | 15 Jun 1944 | (35) | Fort Hunt, Va, USA |
| | | |
| --- | --- | --- |
| 1 Apr 1933 | | Offiziersanwärter |
| 1 Jul 1934 | | Fähnrich zur See |
| 8 Apr 1936 | | Oberfähnrich zur See |
| 1 Oct 1936 | | Leutnant zur See |
| 1 Jun 1938 | | Oberleutnant zur See |
| 31 Dec 1941 | | Kapitänleutnant |
| 18 Mar 1945 | | Korvettenkapitän (posthumous) |
U-boat Commands
| U-boat | From | To | |
| --- | --- | --- | --- |
| U-515 | 21 Feb 1942 | 9 Apr 1944 | 7 patrols (341 days) |
Werner Henke had his first naval experience on board the battleships Admiral Scheer and Schleswig-Holstein. His first U-boat was U-124 under the command of Kapitänleutnant Wilhelm Schultz. The last of his four patrols with the "Edelweissboot" he completed under the later famous Kapitänleutnant 'Jochen' Mohr .
In February 1942 he commisioned his own boat, U-515. He put in an outstanding performance during his third patrol on the night of 30 April/1 May 1943 when he attacked convoy TS-37 90 miles (145km) south of Freetown, sinking eight ships in eight hours with a total of 49,456 tons. After this patrol Henke was awarded the Oak Leaves to the Knights Cross.
Henke was captured when U-515 was sunk at 1510hrs on 9 April 1944 in the Atlantic north of Madeira at 34.35N, 19.18W by aircraft from the US escort carrier USS Guadalcanal and depth charges from the destroyer escorts USS Pope, USS Pillsbury, USS Chatelain and USS Flaherty. 16 of his crew died and 44 survived.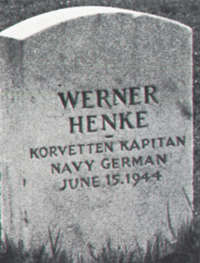 The gravestone of Werner Henke in Fort George G. Meade
Henke was shot and killed while attempting to escape from the interrogation center at Ft. Hunt, Virginia on 15 June 1944. It is reported that he simply walked towards the fence in broad daylight and slowly began climbing it. When he continued to climb after the guards shouted for him to stop, he was fatally shot. It is thought that he chose this form of suicide after being threatened with extradition to Britain and a showcase trial as a war criminal for the shooting of survivors from the sinking of the SS Ceramic (a false accusation). Henke is buried in the Soldiers Cemetery at Ft. George G. Meade, Maryland.
On 18 July, 1944 Admiral Dönitz issued the following day-order for the U-boat force:




 DER OBERBEFEHLSHABER				BERLIN W 32
   DER KRIEGSMARINE				Tirpitzufer 22-26

 		 Tagesbefehl an die Ubootwaffe
		================================


Der Ubootskommandant Kapitänleutnant Werner H e n k e , Träger
des Eichenlaubs zum Ritterkreuz des Eisernen Kreuzes, ist bei dem
Versuch aus Gefangenschaft zu fliehen, gefallen. Wir haben in ihm
einen unserer Besten verloren. Er vereinigte rücksichtsloses 
Draufgängertum mit Umsicht und und hervorragendem taktischen Können.
Im Kampf gegen Geleitzüge, Einzelfahrer und Kriegsschiffe hat er
sich aufs höchste bewährt und 26 Schiffe mit 166 ooo BRT, einen
Kreuzer und einen Zerstörer vernichtet.
Wir senken in Trauer unsere Fahnen vor dem eisenharten, tapferen
Kämpfer, dem Vorbild seiner begeistert hinter ihm stehenden Be-
satzung, unserem guten Kameraden. Der Kampf gegen den Feind, dem
er erlag, wird fortgeführt.

				    	Dönitz 

Befehlsstelle der Ubootsführung 	Der Oberbefehlshaber der
      den 18.Juli 1944			Kriegsmarine und Befehlshaber
					der Unterseeboote

(Commander Kapitänleutnant Werner H e n k e , recipient of the Knights Cross with Oak Leaves to the Iron Cross, was killed during an attempt to escape from captivity. We have lost one of our best. He combined reckless daring with prudence and outstanding tactical ability. He proved himself against convoys, independent merchantmen and warships, and sinking 26 ships with a total of 166,000 tons, one cruiser and one destroyer. We strike the colours for a man of iron and a brave fighter, who was an inspiring example to his crew, and for a good comrade. The struggle against the enemy, in which he was killed, will continue.)
Sources
Busch, R. and Röll, H-J. (1999). German U-boat commanders of World War II.
Busch, R. and Röll, H-J. (1997). Der U-Bootkrieg 1939-1945 (Band 2).
Niestlé, A. (1998). German U-boat losses during World War II.
Rohwer, J. (1998). Axis Submarine Successes of World War Two.
Patrol info for Werner Henke
U-boat
Departure
Arrival
1.
U-515
12 Aug 1942
Kiel
13 Aug 1942
Kristiansand
2 days
2.
U-515
15 Aug 1942
Kristiansand
14 Oct 1942
Lorient
Patrol 1,
61 days
3.
U-515
7 Nov 1942
Lorient
6 Jan 1943
Lorient
Patrol 2,
61 days
4.
U-515
21 Feb 1943
Lorient
24 Jun 1943
Lorient
Patrol 3,
124 days
5.
U-515
21 Aug 1943
Lorient
22 Aug 1943
Lorient
Patrol 4,
2 days
6.
U-515
29 Aug 1943
Lorient
12 Sep 1943
Lorient
Patrol 5,
15 days
7.
U-515
1 Nov 1943
Lorient
3 Nov 1943
St. Nazaire
3 days
8.
U-515
9 Nov 1943
St. Nazaire
14 Jan 1944
Lorient
Patrol 6,
67 days
9.
U-515
30 Mar 1944
Lorient
9 Apr 1944
Sunk
Patrol 7,
11 days
7 patrols, 341 days at sea
Ships hit by Werner Henke
Date
U-boat
Name of ship
Tons
Nat.
Convoy
12 Sep 1942
U-515

Stanvac Melbourne
10,013
pa
12 Sep 1942
U-515
Woensdrecht (t.)
4,668
nl
13 Sep 1942
U-515
Ocean Vanguard
7,174
br
13 Sep 1942
U-515
Nimba
1,854
pa
14 Sep 1942
U-515
Harborough
5,415
br
15 Sep 1942
U-515
Sørholt
4,801
nw
17 Sep 1942
U-515
Mae
5,607
am
20 Sep 1942
U-515

Reedpool
4,838
br
23 Sep 1942
U-515
Lindvangen
2,412
nw
23 Sep 1942
U-515
Antinous (d.)
6,034
am
TRIN-12
12 Nov 1942
U-515
HMS Hecla (F 20)
10,850
br
Torch
12 Nov 1942
U-515
HMS Marne (G 35) (d.)
1,920
br
Torch
7 Dec 1942
U-515
Ceramic
18,713
br
ON-149
4 Mar 1943
U-515
California Star
8,300
br
9 Apr 1943
U-515
Bamako
2,357
fr
30 Apr 1943
U-515
Corabella
5,682
br
TS-37
30 Apr 1943
U-515
Bandar Shahpour
5,236
br
TS-37
30 Apr 1943
U-515
Kota Tjandi
7,295
nl
TS-37
30 Apr 1943
U-515

Nagina
6,551
br
TS-37
1 May 1943
U-515
City of Singapore
6,555
br
TS-37
1 May 1943
U-515
Clan Macpherson
6,940
br
TS-37
1 May 1943
U-515

Mokambo
4,996
be
TS-37
9 May 1943
U-515
Corneville
4,544
nw
18 Nov 1943
U-515
HMS Chanticleer (U 05) (t.)
1,350
br
MKS-30
17 Dec 1943
U-515

Kingswood
5,080
br
20 Dec 1943
U-515
Phemius
7,406
br
24 Dec 1943
U-515
Dumana
8,427
br
STL-8
165,018

25 ships sunk (157,064 tons) and 2 ships damaged (7,954 tons).

Legend
We have a picture of this vessel.
(d.) means the ship was damaged.
(t.) means the ship was a total loss (included in ships & tonnage lost).

About ranks and decorations
Ranks shown in italics are our database inserts based on the rank dates of his crew comrades. The officers of each crew would normally have progressed through the lower ranks at the same rate.


As an Amazon Associate uboat.net earns a commission from qualifying purchases.