Jost Metzler
Korvettenkapitän (Crew 32)
Successes
10 ships sunk, total tonnage 50,873 GRT
1 ship damaged, total tonnage 4,887 GRT
1 ship a total loss, total tonnage 5,445 GRT
| | | | |
| --- | --- | --- | --- |
| Born | 26 Feb 1909 | | Altshausen, Württemberg |
| Died | 29 Sep 1975 | (66) | Bavendorf-Ravensburg, Germany |
| | | |
| --- | --- | --- |
| 1 Apr 1932 | | Offiziersanwärter |
| 1 Jan 1934 | | Fähnrich zur See |
| 1 Sep 1935 | | Oberfähnrich zur See |
| 1 Jan 1936 | | Leutnant zur See |
| 1 Oct 1937 | | Oberleutnant zur See |
| 1 Oct 1939 | | Kapitänleutnant |
| 1 Oct 1943 | | Korvettenkapitän |
U-boat Commands
| U-boat | From | To | |
| --- | --- | --- | --- |
| U-69 | 2 Nov 1940 | 28 Aug 1941 | 4 patrols (117 days) |
| U-847 | 1 Feb 1943 | 30 Jun 1943 | No war patrols |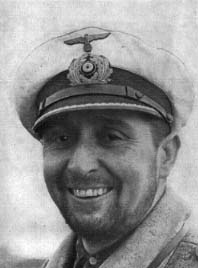 Kapitänleutnant Jost Metzler
Before Jost Metzler joined the Reichsmarine he spent eight years in the Merchant Navy, some of them on sailing ships. He joined the Reichsmarine in October 1933 as a HSO (Handelschiffoffizier, merchant ship officer). He first served on the torpedo boat T-196 and on several minesweepers. In April 1940, after 13 patrols on the Aviso Grille (previously Adolf Hitler's official yacht), he transferred to the U-boat arm. After seven months of training he commissioned U-69 in November 1940. On his first patrol, sailing from Kiel to St. Nazaire, he sank three ships with a total of 18,576 tons.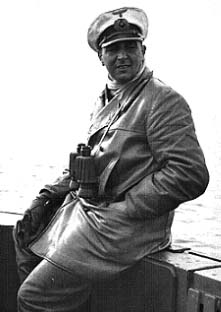 Metzler's third patrol on U-69 was very successful. He laid 16 mines in the harbour of Lagos, where they later sank a British steamer. All in all on this patrol in African waters he sank five ships with a total of 25,544 tons. Unfortunately he was taken ill with renal colic some days after leaving St. Nazaire on his fourth patrol, forcing the boat to return to port. After two months in hospital he became the leading training officer for the 25th (Training) Flotilla and 27th Flotillas holding this post until February 1943.
He took over command of U-847 for four months in 1943, and then in autumn 1943 for two months he was deputy commander of the 5th (Training) Flotilla then from October 1943 to the end of war, Metzler commanded the 19th (Training) Flotilla first in Pillau and later in Kiel.
Sources
Busch, R. and Röll, H-J. (1999). German U-boat commanders of World War II.
Busch, R. and Röll, H-J. (1997). Der U-Bootkrieg 1939-1945 (Band 2).
Rohwer, J. (1998). Axis Submarine Successes of World War Two.
Patrol info for Jost Metzler
U-boat
Departure
Arrival
1.
U-69
10 Feb 1941
Kiel
1 Mar 1941
Lorient
Patrol 1,
20 days
2.
U-69
18 Mar 1941
Lorient
11 Apr 1941
Lorient
Patrol 2,
25 days
3.
U-69
5 May 1941
Lorient
8 Jul 1941
St. Nazaire
Patrol 3,
65 days
4.
U-69
21 Aug 1941
St. Nazaire
27 Aug 1941
St. Nazaire
Patrol 4,
7 days
4 patrols, 117 days at sea
Ships hit by Jost Metzler
Date
U-boat
Name of ship
Tons
Nat.
Convoy
17 Feb 1941
U-69
Siamese Prince
8,456
br
19 Feb 1941
U-69

Empire Blanda
5,693
br
HX-107
23 Feb 1941
U-69
Marslew
4,542
br
OB-288
30 Mar 1941
U-69

Coultarn
3,759
br
OB-302
3 Apr 1941
U-69
Thirlby (d.)
4,887
br
SC-26
21 May 1941
U-69
Robin Moor
4,999
am
21 May 1941
U-69
Tewkesbury
4,601
br
31 May 1941
U-69
Sangara (t.)
5,445
br
4 Jun 1941
U-69

Robert Hughes [Mine]
2,879
br
27 Jun 1941
U-69
Empire Ability
7,603
br
SL-78
27 Jun 1941
U-69
River Lugar
5,423
br
SL-78
3 Jul 1941
U-69

Robert L. Holt
2,918
br
OB-337
61,205

11 ships sunk (56,318 tons) and 1 ship damaged (4,887 tons).

Legend
We have a picture of this vessel.
(d.) means the ship was damaged.
(t.) means the ship was a total loss (included in ships & tonnage lost).
[Mine] indicates the vessel was hit by a mine laid by said U-boat.

About ranks and decorations
Ranks shown in italics are our database inserts based on the rank dates of his crew comrades. The officers of each crew would normally have progressed through the lower ranks at the same rate.

As an Amazon Associate uboat.net earns a commission from qualifying purchases.