The Museum
The museum section of the archive displays a fascinating array of artifacts in rooms named in honor of famous U-boat commanders like Wolfgang Lüth, Engelbert Endrass, Georg Lassen, Albrecht Brandi, Karl-Friedrich Merten, Otto Weddigen and Otto Hersing.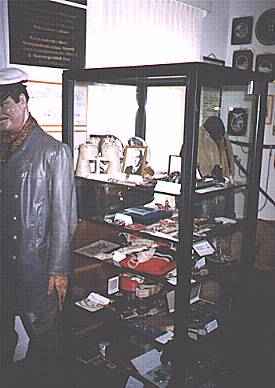 Visitors can view uniforms and insignia of the German U-boat service in its different eras, the blueprints of the U-boat designer Christoph Aschmoneit, meticulously crafted models, decorations and qualification badges, flags and pennants, and common articles from cutlery and cups to sextants and sea chests.
The museum also contains the complete personal papers of the World War I ace Otto Hersing, a copy of the famous World War II German Enigma encryption machine, and many personal items donated by veterans and their families.
The estate of Großadmiral Karl Dönitz has given the archive the dress uniform and decorations of the famous leader of the U-boat force.

Each year a few U-boat crews have their annually meeting here in Cuxhaven- Altenbruch, and in every case the visit to the U-boat-Archiv and museum is one of the main points on the schedule. To bring former opponents together is also one of the archives main tasks.