Karl Fleige
Kapitänleutnant (Crew 24)
Successes
1 auxiliary warship sunk, total tonnage 400 GRT
1 ship damaged, total tonnage 7,745 GRT
1 warship damaged, total tonnage 56 tons
| | | | |
| --- | --- | --- | --- |
| Born | 5 Sep 1905 | | Hildesheim |
| Died | 16 Dec 1975 | (70) | Erzhausen, near Bad Gandersheim |
| | | |
| --- | --- | --- |
| 1 Apr 1942 | | Leutnant zur See |
| 1 Oct 1942 | | Oberleutnant zur See |
| 1 Apr 1945 | | Kapitänleutnant |
U-boat Commands
| U-boat | From | To | |
| --- | --- | --- | --- |
| U-18 | 3 Dec 1942 | 25 Aug 1944 | 7 patrols (203 days) |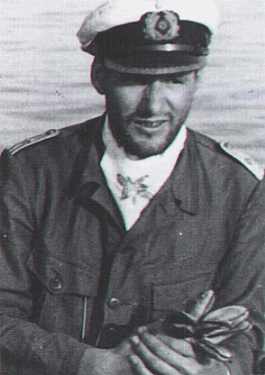 Oblt. z. S. Karl Fleige on board
Karl Fleige joined the Reichsmarine in October 1924 as seaman. He spent the next years on torpedo boats, several cruisers and on the sailing school ship (Segelschulschiff) Gorch Fock.
In October 1937 he transferred to the U-boat force and after some months of training joined U-20 under Oblt. Karl-Heinz Moehle in May 1938. When Kptlt. Moehle commissioned the Type IXB U-boat U-123 in June 1940 he asked for his former Obersteuermann and thus Karl Fleige spent more than a year on the successful U-123.
Karl Fleige left U-123 in August 1941 and became the Flotillensteuermann of the 5th Flotilla in Kiel commanded once more by his former commander Karl-Heinz Moehle.
Starting in April 1942 he received commander training and in December 1942 he took command of the small Type IIB U-boat U-18. Through August 1944 he made a total of seven successful patrols in the Black Sea.
Beginning in December 1944, he was an instructor in the 24 Flotilla and in the 1st ULD (U-Boot-Lehrdivision). After Germany's surrender he spent three months in Allied captivity.
Sources
Busch, R. and Röll, H-J. (1998). German U-boat commanders of World War II.
Busch, R. and Röll, H-J. (1997). Der U-Bootkrieg 1939-1945 (Band 2).

Patrol info for Karl Fleige
U-boat
Departure
Arrival
1.
U-18
26 May 1943
Konstanza
9 Jun 1943
Konstanza
Patrol 1,
15 days
2.
U-18
16 Jun 1943
Konstanza
29 Jun 1943
Sevastopol
Patrol 2,
14 days
3.
U-18
3 Jul 1943
Sevastopol
22 Jul 1943
Konstanza
Patrol 2,
20 days
4.
U-18
21 Aug 1943
Konstanza
24 Sep 1943
Konstanza
Patrol 3,
35 days
5.
U-18
27 Oct 1943
Konstanza
24 Nov 1943
Konstanza
Patrol 4,
29 days
6.
U-18
29 Jan 1944
Konstanza
29 Feb 1944
Konstanza
Patrol 5,
32 days
7.
U-18
25 Mar 1944
Konstanza
27 Apr 1944
Konstanza
Patrol 6,
34 days
8.
U-18
24 Jul 1944
Konstanza
16 Aug 1944
Konstanza
Patrol 7,
24 days
7 patrols, 203 days at sea
Ships hit by Karl Fleige