U-B
(former HMS Seal)

| | |
| --- | --- |
| Class: | Porpoise (British mine laying submarine; 6 built) |
| Builder: | Admiralty Dockyard, Chatham |
| Laid down: | 9 Dec 1936 |
| Launched: | Sep 27, 1938 |
| Commissioned: | Jan 28, 1939 under Lieutenant Commander Rupert Philip Lonsdale |
The officers:

Commander:
Ltd. Cdr. Rupert Philip Lonsdale
Number One:
Lieut. Terence Butler
Navigation Off.:
Lieut. Trevor Beet
Sub-Lieut L. Henderson
Sub-Lieut Philip Boulnois
Engineer:
Lieut. (E) R. H. S. Clark
History
As HMS Seal was at Aden en route to join the 4th Submarine Squadron on the China Station at the declaration of war, and her first patrols were in the Mediterranean. After her return to England, she patrolled in the North Sea and served as escort to one Atlantic convoy. She was then transferred to the 6th Submarine Squadron (Commander S.J.S.Bethell). After temporary repairs following a collision with a merchant ship she was assigned to operation DF 7, the purpose of which was to interdict the German route to Norway by laying a mine barrage in the Kattegat.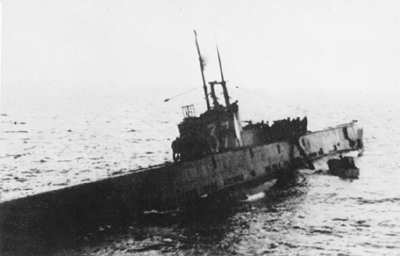 The last patrol of HMS Seal
29 April 1940. Departed Immingham on operation DF7 to lay a barrage of 50 mines off the Swedish island of Vinga.
4 May 1940
02.30hrs. Air attack on shallow-running boat by He 115 seaplane of Küstenfliegergruppe 76 based at Aalborg. Damage minor. Anti-submarine activity in target area caused diversion to secondary target.
09.00hrs. Commenced minelaying. Operation completed successfully 45 minutes later.
18.30hrs. Struck mine while proceeding submerged at depth 100ft. Damage severe.
5 May 1940
01.30hrs. The crew managed to surface the boat and attempted to reach Swedish waters.
02.30hrs. Sighted by Ar 196 seaplane (pilot Oblt. Mehrens), which commenced strafing and launched 2 depth charges. Shortly afterwards joined by second Arado (Oblt. Schmidt), which also attacked. Several of Seal's crew wounded. Boat surrendered to seaplanes.
06.30hrs. UJ 128 (Unterseebootsjäger, Anti-submarine vessel; ex-trawler Franken), Kptlt. Otto Lang arrived and towed Seal to Frederikshavn, Denmark (12th UJ-flotilla base)
11 May 1940 14.30hrs. Seal towed by tug "Seeteufel" (Sea Devil) to Germaniawerft shipyard, Kiel, for repair.
U-B
30 Nov 1940. The former HMS Seal commissioned as U-boat U-B, commanded by Fregkpt. Bruno Mahn, 52 year old veteran of WWI (commander of SM UB-21). U-B was of limited value to the Kriegsmarine except for training and propaganda purposes. Analysis of her British torpedoes led to development of a superior pistol design (torpedo detonation device) to replace the existing highly unreliable type.
31 July 1941. Decommissioned.
3 May 1945. Scuttled in Heikendorf Bay, Kiel, position 54.22N, 10.11E. Later salvaged and broken up.

Technical information
Displacement
(tons)

1770 sf
2113 sm


Length
(m)

89.30 oa


Beam
(m)

7.74 oa
5.79ph


Draught/
Height (m)

5.18


Power
(hp)

3300 ehp sf
1630 ehp sm

Speed
(kts)

14.75-16.00 sf
8.7 sm

Oil Supply
(tons)

138t max

Torpedoes/
Mines

12
120 Mines

sm = submerged, sf = surfaced, ph = pressure hull,
oa = overall, hp = horsepower.