Patrol info for U-218
Departure
Arrival / Fate
Duration
29 Jul 1943
Brest
6 Aug 1943
Brest
9 days
Daily positions, sinkings and allied attacks during the patrol of U-218

We have daily positions for all 9 days on this patrol.
Ships hit by U-218 during this patrol
General Events during this patrol
We have no events listed for this patrol.
Add more events! If you know of an interesting event either missing from this date or an upcoming event that you'd like to share please contact us. We continuously update these databases.
Attacks on U-218 during this patrol
2 Aug 1943
Six men were wounded in an attack by a Wellington bomber (547 Sqdn RAF/B). The U-boat sustained only minor damage from the depth charges dropped, but abandoned the mine-laying mission due to the casualties, arriving at Brest on 6 August.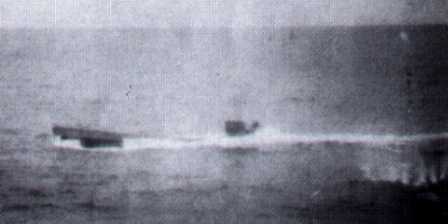 U-218 under attack
About this data
If you believe we have missed an attack on a German U-boat in this listing please let us know.

* These are officers that later became commanders themselves.