Type

Ordered
5 Jun 1941


Laid down
9 Jan 1943
F. Krupp Germaniawerft AG, Kiel (werk 684)
Launched
11 Nov 1943


Commissioned
12 Dec 1943
Kptlt. Werner-Karl Schmidt
Commanders
Career
1 patrol
Successes
1 warship sunk, total tonnage 56 tons
Fate

Sunk at 1925hrs on 30 July 1944 in the Gulf of Finland in the Koiviso Strait, in position 60.27,9N, 28.24,9E, by depth charges from the Soviet submarine chaser MO-103. 46 dead and 6 survivors.

Loss position
At 1242hrs on 30 July 1944 U-250 sank the small Soviet submarine chaser MO-105 with a G7e torpedo at the north side of the Koivisto Strait in the Gulf of Finland. After the sinking the Soviet Navy sent several submarine chasers to the area to search for the attacker and at 1910hrs the MO-103 (SLt Aleksander P. Kolenko) got a sonar contact from U-250 and dropped five depth charges. The U-boat was not heavily damaged, but because an air-bubble track was visible on the water MO-103 dropped a second series of five depth charges. One of these exploded over the diesel room. A large hole opened in U-250's hull and she sank. Kapitänleutnant Werner-Karl Schmidt along with five other crewmembers in the control room managed to escape at the last minute.
Needless to say the Russians were thrilled to have a German U-boat captain alive and a sunken U-boat in shallow waters. Russian divers soon discovered that the boat lay at only 27 meters under water and had only a slight list of 14 degrees to the right. A large hole above the diesel room was observed. Two large air tanks, 200 tons each, were transported to the area and the Russians worked behind a smokescreen to raise the boat.
The Germans and the Finnish did what they could to prevent the boat, which was equipped with the new secret T5 acoustic-torpedo, also called Zaunkönig (Wren or Gnat), from falling into Soviet hands. Finnish coastal artillery and German torpedo boats made frequent attacks on the salvage site, but to no avail.
Finally, on 14 September 1944 the Soviet Navy raised U-250 and towed it between air tanks to Kronstadt, where it was brought into a dry dock on 25 September 1944.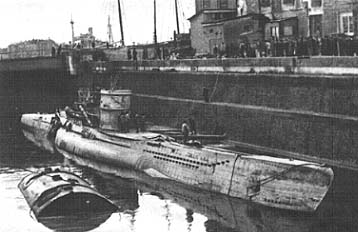 U-250 in the dry dock at Kronstadt.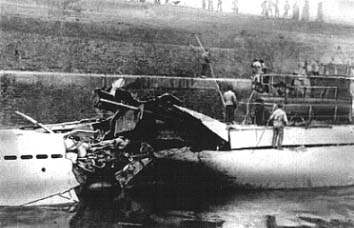 The heavily damaged section of U-250.
The former Commander, Kptlt. Schmidt, had to go first into the now dry boat, as the Russian believed some explosive charges might still be on the boat. The six survivors then spent some years in Russian captivity.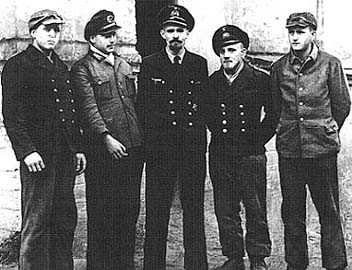 5 of the 6 survivors in Russian captivity.
On 12 April 1945 the boat was renamed TS-14 for a planned reconstruction, but declared a total loss on 20 August 1945 and broken up.
Main source:
Boris A. Karwaschin
U 250, Neue Dokumente und Fakten*
Sankt Petersburg, Jena 1994
* A well researched and a highly recommended book!
Men lost from U-boats
Unlike many other U-boats, which during their service lost men due to accidents and various other causes, U-250 did not suffer any casualties (we know of) until the time of her loss.

As an Amazon Associate uboat.net earns a commission from qualifying purchases.