German Agent in New Brunswick, Canada, May 1942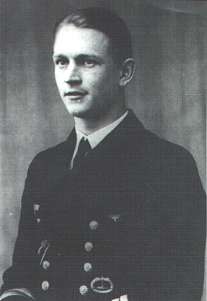 On 25 April, 1942 the type VIID mine-layer U-213, under the command of the 28-year old Oblt. Amelung von Varendorff (left), left its base at Lorient, France and headed westwards across the Atlantic.
Roughly 3 weeks later the boat made landfall of a small uninhabited community known as Great Salmon River 10 miles east of the village of St. Martins on the north shore of the Bay of Fundy in New Brunswick, Canada on May 14, 1942 where the crew landed Kriegsmarine Lt.(Abwehr) M.A Langbein on the coast with intent that he monitor convoy traffic out of Halifax, one of the busiest ports in the North Atlantic.
He was to assume the identity of one "Alfred Haskins" of Toronto. He buried a radio transmitter at the landing site, walked to the village of St. Martins, shopped in the local store, hitchhiked a drive to Saint John and boarded a train for Montreal. He relocated to Ottawa where he lived on the money provided to him. In late 1944 he turned himself in to Canadian authorities. He was not punished by the Canadians since he did not work against them.