Type

Ordered
5 Jun 1941


Laid down
8 May 1943
Deutsche Werke AG, Kiel (werk 321)
Launched
12 Feb 1944


Commissioned
22 Mar 1944
Oblt. Gerhard Meyer
Commanders
Career
2 patrols
Successes
2 ships sunk, total tonnage 17,651 GRT
1 warship sunk, total tonnage 1,085 tons
1 warship a total loss, total tonnage 1,085 tons
Fate

Sunk on 12 April 1945 in the North Sea north-west of Bergen, Norway, in position 60.44N, 04.39E by a torpedo from the British submarine HMS Tapir. 48 dead (all hands lost).

Loss position

Note. Fate map temporarily disabled due to huge Google Maps price increase (20 July 2018).
Attacks on this boat and other events
30 Dec 1944
The target of the depth charge attack by a Canadian Wellington (RCAF Sqdn. 407/L) on 30 Dec 1944 in the English Channel south of Weymouth in position 50.05N, 02.31W, formerly credited with sinking U-772, was most probably U-486, which escaped unharmed. (Sources: 2005-01-01, Axel Niestle)
1 recorded attack on this boat.
General notes on this boat
24 Dec 1944. Sinking of SS Leopoldville
On Christmas Eve 1944 U-486 torpedoed the SS Leopoldville in the English Channel 5 miles from the port of Cherbourg, France. The troopship was transporting 2235 American soldiers from regiments of the 66th Infantry Division. The ship finally sank 2 1/2 hours later. Everything that could, went wrong: calls for help were mishandled, rescue craft were slow to the scene and the weather was unfavourable. 763 American soldiers died that night, making this the worst loss an American infantry division suffered from a U-boat attack during the war.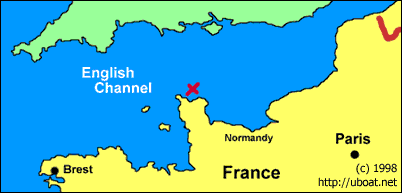 The location of the sinking
The Allied authorities were embarrassed by the incident and decided to bury the case. Many loved ones were told the men were missing in action although they were already dead by then, later to be classified as killed in action. The files were not opened to the public until 1996.
U-486 had not said her last word, as she sank the British frigates HMS Affleck and Capel only two days later in the same area, before returning on 15 Jan, 1945 to Bergen, Norway.
The wreck of the SS Leopoldville was discovered by Clive Cussler with the help of his shipwreck-hunting organization NUMA (National Underwater & Marine Agency). His book The Sea Hunters contains a chapter on the sinking which describes the incident from eyewitness accounts, and includes the story of the wreck's discovery.
Schnorchel-fitted U-boat
This boat was fitted with a Schnorchel underwater-breathing apparatus in October 1944. Read more about the Schnorchel and see list of fitted boats.
Men lost from U-boats
Unlike many other U-boats, which during their service lost men due to accidents and various other causes, U-486 did not suffer any casualties (we know of) until the time of her loss.
U-boat Emblems
We have 1 emblem entry for this boat. See the emblem page for this boat or view emblems individually below.