Patrol info for U-604
Departure
Arrival / Fate
Duration
24 Jun 1943
Brest
11 Aug 1943
Lost
49 days
Daily positions, sinkings and allied attacks during the patrol of U-604

We have 45 daily positions for the 49 days U-604 was at sea.
Ships hit by U-604 during this patrol
General Events during this patrol
We have no events listed for this patrol.
Add more events! If you know of an interesting event either missing from this date or an upcoming event that you'd like to share please contact us. We continuously update these databases.
Attacks on U-604 during this patrol
30 Jul 1943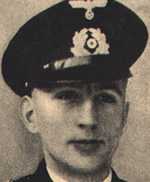 U-604 was attacked by a US Ventura (VB-129 USN) off the coast of Brazil on 30 July, and both the IWO and Coxswain were killed in action. [Oberleutnant zur See Frank Aschmann (see right) and Oberbootsmaat Herbert Lurz]. The boat was left in a crippled state, but managed to escape from the area. (Sources: Blair, vol 2, page 371)
3 Aug 1943
Already crippled from an attack three days earlier, the boat was attacked by a US Liberator aircraft (VB-107 USN, pilot LtCdr Bertram J. Prueher), which was shot down by the accompanying U-185.
3 Aug 1943
After evading an attack by a B-24 Liberator earlier in the day, U-604 was depth charged by two American destroyers while proceeding submerged, but managed to elude her attackers and escape once again. (Sources: Blair, vol 2, page 371)
About this data
If you believe we have missed an attack on a German U-boat in this listing please let us know.

* These are officers that later became commanders themselves.