Type

Ordered
20 Sep 1944


Laid down
22 Nov 1944
Deutsche Werft AG, Hamburg (werk 517)
Launched
18 Jan 1945


Commissioned
5 Feb 1945
Oblt. Karl Frahm
Commanders
Career
No patrols
Successes
No ships sunk or damaged
Fate

Surrendered on 9 May 1945 at Kristiansand Süd, Norway (Waller & Niestlé, 2010).

Taken to Loch Ryan, Scotland on 29 May 1945 for Operation Deadlight.

Operation Deadlight (post-war Allied operation, info)
Sunk on 28 November, 1945 in position 56.10N, 10.05W by gunfire from the destroyers HMS Onslow and ORP Piorun.

Final location
General notes on this boat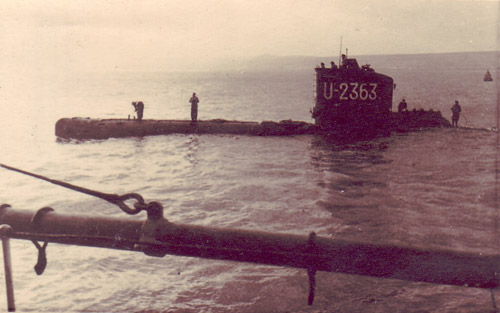 U-2363 in Allied hands. Photo by Paul Galla.
Men lost from U-boats
Unlike many other U-boats, which during their service lost men due to accidents and various other causes, U-2363 did not suffer any casualties (we know of) until the time of her loss.

As an Amazon Associate uboat.net earns a commission from qualifying purchases.